Very easy Pao de Queijo, Brazilian cheese bread via Japan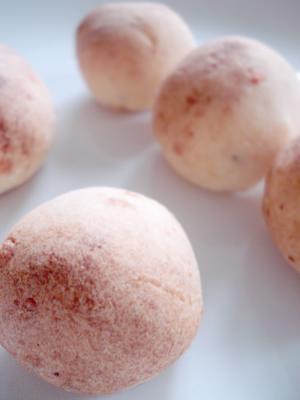 This may not be well known outside of the two respective countries, but there are pretty strong historical and cultural ties between Japan and Brazil. There was a wave of emigration from Japan to Brazil in the early part of the 20th century and later on around the '50s and '60s. And in the last 30 years, many Brazilians of Japanese descent (people of Japanese descent born in another country are called nikkei-jin) have in turn emigrated to Japan to fill labor shortages. Perhaps because of this, a few years ago one of the staples of the Brazilian diet, pao de queijo, little cheese breads, became very popular. While their popularity may have descended a bit from their peaks (Japan tends to be periodically swept up by big food or fashion trends, which after a time get dropped without warning when people move onto the next thing, but that's another story), they are still made by bakers throughout Japan.
I think that pao de queijo appeals so much to the Japanese palate because they are small, round and cute, and have a distinctive gooey-sticky-glutinous kind of texture inside. This texture is called mochi mochi, after mochi, the very gooey-glutinous rice cakes.
Traditionally, pao de queijo are made with a sour casava flour (here's a good recipe, but that's not that easy to find here. Looking around on some Japanese food sites, many recipes called for a readymade mix (!) or using rice flour...which isn't that easy to get here either. Then, I found a recipe (not online...) that uses a regular mashed potato. If a potato is mashed up while it's still hot, it does indeed get rather gooey, as anyone who's tried to mash them in a food processor can attest to. Sticky, gooey mashed potatoes may not be ideal for straight up eating but here it serves its purpose perfectly.
The one thing I was missing though was the slightly sour taste in a traditional pao de queijo. I added some sourness by using some well drained feta cheese. The rest of the cheese should be a pretty sharp one like Parmesano or Asiago, aged Cheddar or Gruyère.
So, there's plenty of faking going on in this recipe , but they are dead easy to make with ingredients that are widely available. So, if you are Brazilian please don't beat me up. :) They're still very good, I promise. And so cute. No one can have just one. They also happen to be gluten free (if you use potato starch; cornstarch may have a small amount of gluten) and vegetarian (no eggs) too.
(Note: I have acknowledged from the beginning these are not authentic. Please stop telling me they're not. It's just an attempt to recreate a flavor using ingredients that are available anyway. Thanks and have a nice day.)
Very easy Pao de queijo
200g / 7 oz potato, cut into small chunks (about 2 medium-small potatoes, but it's best to weigh them after peeling)
90g / about 3 1/4 oz cornstarch or potato starch
100g / about 3 1/2 oz grated cheese - half feta and half a sharp cheese like cheddar, parmesan or gruyere (you can also try all feta, which would make them more sour)
Salt for cooking the potatoes
Suggested equipment: food processor
Preheat the oven to 175°C / 350°F. Line a baking sheet with parchment paper.
Boil the potato chunks in salted water, until they are almost falling apart. Drain well, return to the pan and shake around until the potatoes have dried out.
Put the hot cooked potato chunks in the bowl of a food processor, and process until it's pasty and gooey. Add the cornstarch or potato starch and the cheese, and pulse until all mixed. Take the dough out of the food processor and knead a little bit. It should be a non-sticky and very pliable dough - sort of like Play-Doh. If it seems too loose add a bit more corn/potato starch. (Note: the amount of cornstarch or potato starch required seems to differ for some people. I suspect this has to do with how well you drain and dry off the potatoes, and what kind of potatoes you are using. I use a firm boiling type of potato, such as Charlotte, Nicola or Bintje. In the U.S. Yukon Gold is a good kind to use here. Baking potatoes may be a bit too floury to achieve the slightly gummy texture you want from the mashed up potato.)
If you don't have a food processor, mash up the hot potato chunks with a masher, then mix in the other ingredients while it's still hot, being careful not to burn your fingers. Knead well. It's almost as quick to mix by hand as by food processor.
Divide into 12 to 16 equal pieces, and form into balls. Bake for 25-30 minutes until lightly browned on the outside. (They won't really puff up much since they have no leavening.) Best eaten while still warm.
You can vary this by adding sesame seeds, sprinkling grated cheese on the top (brush the tops with egg white or milk to make it stick), and so on.
Troubleshooting notes
A few people have had trouble with the consistency of the dough. I've added some notes about the type of potato to use, and the necessity of drying the potatoes off well. If the amount of cornstarch/potato starch indicated in the recipe is not enough, add a little more by spoonfuls until the dough ceases to be sticky.
Submitted by
maki
on 2007-02-26 12:52.
Filed under:
bread
cheese
japanese
potatoes
vegetarian
quickbread
brazilian
fusion
gluten-free