Japanese Valentine's Day chocolate giving customs in miniature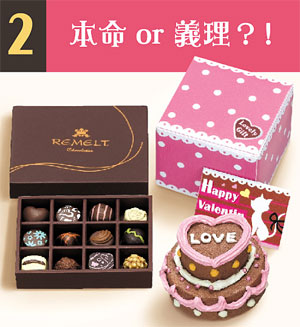 As I wrote about last year, Valentine's Day in Japan is fraught with social stress. Somehow, the chocolate manufacturers have managed to convince the whole society that a girl or woman can't just give chocolates to the ones they love. (And it's only the women who give chocolates in Japan on the 14th, not men, unlike other countries.) She must also give giri choco, or 'obligation chocolates', to people she 'owes'; bosses, teachers, and fathers-in-law.
Now you can see this kind of social giving in miniature! Re-ment, the maker of amazingly detailed diecast miniatures which I've also written about before, has this set of two types of chocolates: _Honmei or giri?!_ (Your real target, or obligation?!) The caption says this:
Chocolate assortment: The present for the boss is a chocolate assortment that we all chipped in for. The boss is quite a gourmet, so we couldn't just get any old thing, but this makes the grade doesn't it?

Handmade chocolate cake: A cake I'm proud of, that uses Belgian couverture lavishly. Tonight I'm inviting him (my boyfriend) to my room, for a Sweet Valentine's Party.
I do agree that handmade is the ultimate luxury these days, because time is more precious than money! But...does this mean that if your Japanese girlfriend gives you a storebought box of chocolates, that she doesn't really care for you? You decide.
The Honmei or giri?! set is part of the _Zeitaku Sweets_ (luxurious or beautiful sweet things) collection. You can get it from J-List or eBay
(where merchants often sell individual sets instead of a whole collection). But beware...Re-ment collecting is very addictive.
Submitted by
maki
on 2008-02-11 17:08.
Filed under:
chocolate
japanese
offbeat
valentine