Bacon wrapped tofu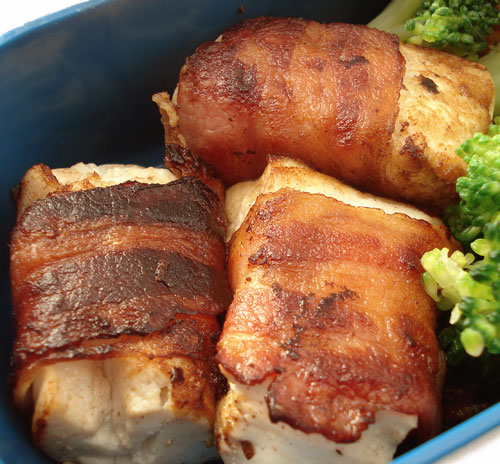 Bacon. Tofu. Two proteins on the opposite ends of the food social scale. One is revered, serenaded, hailed as the food of the Gods. The other is reviled, sneered at, as being bland, boring, even disgusting.
When I saw this conflict depicted as bendable figurines (via Serious Eats) I had to do something to end this conflict.
The only reason why tofu is put down is because of its mishandling by well meaning but unskilled cooks who focused only on its healthy benefits. There are plenty of Westerners who hate tofu, but you'd be hard put to find many Asians who do. That is becase in eastern Asian cuisines, tofu is infused with other flavors, as it should be.
So, back to the bacon and tofu. This is actually not an uncommon dish in Japanese households. It's called either just bacon tofu (or tofu bacon) or even bacon tofu steak. The salty bacon-ness of the bacon infuses the bland tofu, and the two marry together to become a tasty morsel that's good hot or cold. It's salty-crispy on the outside, soft on the inside. (Yes, it's good for bento - here is one that features it!)
Bacon wrapped tofu
1 block firm tofu
Several strips of bacon, depending on the size. A leaner type bacon is preferred. You can even use proscuitto.
Optional: brown sugar, soy sauce
Drain the tofu, and wrap in several layers of paper towels. Place on a plate and put a board or another plate on top. Leave for a few minutes to drain some water out of the tofu. Unwrap and cut into bite sized pieces that are about the width of your bacon.
Wrap each piece in bacon, going around at least once so the ends overlap. You may need to cut the bacon.
Heat up a non-stick frying pan over medium-high heat. Put the bacon wrapped tofu pieces with the overlapping edges side down. Cook until crisp, then turn. Keep cooking and turning until done on all sides.
A sweet-salty variation is to add a little bit of soy sauce to the pan, and a sprinkle (maybe about 2 tsp.) of brown sugar; stir rapidly to melt the sugar, then turn the bacon-tofu in the sauce until the moisture has largely evaporated.
Eat hot or at room temperature, preferably with plain rice as part of a Japanese meal. Also a nice appetizer or sake drinking accompaniment.
(Addendum: If you are visiting from Chow.com, howdy! Just to make it clear, I have nothing to do with that suggestion to combine a veggie burger with bacon and call it the "Hypocrite"(!!) That sort of statement is like, so not me.)
Submitted by
maki
on 2008-01-17 22:40.
Filed under:
japanese
tofu
bacon