The Fat Duck, Bray, Berkshire, UK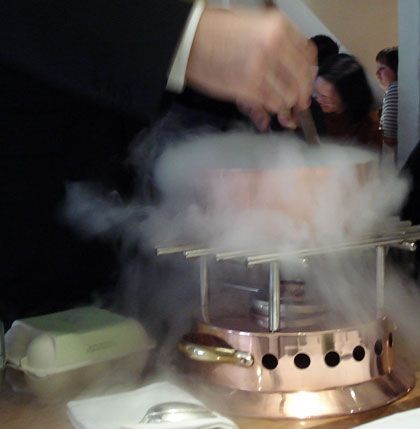 Since I pretend to be a sort of serious foodie, I have of course been reading a lot about this food movement called molecular gastronomy for a while. I've been mentally dodging it however. I am not against innovation in cooking by any means, but the reports I'd read about it sounded a tad too precious.
Nevertheless there is no denying that the whole idea of approaching food and cooking with scientific methodology appeals to the geek in me. So, when I knew that we'd be in London with a car (a rare occurrence, since London is a nightmare with a car), I immediately thought of The Fat Duck, which is in Bray, a village about an hour or so away from the great city. Voted the best restaurant in the world by (London-based) Restaurant Magazine in 2005, and 2nd best after El Bulli in 2006, its chef-owner Heston Blumenthal is one of the world's leading proponents of molecular gastronomy.
My experience in a nutshell:
Was it precious, as I'd feared? A bit, yes, but not enough to be distracting.
Was it interesting? Definitely.
Was it the best meal I'd ever had? No, probably not even top ten, but maybe top hundred.
Did it have a "wow" factor? Visually, hell yes. Taste-wise, almost.
Would I recommend it to others? Depends.
Would I go back again? Absolutely.
The full review follows, with lots of photos.
The setting
The Fat Duck is located in Bray, in the county of Berkshire. Even though Bray looks like some sort of quaint Agatha Christie-like English village, it is in fact situated near several of the wealthliest areas of England, and two out of the three UK 3-star Michelin restaurants are located here. (The other one is the Waterside Inn which is definitely not a molecular gastronomy place.) It's about an hour's drive or so, depending on traffic, from London, and reachable by train too (via Maidenhead).
I've been to a few other Michelin three-stars, and all of them are very beautifully decorated, often with gardens. In contrast, the Fat Duck looks like a converted pub or country inn restaurant and is smack dab on the curb of the main High Street. The outside signage is so discreet that we passed right by it twice before we looked up to see the hanging sign, and figured out that it meant that was the Fat Duck.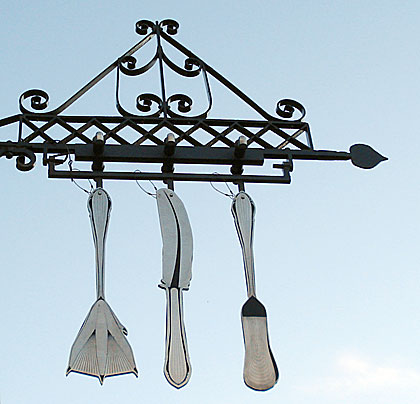 The plain wooden door has this sign over it, which I thought was sort of quaint.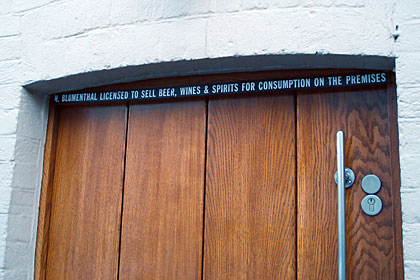 Inside, the room has a quite casual feel, with a low beamed ceiling and some rather ordinary abstract paintings on the walls. Since I like relaxed restaurants far more than glitzy ones, I felt immediately very comfortable. We could see into the bustling pantry from our table, which was entertaining. There are about 15 tables, which were full for lunch the day we were there.
Most of the servers have French or Italian accents. This is quite typical for top-end restaurants in the UK, and I don't know why - I mean, aren't there any English waitpeople qualified to serve at such places? Or are they faking the accent for a certain effect or something? In any case, the waitstaff were very pleasant and professional. I especially appreciated it when we asked the sommelier, when asked what wine to pick if we were just having a glass (since we were driving) he said "it's impossible to match one glass with the menu, so just pick the one you like the most". Which we did - an Australian Riesling, which was quite nice. I never like to drink a lot of wine at lunch anyway, and I wanted my full attention on the food.
Yay, liquid nitrogen
Whenever I go to a new restaurant, I try the tasting menu if it's available since I figure that that's the most representive overview. The Fat Duck's tasting menu is the same for lunch and dinner, and at the moment costs £97.75.
The stage was set when a small side table was set up next to our table, with a copper heating stand sort of like the one used for a fondue pot, a small pan and a metal jug. A waitperson then approached, and informed us she was preparing a green tea and apple ice cream, using liquid nitrogen since it freezes things instantly. She poured the contents of the jug into the pot and liquid nitrogen streamed out of it. Since this was on Hallowe'en, it felt very appropriate.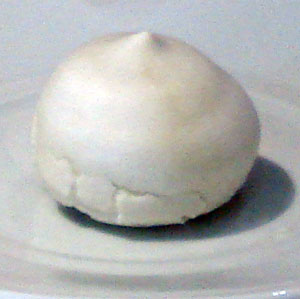 Before we could close our gaping mouths, she plopped a small, meringue like ball on the plate in front of me. "Please eat it immediately with your hands" she said, and I obeyed. It was as light as air, and very refreshing. "This prepares your palate for the rest of the meal" she informed us. She then served the same to my dining partner. A few moments later, the efficient staff whisked all the bubble-bubble accoutrements away. We sat grinning at each other. This was going to be fun.
The appetizers
Each dish that's served in the tasting menu is about the same size, and served at approximately the same intervals, so it was difficult to tell where the appetizers end and the 'main' begins. Actually I guess there is no real difference. Unlike the traditional European-style wedge-shaped meal, where the starters are small, the middle or main is big, and the end or dessert is small again, this is a sort of evenly paced meal, Japanese-style. Nevertheless the printed menu is grouped, so that's what I'll do here.
The first appetizer was a signature dish, two kinds of jelly. I spoiled myself somewhat for the surprise that this is supposed to bring to the mouth, so I won't do that here. It was still fun even though I knew what to expect.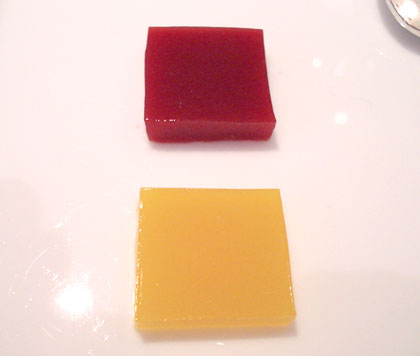 This was followed by an oyster with passion fruit jelly, with lavender flowers trapped in shards of sugar . The combination of the sweet-acid fruit and the raw briny oyster was perfect. (If you're a Top Chef fan this fruit-oyster combo may seem familiar.)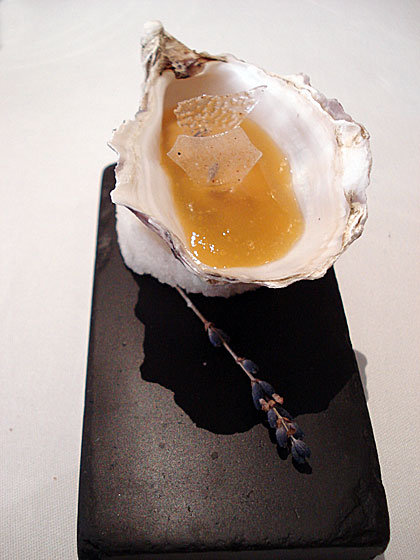 Next came the second ice cream of the meal. Mr. Blumenthal seems to love ice cream. This one was a savory mustard ice cream, served with a tiny spoonful of red cabbage gazpacho.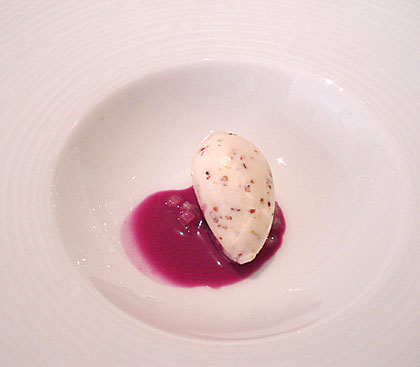 Then came rather complex concoction - a spoonful of 'fois gras parfait', on top of a multilayered base of jelly of quail, langoustine cream, and a green substance that I couldn't quite identify. Basil maybe? It was delicious in any case. The fois gras melted on the tongue, and the jelly and cream complemented it perfectly.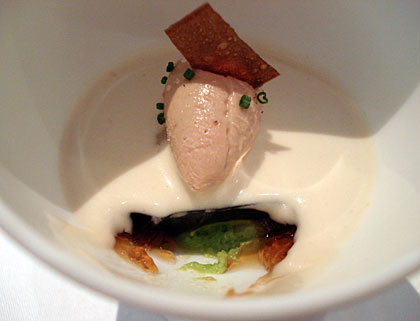 Snail Porridge
The first non-appetizer course was yet another famous Fat Duck dish, snail porridge.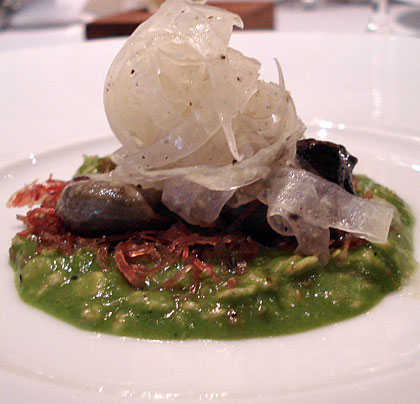 The menu says it has Joselito ham and shaved fennel. I believe the white ribbons on top were the shaved fennel - it was sour-sweet, as if it had been marinated in a rice vinegar or perhaps a white balsamic vinegar. The most intriguing part was the green sauce, which our waiter told us was made of parsley. I tasted much more than parsley in there though - it was a little salty, and had a seaweed like flavor to it. It matched the plump snails very well and made it taste like some sort of exotic seafood, which made it a nice change from the usual way snails are prepared with tons of garlic butter.
Roast Fois Gras
Up to this point, all the dishes were either very cold or cooled. This course was warm but not hot. That is one thing that struck me - there were no hot dishes at all. I think this is probably intentional, from reading other reviews. A hot item at some point would have made a nice contrast though.
Anyway, the next course was roast fois gras, presented very artfully as you can see.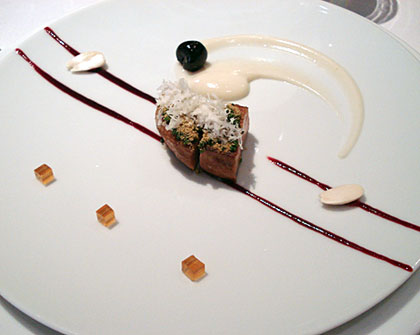 The tiny squares of jelly tasted to me like coffee - they may have been the chamomile listed on the menu. The white swirl was probably the almond, though it just tasted mildly creamy to me. The fois gras was a little bit disappointing - a bit bland. I am not sure this succeeded totally for me. (Just to compare, I liked the fois gras at L'Esperance a lot better, which was paired with a sweet corn cream and a vinegar reduction.) I preferred the fois gras 'sorbet' appetizer.
Sardine on toast
A lot of variations or twists on classic British dishes appear on the Fat Duck menu, and this is one of them. Sardines on toast is a classic supper/tea dish - usually soggy tinned sardines toast. This version is quite a few levels better than that. The full menu description is "Ballotine of mackerel 'invertebrae', marinated daikon".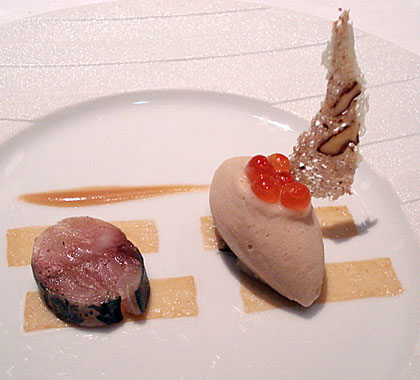 Again, this is a cold dish - Mr. Blumenthal loves his ice cream and sorbet-like concoctions. The sardine 'sorbet' (which was more like a mousse) was deliciously creamy, the tiny mackerel slice was marinated, and the daikon slices were sort of like Japanese bettara pickles, sour and sweet. My dining partner remarked that it was like deconstructed sashimi, and I agreed. This was possibly my favorite 'main' dish.
Salmon in liquorice
This cold dish definitely had a 'wow' factor, when it first came out. Just look at the gorgeousness of the colors on the plate. Dark, brown-black liquorice jelly surrounding the square of salmon, the flecks of pink grapefruit bits (the time it must have taken to carefully pry off the pulpy bits intact), the splash of vanilla-speckled cream, and the asparagus exclamation points.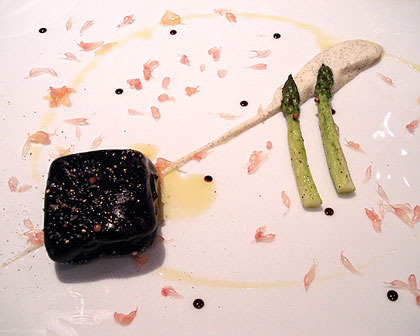 Here's how the salmon looks inside. The pink and black is gorgeous, is it not?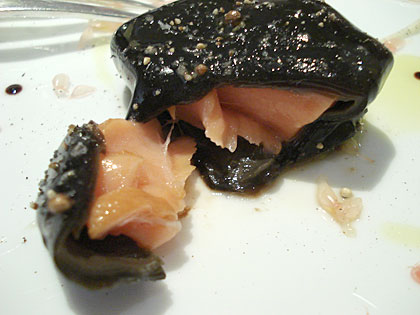 Unfortunately, the flavors didn't live up to the drama of the presentation. The salmon was the disappointment - the black enrobing looked so dramatic, but tasted sort of bland. I could barely detect liquorice. It reminded me of fish wrapped in kombu seaweed...which I'm not too fond of. The pink grapefruit freckles looked nice but were really inconsequential when it came to adding flavor to the dish. I wasn't quite sure what the crispy cracker was. The vanilla cream was the highlight of this plate. In sum, it was a sort of 'nice try, not quite there' dish for me.
Pigeon
The last main course dish was pigeon.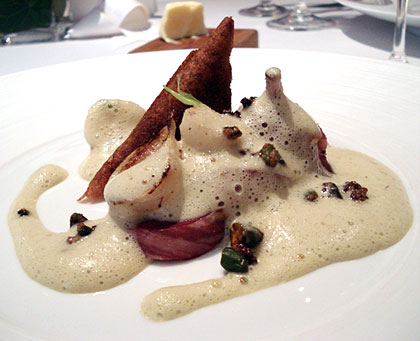 Dramatic foam is, like liquid-nitrogen frozen food, a signature element of molecular gastronomy-inspired restaurants. Here it surrounds tiny pieces of rare pigeon breast, with a pastilla of pigeon leg (that's the triangular thing, which was sort of like a crispy fried pigeon sandwich). The menu also listed cocoa, pistachio, and quatre epices. The foam was delicious, as was the pastilla. There were crunchy sweet-salty nutty bits scattered throughout - the pistachio? or the cocoa? At this point I was getting a bit blurry. The pigeon was sort of a letdown though - again, a little bland. But nevertheless it was my second favorite main-course dish.
Desserts
We finally come to the desserts. I am normally not much of a dessert person but here they are a definite highlight.
First we are handed a little card with a short biography of Mrs. Agnes B. Marshall, the queen of ices, a 19th century cookery teacher and writer. There was an exhibition about her at Syon House in the late 1990s - she was a master at making iced desserts. After studying the card we were served tiny little ice cream cones (Mrs. Marshall's Margaret Cornet) arranged on a plate of sugared rose leaves.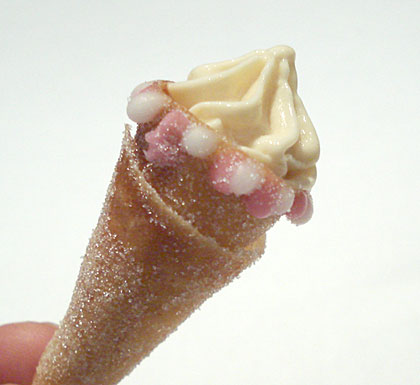 Adorable! Delicious too.
Next came this: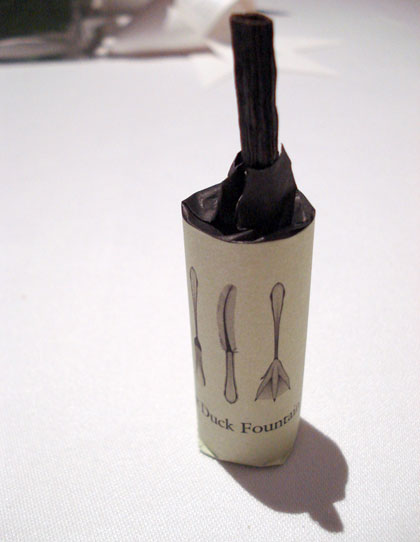 At the moment our waiter was explaining this to us I got distracted by an eruption of laughter at the table next to ours, so I couldn't figure out what to do with it first. The straw part was a hollow piece of vanilla pod, and there was some powder in the little cylinder. So when the next course came I tried sprinkling the powder over it. We finally figured it out though - we were supposed to suck on it. (I somehow missed candy 'fountains' growing up.) Some sour-sweet powder shot up to our throats and made us cough. Fun! (I kept the cylinder - it's sitting on my desk now, the vanilla pod still smelling nice.)
The next dish was a fairly conventional looking dessert arrangement, relatively speaking.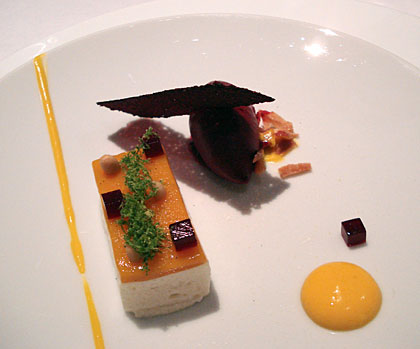 The little yellow dollop was interesting though - a little minty perhaps? Reading the menu later revealed that it was mango and Douglas fir puree. The square bavarois with lychii and mango was also delicious, as was the blackberry sorbet (again an iced item!) The cracker was, I think, blackberry again.
Then, sweet beetroot jellies and 'carrot and orange tuile' - this was like thin candy, perhaps more interesting to look at than to taste.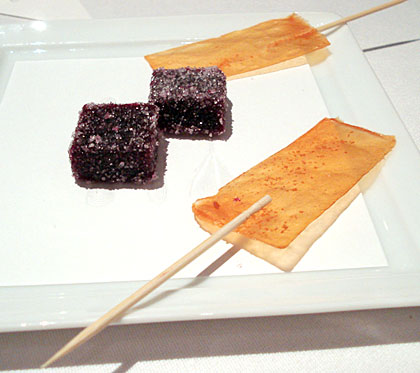 Breakfast?
As we sat there comfortably full already, discussing what we'd eaten, our waiter came with two bowls and a box of...cereal? He announced it was time for breakfast, and that the cereal was parsnip, with parsnip milk. Hmm.
As you can see, there were just a few tiny flakes, and a puddle of milk. Interesting in any case. (Yes, I kept the cute boxes, of course.)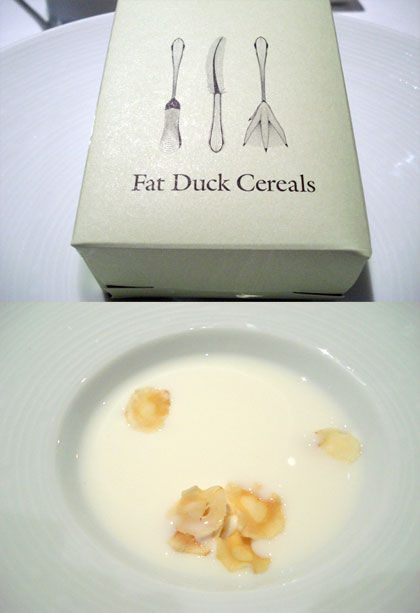 Then came the one course I'd been waiting for! The liquid-nitrogen kit came out again, and we knew what was probably coming: more 'ice cream'.
The waiter showed us the farm-fresh Fat Duck eggs. He would scramble them for us, he said, but since the pot he was using didn't have heat, he would scramble it in liquid nitrogen. He cracked the eggs into the pan, poured in the witches-brew stuff and stirred rapidly. Voila, scrambled egg ice cream.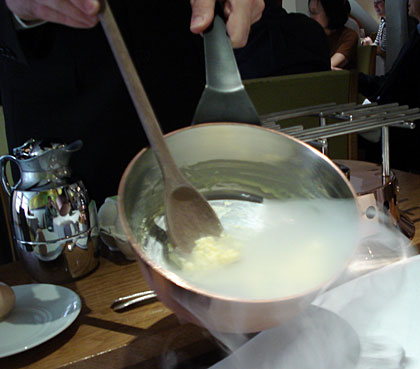 The 'scrambled eggs' were served with a small smear of a dark reddish-brown sticky substance that did taste like bacon, salty, a bit smoky, and sweet - sort of like a bacon jam. Next to it was a piece of what the waiter called 'French Toast'. On the menu it was described as pain perdu, and it was a sweet, eggy piece of bread, with a crunchy, slightly bitter caramel coating. It was so delicious I almost forgot the scrambled eggs and bacon. But that too was really wonderful - creamy and slightly sweet tasting, but we knew that it was only egg! Who knew that egg alone could taste sweet? The third item on the plate (not in the photo unfortunately) was a small dollop of salty, gooey caramel. I'm not sure if it was totally necessary, but it was yummy anyway.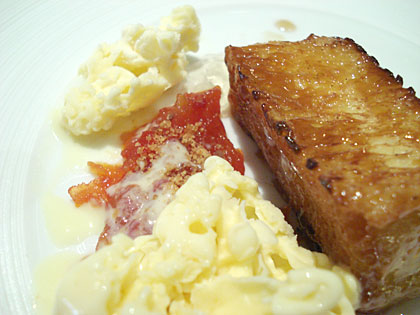 To accompany the plate of eggs and bacon and toast was an eggshell-shaped cup of cooling tea jelly. It looked like egg white, intentionally I'm sure, and tasted slightly fruity.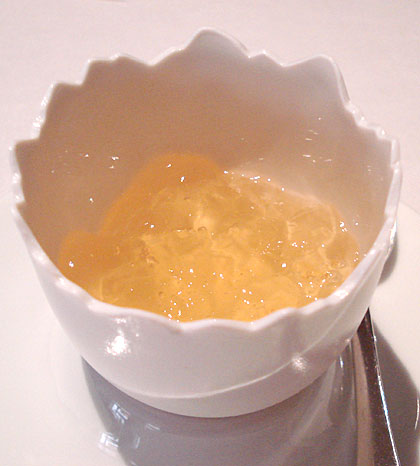 The finish
By this time we were comfortably full (there are a huge number of courses, but each is tiny, so you don't get stuffed), but rather overwhelmed mentally. The finish was a 'hot and cold tea', presented in a double-layered glass cup. The tea was cool on the outside and warm (not hot exactly) on the outside. Maybe the dining partner (or someone) can explain the science behind it...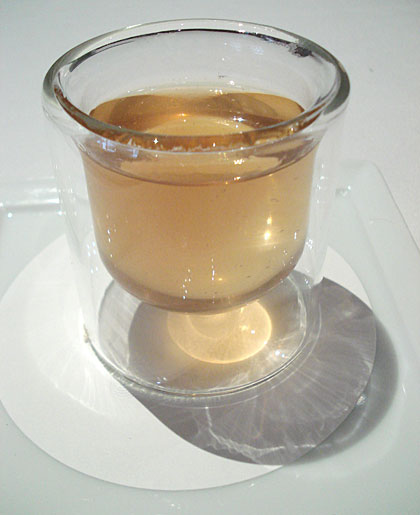 And the all-important petit-fours...the yellow things are whiskey jellies.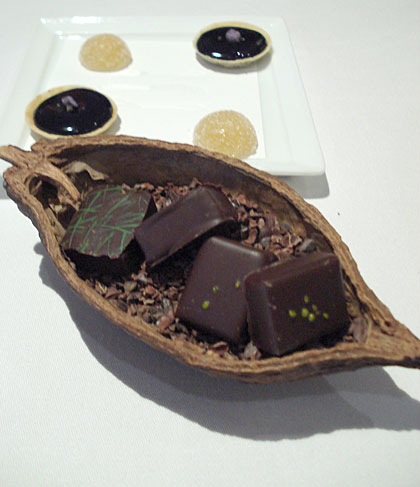 To sum up
Many many courses over four hours. It was certainly a fascinating and fun experience. The food itself ranged from just okay to really delicious, though I'm not sure if any item made me say "WOW", taste-wise. The egg and bacon with pain perdu, and the sardine 'sorbet' course, came the closest. Visually almost everything was "WOW".
The one problem I had was that this food is very intellectual. While I obviously do like thinking about, talking about, and writing about food a lot, when I am actually eating I like to relax and just enjoy, but this kind of food doesn't really let you do that. You are constantly being asked to figure out tastes, think about pre-conceptions, and even take a short history lesson. If you approach this as a sort of a dining experience slash food seminar, then you will have the right mental attitude for it.
This does mean though that this type of restaurant is not appropriate for everyone. Only serious foodies, geeks, and people who enjoy mental challenges would like this. I have seen several reports around that say molecular gastronomy is 'gimmicky' and 'shock value', and I can understand that type of response very well. You have got to bring an open mind and a sense of fun to the whole thing.
The Fat Duck does make relaxing and enjoying the experience as easy as possible though - from the casual atmosphere of the dining room, to the smooth yet unpretentious service, it all works really well.
I think I'll give it a few months before tackling another molecular gastronomy challenge though. It's sort of exhausting. For dinner that day we had totally uncomplicated roast chicken, crusty bread, and apples.
Submitted by
maki
on 2006-11-06 05:56.
Filed under:
restaurants
uk