Just Hungry 4th anniversary book giveaway: Hungry Planet
[Update: The book winner has already been determined, but I've opened up the comments again in case anyone else would like the share their own food memories.]
Thursday the 29th of November will mark the 4th anniversary of Just Hungry. 4 years - I can't believe it's been going that long. It's all because of you, the people who come here to read and comment, and give me and the people who help me out on this site (thank you, my elves) so much encouragement.
Thank you!
To commemorate this anniversary, we're giving away a copy of one of my favorite books related to food of all time - Hungry Planet by Peter Menzel and Faith D'Alusio.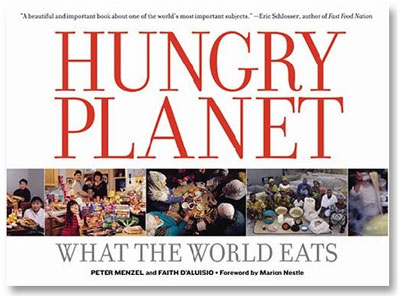 I reviewed this in depth 2 years ago, and it's still one of my favorite books of all time. It would make a perfect Christmas present, for a loved one or for yourself!
In the spirit of the book as well as of Just Hungry, if you'd like a chance to get your own copy, leave a comment to this post with your favorite food-related memory. If you have a blog and would rather write it there, please post the link to the blog post in the comments (you can't do trackback pings I'm afraid, since that's become the tool of spammers).
So here are the rules...
Your story must be posted or linked to here by 23:59 Central European Time on Friday, November 30th. Please leave your email in the appropriate field (don't worry, all email addresses are spam-proofed) so we can contact you.
The book will be shipped to you directly from an Amazon store near you, so please make sure you live in a country where Amazon ships. (I don't know of many countries where they don't, but you never know.)
Incidentally, the book has been translated into German and Japanese, and if you prefer your copy in one of those languages, that's fine too. Just Hungry is an international site!
The elves and I will pick our favorite food related story and announce the winner next Monday, December 5th.
I can't wait to read your stories!
Submitted by
maki
on 2007-11-26 20:36.
Filed under:
site news
memories