Black bean vegan mini-burgers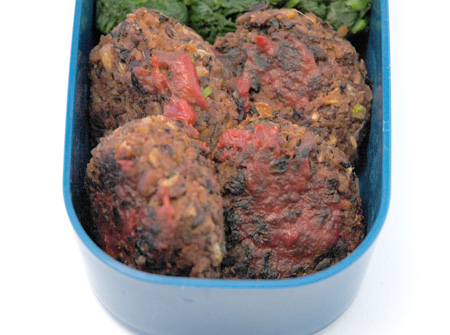 __From the archives. This is terrific freshy made and hot, but is even better cold, so it's great for bentos. Originally published in November 2007.__ Over the past couple of years as I've pursued
largely vegetarian
eating, I've gradually accumulated a small arsenal of small, round bean patties or balls, which are great as snacks, for bento boxes, and just for dinner, in my regular rotation. This one was inspired by one of the first beany-round thing I made,
the samosa-like lentil snacks
from
The Hungry Tiger
, and a Japanese vegan cooking book called
_Saisai Gohan_
(Vegetable Meals) by Yumiko Kano. (Yumiko Kano is currently my favorite cookbook author in any language, and I'll talk more about her down the line.) I've adjusted a few things to make them gluten-free. These have the earthy, deep flavor of the black beans that is enhanced by the spices and the sauce, and they are delicious hot or at room temperature. Even diehard carnivores like them. They're really perfect for bento lunches, and I've used it in the all-vegan
Bento no. 5 on Just Bento
. I also used them as a pita-sandwich filling in
Bento no. 6
. I have described two methods of cooking these: in the oven, which is good for making them in quantity, and in a frying pan, which is perfect for making a few at a time. ###Black bean vegan mini burgers This amount makes about 12 tiny or 8 small burgers; multiply to suit your needs proportionately. It keeps pretty well in the refrigerator for a few days, and freezes well too, so it makes sense to make in some quantity. For the burgers: * 2 cups (500ml) of cooked or canned black beans, drained * 3 tsp. fermented black beans, or 2 tsp. miso * 1 small piece ginger, finely chopped to produce about 2 tsp. chopped ginger * Green onions, to produce about 3 Tbs. chopped * 1/2 cup chopped fresh mushrooms * 2 Tbs. chopped walnuts * 1/2 cup rice flour * 1 tsp falafel spice mix, or cumin powder * 2 Tbs. or so of olive oil For the sauce: * 4 Tbs. tomato paste * a few drops of Tabasco * 1 Tbs. maple syrup * A little hot water to thin out the sauce, if needed Suggested equipment: a food processor If you're going to be baking them, preheat the oven to 200°C / 400°F. Chop up the ginger, green onions and mushrooms finely, and sauté in about half of the olive oil until the mushrooms are wilted and brownish. In the meantime, chop up the nuts. Add to the sauté pan to toast a bit. If using the fermented black beans, chop finely until they're almost a paste. Reserve a couple of spoonfuls of the beans. Mash up the rest of the beans with a masher or in the food processor. Put the fermented black beans in and process until it's fairly smooth. Add the spice and rice flour and process again. Add the sautéed vegetables, the reserved beans and the nuts, and pulse-process until mixed (you want some of the texture to remain). Divide the mixture into 8 to 12 portions. With moistened hands, make into flat little patties. If baking in the oven, oil a baking sheet and then brush the tops with a bit more oil. Bake for about 10 minutes, flip then bake 5 minutes more. If cooking in a frying pan, heat up the pan with the rest of the oil. Fry the burgers until crispy, carefully flip over and fry the other side. In the meantime, mix the sauce. Brush the sauce onto the hot burgers, or serve separately for dipping. Good hot or at room temperature. ###Notes Fermented black beans (_dul see_) are actually black soy beans. You can get them at any general Asian or Chinese grocery store. You can use miso instead if you have that on hand, though it will be a bit less salty and well, different. Black bean sauce can be used also, but be aware that that has some wheat flour in it if you're gluten-conscious. If you don't want to bother with making the sauce, use your favorite ketchup with a few drops of Tabasco added. These keep well for a few days in the fridge, though they are better if you re-heat them to take the chill off before eating. They also freeze well. Rice flour is available at Indian grocery stores (red rice flour is a bit different and interesting to use here), or in Japanese grocery stores where it's known as _joushinko_. It's mainly used here as a binder, so you can use regular wheat flour instead if gluten-sensitivity is not an issue. Variation: Add fresh chopped coriander.
Submitted by
maki
on 2009-09-21 09:23.
Filed under:
japanese
lighter
legumes
vegetarian
vegan