A week of miso soup, day 4: Hokkaido-style corn, chicken and cabbage soup with miso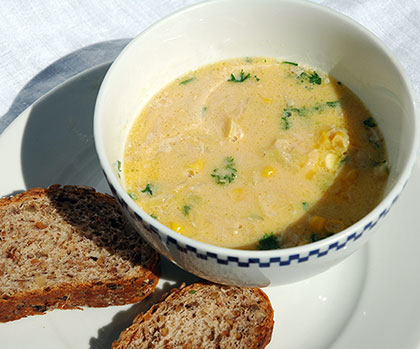 Today's miso soup may not look like miso soup, but it does have miso in it. It shows how to use miso as a background flavoring, instead of the predominant one. Since it has milk and a little butter in it, I've called it Hokkaido style after the northenmost main island in the archipelago that makes up Japan.
Hokkaido is quite different from the rest of the country, since it has large stretches of flat, farmable land (unlike the rest of Japan which is very mountainous) that is ideal for farming. The climate is that of Northern Europe or Canada, and much of it is used for dairy production and crops such as wheat and corn. Sapporo is the largest city in Hokkaido, so whenever you see Sapporo on Japanese food (such as Sapporo ramen), it usually means it has some milk, cream or butter in it.
This soup also shows a way of clearing the refrigerator. I had half a cabbage and some spring onions in the fridge, plus a frozen half of a chicken breast, and I always have canned corn around. So it all came together for this soup. It makes a great one-bowl kind of meal, with some rustic bread. You can put in leftover rice or potatoes in the soup too. The miso adds an intriguing sort of meaty flavor to the milky soup. I've given vegetarian alternatives in the recipe.
I have used a vegetable stock cube that has salt in it instead of dashi for this, so go a little easy on the miso. Taste and adjust!
The Official Testers liked this so much that they ate 5 big bowls of it between the two of them for lunch.
Hokkaido style corn, chicken, milk and miso soup
Note that this makes 6 cups of liquid + the ingredients, so there is more miso than for the previous recipes.
4 cups of water
1 vegetable stock cube
2 cups milk or soy milk
1 cup white cabbage, finely shredded
The white part of 1 green onion, finely sliced
1 cup of fresh, canned or frozen corn
1 Tbs. butter or sesame oil
6 oz. / about 200g chicken breast or leftover cold chicken, cut into pieces (vegetarians use firm tofu, TVP or quorn)
1/2 cup of white miso (or more or less to taste)
chopped parsley for garnish
A sprinkle of white or black pepper
Heat up the water in a pot and dissolve the vegetable stock cube. Slice up the vegetables in the meantime.
Sauté the cabbage and onion in a frying pan with the butter or oil until it's just turning limp. Put in the soup stock and simmer until just tender.
Briefly sauté the corn in the frying pan (you don't need more butter, but you can add more if you like). Add to the soup. Add the milk, and bring up to a simmer. Add the cut up chicken - if you add raw it will cook almost immediately
Add the miso to the soup following the directions for day 1. Taste and add more miso if needed. Garnish with the fresh parsley and the pepper, and serve.
Note: if you go for the vegetarian option and use sesame oil and tofu (the preferred replacement for the chicken), it will be much tastier if you briefly sauté the well drained tofu in the sesame oil before adding to the soup.
Submitted by
maki
on 2006-08-31 19:38.
Filed under:
japanese
soup
chicken
miso