Cream puffs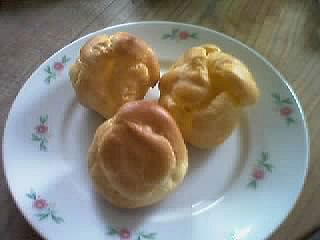 It seems that a new food craze in New York these days are cream puffs from a store called Beard Papa, on the Upper West Side. It's owned by a Japanese company. This makes sense to me, because cream puffs are a part of my childhood in Japan.
I am not sure why cream puffs became so popular in Japan. But I remember always anticipating the 5 for 300 yen bags available at the local grocery store. They were about palm-size, for a 10 year old. The cream filling must have been rather stable since they were sold packaged. The outside of it was crispy yet curiously tender, and the cream would burst inside the mouth when you bit into them. They were just delicious to me, and I used to beg my mother to get them quite often.
For a long time I've been unable to get cream puffs just so. Eclairs seem to be more available for some reason, but to me, an eclair is not a cream puff. I don't really want that glaze and stuff on top - the only adornment a cream puff needs is maybe a sprinkling of sugar, but really, it's good enough even without that. The choux pastry casing is just the perfect vehicle for custard cream - you can keep your cream filled donuts and horns and the like.
Cream puffs are very easy to make really, though not a quick thing. You need good custard cream to go inside, and you need the puff itself, which is made of choux pastry. The custard needs to be made well in advance and cooled, and the puff needs to be fresh out of the oven, for ultimate deliciousness. It seems that's the success formula for Beard Papa's.
You may also choose to fill your puff with whipped sweetened cream, or softened vanilla ice cream. But then, it's not a cream puff to me any more.
And yes, if you follow this blog regularly, these are what I was thinking of when I thought of puffy, cloudlike things.)
Cream puffs with custard filling
One batch of choux pastry
6 egg yolks
1/2 cup sugar
a pinch of salt
2 cups whole milk, or light cream
1 vanilla bean, split, seeds scraped out and put into the milk
1/2 cup of flour and cornstarch combined (or one or the other alone), blended and sifted
2 Tbs unsalted butter
Make the custard filling several hours in advance.
Heat the milk with the vanilla bean slowly. (You can also use vanilla extract instead, in which case you'd add about 1 tsp. at the very end.)
Beat the egg yolks with the sugar and salt with a whisk until the mixture is a pale lemony yellow. This indicates that the sugar has melted into the yolks. Add the flour-cornstarch mixture.
Fish out the vanilla bean from the hot milk, and add the milk in dribbles to the egg mixture, stirring constantly. Heat over a low to medium heat, stirring with a wooden spoon, for about 2-3 minutes until you can't detect any floury taste. Add the butter, and the vanilla extract at this point if you didn't use a vanilla bean.
Let cool for several hours, covered. You may want to adjust the vanilla before serving.
In the meantime, make the choux buns.
To fill the buns, you can be fancy, which means using a pastry bag (or a plastic bag with a nozzle attached), or simply cut them in half and fill with a spoon. It's sort of fun to just lay out the buns and let everyone fill their own. That ensures maximum crispy-to-creamy contrast.
Submitted by
maki
on 2004-04-06 23:12.
Filed under:
dessert
favorites