Is my blog burning?: Spiced Spinach Soup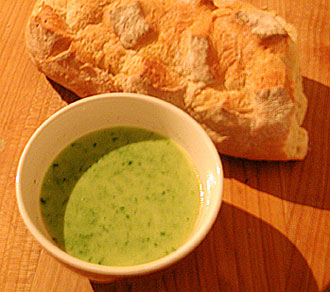 Here is my entry for the the soup blogging day proposed by Alberto of Il Forno.
This is a spiced, rather than spicy, soup. Spicy implies that something is hot, usually from chili peppers or chili powder. This soup is not hot and does not contain any chili peppers or chili powder, but it has plenty of spice flavor, from cinnamon, cardamon, bay leaf, curry (just a tiny bit), cloves, and ginger, as well as onion and garlic. It's a very warming soup, perfect for a cold winter's dinner. It will not only warm your body, it will put you in mind of hot, exotic climates like India and Thailand and even Ethiopia (the spice mixture is quite reminiscent of the spice tea you can get at Ethiopian restaurants).
You can substitute other greens for the spinach, but spinach really looks the best. It really is quite green, especially if you use fresh spinach - but you can use frozen too.
For maximum spiced flavor, make sure your spices are as fresh as possible. You should really throw out any dried spices that are more than six months old (OK, I did recently find a jar of star anise that was dated 1990....yipes! I think I must have carried it from New York!)
What to have with this soup? A good bread always fits, or if you want to make it more "ethnic", try it with papadoums or naan bread or some flat Afghan bread or toasted pita triangles.
[Update: Alberto has posted a list of links to the first Is My Blog Burning participants.]
Spiced spinach soup
1 medium onion
2 cloves garlic
4 cinnamon sticks
2 bay leaves
5-6 whole cardamon seeds (If you can't find whole cardamon, use ground cardamon and add it near the end of the cooking.)
Butter or vegetable oil
6 whole cloves
A piece of ginger about the size of your thumb
1/2 tsp of curry powder, or a handful of curry leaves
4-5 cups of vegetable or chicken stock (from stock cubes is ok, though real stock is better of course)
1 cup of evaporated milk or light cream
1 pound / 450g of fresh spinach leaves, washed, or 1 pound /450g of frozen spinach
Heat up the soup stock.
Slice the onion, the garlic cloves, and the ginger. Heat up a pan with some butter or oil, and sauté the onion, garlic and ginger until the onion is rather golden but not burned. Add the cinnamon, cardamon, cloves and bay, and curry leaves if you have them, and sauté a bit more.
Add the stock, and lower the heat. Simmer on med-low heat for about 45 minutes, until the onions are completely soft.
In the meantime, quickly microwave the washed spinach leaves for a couple of minutes in a plastic wrap-covered dish until the leaves are wilted. Or, you can steam them also (but let's face it, nuking them is faster!) If you are using frozen spinach, defrost it.
Strain the soup-spice mixture through a rather coarse sieve, food mill or "china cap" (called a chinois in French), pushing through the soft pulp but making sure you don't get any bits of cinnamon stick or cloves or so in the soup.
Add the evaporated milk or cream, and the spinach. Heat up, and then either in your blender or with a stick blender, puree the mixture until smooth.
Add the curry powder if you didn't use curry leaves, and season with salt and pepper to taste. This makes enough for 4 hungry people, or enough for 2 hungry people plus plenty of leftovers for lunch tomorrow.
Submitted by
maki
on 2004-02-08 23:12.
Filed under:
food events
soup
vegetables
imbb