Mousse au chocolat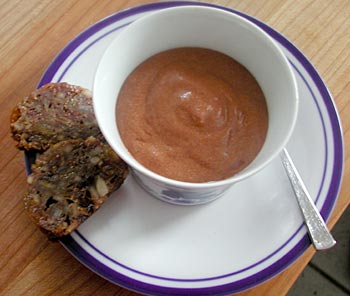 For my birthday dinner dessert, Max made his speciality - a melt in your mouth mousse au chocolat. Unlike many other mousse recipes, this one contains no cream, and no added sugar. It's just bittersweet chocolate, eggs, and a little butter. Of course, it uses a very Swiss ingredient, chocolate.
There are two key ingredients: chocolate and eggs. The bittersweet chocolate should contain at least 49% cacao (Max used a Crémant from Lindt this time, though he usually prefers Caillers). And the eggs, since they are used raw, must be fresh, and preferably organic and/or guaranteed free of any nasty things. We used fresh eggs bought from our local organic farmer.
As with the main course recipe, this one is almost ridiculously easy, yet produces fantastic results. You can serve it at room temperature as soon as it's made, or chill it a bit. A dollop of whipped cream on top is an option, but I prefer it unadorned. Amaretti or biscotti make nice accompaniments.
Mousse au chocolat
120 g / 4 oz of bittersweet, best-quality chocolate with at least 49% cacao content
30g / 1oz of unsalted butter
2 large eggs, separated
Break up the chocolate. Melt it either in a bowl over a pan of hot water (a bain-marie), or in the microwave. If you are melting in the microwave, nuke it on high for about 2 minutes and take a look. It probably will need another minute until it's totally melted but not stiffening up.
Mix the butter into the chocolate, and stir in the egg yolks rapidly. Let the mixture cool to room temperature.
In the meantime, whip the eggwhites until they are stiff. This means that if you turn the bowl upside down over your head, you won't get a white foamy hat.
Take about 1/3rd of the egg whites and mix it into the chocolate mix. This lightens up the mix so that the rest of the egg white can be incorporated better. Fold in the rest of the egg white with a metal spoon - if it's a bit streaky that's fine.
Serve in small ramekins or cups. This amount makes enough for 4 servings.
Submitted by
maki
on 2004-01-26 07:54.
Filed under:
chocolate
dessert
swiss