Saltimbocca and risotto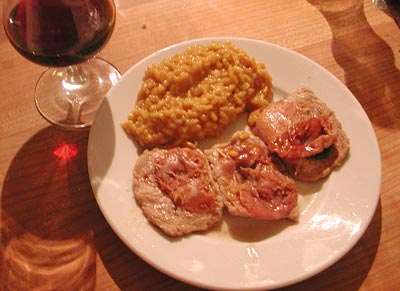 As I mentioned previously, Saturday was my birthday, and Max made me a special birthday dinner. To start the meal we had a simple mixed greens salad with olive oil and lemon dressing. The main course was one of my favorites - saltimbocca with risotto alla Milanese. Saltimbocca is made from veal scallops, sage leaves, and prosciutto di Parma, and risottoa alla Milanese is made with veal stock, red wine, saffron and quite a bit of butter.
You may wonder why I've included this is the "Swiss" category. Well, Switzerland is made up of 4 distinct cultures (and languages); the most populous German, the French, the Italian and the Romansch. While saltimbocca and rissoto are quintessential northern Italian dishes, they are considered to be just as much a part of the food culture of the Ticino, the Italian speaking region of Switzerland.
With dinner, we also had a wonderful wine, a Crôutin Riserva Personale Mario Scrimaglio 1997. I'm not the wine expert in our family, Max is so I'll have to poke him to add some details about the wine in the comments or something. It was a wondefully full-bodied wine, with a lot of plummy and raisiny aromas and just enough tannin, and it went wonderfully with the meai.
So, here are the recipes for both the saltimbocca and the risotto. They are both very easy to prepare, and utterly delicious. If you're a beginning cook, this would be an ideal meal to make for guests, since there isn't much you can screw up as long as you watch the stove. Prepare the saltimbocca; start the risotto, and as the risotto is finishing quickly cook the saltimbocca. Due to the rather large amount of butter in the risotto, it's not exactly diet food.
Risotta alla Milanese
Serves 4 people
2 cups of arborio rice
Approx. 6 cups of veal stock, or mixed chicken and beef stock (homemade stock is best, but if not, canned, or from cubes)
1/2 cup of red wine
1 small onion
a pinch of saffron threads
90 g / 3 oz butter
1 cup of Parmesano Reggiano, grated
Salt and pepper
Soak the saffron threads in a little lukewarm water.
Finely chop the small onion. Sauté in about 1 Tbs of butter until just translucent.
Add the rice. Add more butter and sauté until the rice is just a bit browned. Heat up the stock in the meantime.
Add the wine. It will almost immediately evaporate. (I once heard a chef say that you should only add the liquid to the risotto when the rice is hot enough to sing Aida.) Now, start adding the hot stock, one ladleful at a time, stirring until the liquid has evaporated. Once it has, add another ladleful of stock. Continue adding the stock; about halfway through, add the saffron with the water it was soaking in. By the time you are finished, the rice will be creamy and just cooked (not mushy; the rice should be just firm, or al dente.)
Take off the heat and add the cheese and the rest of the butter (please, don't use pre-grated Parmesan from a canister...get a chunk of real Parmesano Reggiano, or at the very least a good Grana Padano or so) Stir until melted. Taste and adjust seasoning with salt and pepper.
Saltimbocca alla Romana
Saltimbocca is another classic northern Italian dish, and it's very popular in Switzerland. We can even get pre-prepared saltimbocca (with the proscuitto and the sage) at the supermarket butcher counter. The word saltimbocca means "jump in your mouth". You don't see saltimbocca as much as other veal dishes outside of Switzerland or Italy for some reason - it's really delicioius. The key here is to have real proscuitto di Parma, and fresh sage leaves.
This amount serves 4 people; halve for a dinner for two.
12 1oz / 30g veal scallops (3 per person)
12 pieces of proscuitto di Parma (Parma ham), approximately the same size as the scallops
12 fresh sage leaves
Light olive oil to cook
Assemble your saltimbocca: put a sage leaf on top of each scallop, add a slice of proscuitto, and attach them together with a toothpick. Lightly salt and pepper.
Heat some olive oil or in a pan until hot. Put the saltimbocca in, ham side down. Cook at high heat for just 2 minutes, then turn. Cook for another 2 minutes.
Serve immediately with the risotto.
Submitted by
maki
on 2004-01-26 07:37.
Filed under:
cheese
swiss
rice
veal