Japanese Basics: Kaeshi, soba and udon noodle soup or sauce base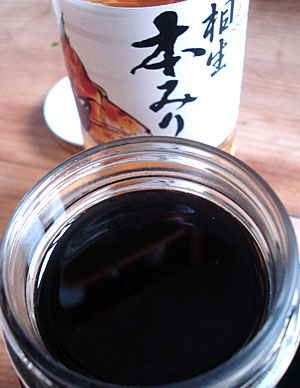 When the weather gets warmer, we eat a lot of cold Japanese noodles: soba (buckwheat noodles), hiyamugi (thin wheat noodles), so-men (even thinner wheat noodles), Sanuki udon (thick wheat noodles- Sanuki is the name of a region famous for udon) and harusame (bean or 'glass' noodles). For most cold noodle dishes a salty sweet soy sauce based soup or dipping sauce called mentsuyu is used. You can buy pre-made mentsuyu concentrate, but to me most of them taste too sweet or are overwhelmed by a too-strong MSG or similar artificial tasting umami flavor. Making mentsuyu at home from scratch is not so difficult, and the difference in taste is quite worth the little extra effort.
The base of mentsuyu is a mixture of soy sauce, sugar and mirin called kaeshi (or hon-gaeshi: hon means "real" or "authentic"). It can also be used as a flavoring base for many other things. You just need good quality dark soy sauce, white sugar, and good quality mirin. It keeps for months in the refrigerator, or even in the freezer (where it will stay liquid) so I like to make as big a batch as I can afford to price-wise and fridge-space-wise.
This is similar to the Japanese essence mix, but doesn't include the kombu seaweed or bonito. If you are a vegetarian you can use kaeshi safe in the knowledge that it's totally vegan, and combine it with a vegetarian stock. Kaeshi also lasts a lot longer since the basic ingredients are indefinite keepers.
I'll be talking about cold noodles and such in upcoming posts, so if you'd like to follow along, you may want to make some kaeshi to be ready.
This is a very traditional basic recipe.
Kaeshi
This makes about 6 cups.
4 1/4 cups (or 1 litre, the standard size for a soy sauce bottle) good quality dark soy sauce
3/4 cup / 180ml mirin (hon mirin, the kind with alcohol in it, is preferred)
3/4 cup / about 150g granulated or superfine white sugar (see notes)
Put the mirin in a pan and bring up to the boil; lower the heat and let simmer a bit to evaporate much of the alcohol content.
Add sugar and stir until melted. Add the soy sauce, and let it warm up slowly, stirring. It should never boil - once it starts barely bubbling, take it off the heat.
If any cloudy scum has accumulated on the top, skim off carefully. I t can be used right away, but is best when allowed to rest for at least a day.
Let cool and store in a glass or other non-reactive, airtight container in the refrigerator. (I keep it in preserving jars with screwtop lids.) It will keep for several months under refrigeration.
Notes
I like this to be not that sweet, but I am from the Kanto (Tokyo) area. People from the Kansai area would use 1 cup of sugar for this instead of 3/4ths. You may want to adjust the amount of sugar to your taste.
In Japan, use san-on-to- (三温糖) or cooking sugar.
If you are sugar-intolerant in any way, a heat-safe sugar substitute should work, though it's not tested here.
Mirin is a fortified sake with alcohol content, and is primarily used as in cooking rather than for drinking. Honmirin (本みりん)is 'real' mirin, made with traditional methods. You may also see aji mirin or mirin choumiryou for sale - this is an alcohol-free (or very low alcohol) mirin flavoring, a fairly modern invention. I prefer hon mirin since I think it has a better flavor (also, better brands of mirin only come as hon mirin)
Submitted by
maki
on 2007-05-14 17:18.
Filed under:
basics
japanese
sauce
noodles