What Japanese kids like to eat, now and then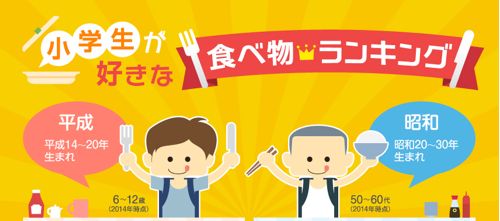 While I was doing research for an upcoming article, I ran across this page on Gurunavi, one of the top 2 restaurant-reviewing sites in Japan, which has a cute infographic with the results of a survey of the foods kids love. The column on the left shows what kids between the ages of 6 to 12 in 2014 like, and the right column shows what people who were born in the 1950s-60s or so (or the mid-Showa era) liked when they were that age. Although there may be some 'recall errors' for the 2nd column, the results are pretty interesting.
Here's the top 10 for the kids of today:
1. Curry rice
2. Sushi
3. Chicken karaage
4. Hanbaagu (hamburger steak)
5. Ramen
6. Yakiniku
7. French fries ("potato fries")
8. Omurice (rice omelette)
9. Pizza
10. Sashimi
And here's the top 10 for kids of yesteryear:
1. Curry rice
2. Omurice and hambaagu (tie)
4. Tamagoyaki
5. Ramen
6. Korokke (croquettes)
7. Sushi
8. Sukiyaki
9. Tonkatsu (deep fried pork cutlet)
10. Chicken karaage
The rise of sushi as the second favorite kids' food is kind of surprising, but I think this can be attributed to the huge increase in inexpensive conveyor-belt sushi chains around the country. When I was a kid sushi was an occasional feast food, but these days it's become a lot more accessible. Yakiniku probably means Korean barbecue-type grilled meat, which has also seen a huge jump in popularity in the past decade or so. French fries have replaced croquettes as a favorite deep fried potato food - again, this is probably due to the increase in American-style fast food chains (the first McDonald's franchise in Japan opened in 1971 in Ginza, Tokyo). There's probably a similar story behind the rise in the popularity of pizza.
Both lists are dominated by western-style foods, with sushi and sashimi being the only "traditional" foods. This reflects how westernized Japanese food has become after WWII (and I guess maybe one reason why some people in Japan thought it was really important to get washoku or traditional Japanese cuisine UNESCO Cultural Heritage designation).
The least favorite foods are interesting too. They only list the top (or bottom) 3, but they are like this:
Today's kids:
1. Goya champuruu
2. Celery
3. Green bell peppers
Kids of yesteryear:
1. Celery
2. Liver
3. Natto
Goya champuruu is an Okinawan dish, and Okinawa was only returned to Japan by the United States in 1972 (it was occupied by the U.S. military after WWII). Okinawan food has only become widespread in mainland Japan from the 1980s onwards. Green bell peppers have always been a food kids dislike I think (I'm not sure if this is just in Japan, or a worldwide thing). Celery is a bit surprising to me since I've always loved celery myself.
The pie charts on the bottom show the responses to the question of how parents responded when a kid didn't like a food. The parents of yesteryear were more likely to make their child finish the food regardless, while today's parents are more likely to make the child eat just a portion.
(There's a more comprehensive survey on this page. According to this, the favorite food of kids is sushi, but the least favorite food is grilled fish! The same product but cooked and presented differently.)
What do similar lists in your country look like? What do you remember liking or disliking when you were that age? As for me, I disliked seaweed a lot, especially konbu (not in dashi, but when it was used in big pieces for kobumaki (konbu and sardine rolls). I also disliked nori seaweed, and used to peel it off my mochi cakes and feed it to my little sister! Nowadays I like nori but still am not that fond of kobumaki.
Submitted by
maki
on 2014-10-09 09:05.
Filed under:
japanese
japan
washoku
japanese culture
yoshoku