A week of miso soup, day 5: Ground shrimp, ginger and miso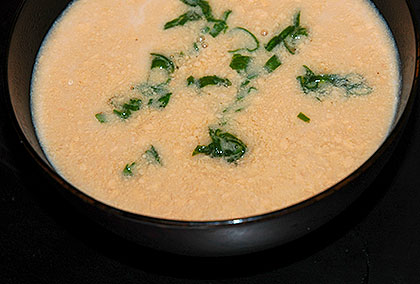 This is a miso soup made of fresh shrimp ground to a paste, mixed with flavoring ingredients, then whisked into hot dashi stock until just cooked. It's called ebi no nagashi jiru (ebi is shrimp). It's a quite traditional soup that used to be laborious to make, before the advent of the food processor. It's not one that is served that often in homes, perhaps because it used to be a bother to make, or perhaps because miso soup is rarely the star of a meal. It's really delicious in any case, and shows yet another way of making a miso based soup.
Nagashi jiru is traditionally made with fresh bonito (katsuo), but bonito is probably not that easy to get a hold of, so I have made it with shrimp here. It can also be made with fresh tuna or a white fish like red snapper.
Fresh ginger and sake are used a lot in Japanese cooking with fish or meat. These ingredients, plus onion, help to lessen any gamyness (kusami). This technique is also used in Chinese cooking. Here ginger juice and sake are used to make the shrimp taste brighter.
The soup has a coral color from the shrimp, and an intriguing texture.
Ground shrimp and ginger miso soup (ebi no nagashi jiru)
4 cups of dashi stock
200g / about 7 oz. fresh peeled shrimp
1 Tbs. miso, red miso preferred, but you can use white or blended
1 Tbs. fresh ginger juice (grate some fresh ginger, and squeeze out the juice)
1 Tbs. sake or dry sherry
1 Tbs. soy sauce
pinch of salt
a little finely chopped green onion
Equipment needed: a food processor
Make the dashi stock following the directions on day 1.
Chop the shrimp up roughly and put in the bowl of the food processor. Process until finely chopped. Add the miso, ginger juice and sake, and about 4 to 5 tablespoons of the dashi stock until it is a very smooth paste.
Add the shrimp paste to the rest of the dashi stock, and simmer very gently while stirring until it turns a pinkish-coral color. Add the soy sauce, and if necessary a little salt (taste!)
Serve with a sprinkle of green onion.
Variation: add some cubed tofu.
Submitted by
maki
on 2006-09-02 00:17.
Filed under:
japanese
soup
fish
miso