Postcards from Kyoto: Kagizen Yoshifusa and Inoda Coffee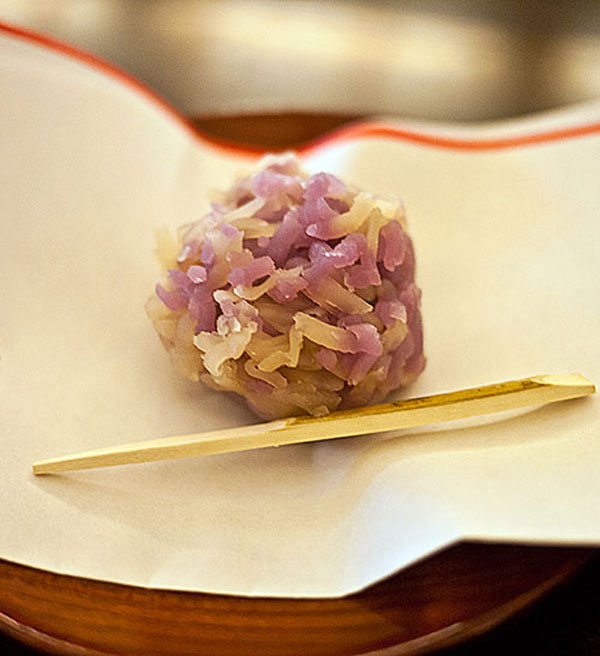 Kyoto, the former imperial capital, is the top tourist destination in Japan for many good reasons. A lot has been written about this city already, and it's impossible to describe in a few sentences - so I'm not going to try to. Instead, I'll share some of my favorite destinations in a series of pictures and short descriptions -- as postcards if you will. Here's my first postcard from Kyoto.
Kyoto is a city that hits the sweet spot for me in more ways than one. It is dripping with history, has fantastic shops, great art and craft galleries, and so many places to have a wonderful meal. It also has a lot of literal sweet spots. Perhaps because of its history as the seat of the imperial court, where ladies influenced much of the culture, there are many amami dokoro, or places to enjoy a bite of something sweet, both traditional and modern.
Kagizen Yoshifusa
One very traditional place is Kagizen Yoshifusa (Japanese only web site), with kissaten or tea rooms in the Gion district and near Ko-dai-ji temple. We went to the main store in Gion on a rather cold afternoon.
You first go through the the very impressive old shop, where they sell wagashi (traditional Japanese pastries) to go. They have dozens of old pastry molds decorating the walls.
This retro-modern looking chair was at the entrance to the kissaten, which is in the back. I wanted so much to grab it and take it home with me.
When you are seated at your table, you're presented with a cup of hoji-cha and some rakugan, sweets made of powdered sugar and rice flour, to nibble on while you peruse the menu. Rakugan really look far prettier than they taste, but the sweetness is a great foil for the tea.
The speciality of the house is kuzu kiri - cold, slippery noodles made from kuzu flour. They are served in a large round tea container, apparently a leftover from the days when they used to deliver the kuzu kiri to tea houses in the area. The noodles are dipped in a black (brown) sugar syrup.
I had some iced matcha with the kuzu kiri - perhaps not the best choice on a cold day, but it was very refreshing.
The warabi mochi - soft mochi made from steamed bracken roots, coated with kinako or toasted soy bean flour - was soft and delicious too.
On the way out, my mother had to stop to place an order for some oimo-san, a wagashi that Kagizen is famous for. Here she is, contemplating her order in the beautiful front store.
And this is what arrived back home a few days later - a pastry called Oimo-san, made from sweet potato paste. Not too sweet, with a touch of salt. As delicious as it is cute.
The main Kagizen Yoshifusa store is at Gion-cho 264 Kita gawa, Azuma-ku in Kyoto. It's on the north side of Shijo Dori, in the Gion district. The nearest bus stop is Gion, and the nearest train station is Gion Shijo. Open 9am to 6pm, closed Mondays.
Japanese pastry terminology note
Wagashi is an all encompassing term for traditional Japanese sweet things. There are three main types of wagashi: Namagashi, higashi and han-namagashi. (I've seen it erroneously stated elsewhere that namagashi and wagashi are synonymous. Not so.) Namagashi are pastries that are moist and meant to be eaten right away. Higashi are hard, dried pastries that keep indefinitely as long as they are kept dry. Han-namagashi are soft pastries that don't have to be eaten right away, but should be eaten within a few days. The rakugan pictured above (the hard sugar and rice flour flower-shaped things) are higashi; the kuzu kiri and warabi mochi are namagashi, and the Oimo-san is a han-namagashi.
And while we're correcting terminology, kuzu is not the same as arrowroot. The two come from totally different plants. Kagizen's web site states that their kuzu is grown in the Yoshino area, right near Kyoto. (I believe arrowroot comes from a tropical plant.)
Inoda Coffee
If you aren't into traditional Japanese pastries, there's no need to go pastry-less in Kyoto, since another tradition there since the turn of the last century is the elegant Western style cafe or coffee house. Many old-time cafes retain their early to mid-20th century decor and charm. Inoda Coffee (Japanese only web site) is perhaps the best known Kyoto cafe. While they now have a few satellite stores in other areas of Japan, the main store or Honten is the place to go if you're in Kyoto.
The outside has a split personality. The left side looks like a retro-modern coffee shop, and the right side is pure Kyoto machi-ya, or traditional wooden construction town house.
Half of the restaurant inside is pure '70s chic, with wood paneled walls and big green-leafed plants. This is the smoking section, where people leisurely sip their coffee and peruse the paper. There are seats upstairs too.
The other, non smoking section is actually newer, though the decor is vaguely art-deco/art-nouveau/Victorian. You can enjoy a coffee or other beverage, a snack, pastries or other sweets here.
A very Japanese Western-style sweet is a loaded parfait or sundae, like this one, which features a caramel flan or purin.
I love the Inoda Coffee logo.
The Inoda Coffee main store is on Sakai-machi Dori, between Sanjo Dori and Rokkaku Dori. The closest bus stop is Shijo Takakura, and the closest metro stop is Karasuma. Open daily from 7am to 10pm (I haven't tried it, but breakfast here is supposed to be a great alternative to the mediocre fare offered at the hotels.)
For a take-home sweet fix
If you just want to buy some pastries from Kyoto, either Western or traditional Japanese style, to take home, the easiest place to do so is in the food halls of Takashimaya, Isetan, Daimaru or Hankyuu department stores. Isetan is right at Kyoto station, so it might be the most convenient place to grab a gift before hopping on the Shinkansen. The other three department stores are on busy Shijo Dori.
Be aware that for the most popular pastries, especially namagashi, you may have to line up at a designated time. For instance, the mamemochi from a famous store called Demachi Futaba are delivered to Isetan once a day at noon, and to Takashimaya twice a day at 10:30 and 3:30. The main store is a bit out of the way from the center though, so lining up at one of the department stores may be less of a hassle. Here's a Demachi Futaba mame mochi, which my mother swears is excellent. (I am not that much of a mame mochi connoisseur, so I'll just go by her judgement here.)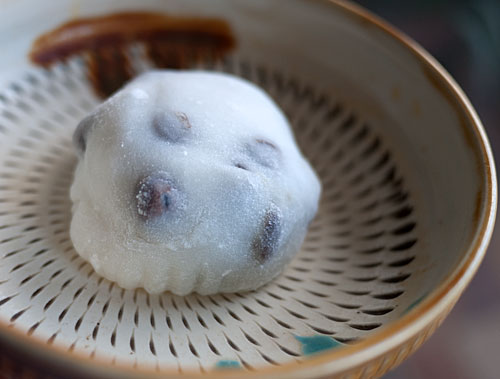 Maki's Kyoto map
My Kyoto map is a work in progress - I'll be adding to it as I post these Postcards. It's not going to be as extensive as my Tokyo shopping map, but it may be of help if you're inclined to like the kinds of shops and food-oriented places I do - that is, anything with delicious food, plus handmade crafts and the like!
Submitted by
maki
on 2010-03-27 12:52.
Filed under:
food travel
shopping
japan
kyoto