From what age it safe to give sushi or sashimi to kids?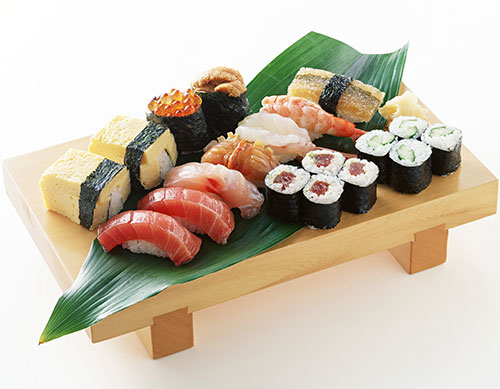 As we enter midsummer in the Northern hemisphere, chances are you're going out for sushi more than in the winter since it's relatively light on the stomach. But summer heat also means you need to be a bit more careful about food safety. While sushi does not just mean raw fish, a lot of it is raw; plus, sashimi does involve slices of raw fish So, how safe is it to give raw fish sushi an sashimi to small children? At what age should you start?
Wait until they're on solid food at the very least
Japanese parenting magazines and websites recommend that you do not feed raw fish products to very young children. Their immature digestive systems can't handle things that more mature, toughened digestive systems can.
Most sources agree that you should definitely not feed raw or undercooked fish products to babies who aren't on solid food yet. (Japanese moms typically give their kids who are being weaned cooked, shredded fish along with other baby-friendly food.)
After kids are on solid food, some parents have no problem letting them have raw fish. The generally recommended age at which kids can eat some kinds of raw fish varies from around age 2 1/2 to 3, all the way up to school age or age 6.
Raw shellfish is the least safe type of raw seafood
The safety of raw seafood varies by type. The least safe raw seafood products for immature or compromised digestive systems are shellfish, which can get contaminated very easily. THis should rule out non-sushi raw shellfish like raw clams and oysters too. Freshwater fish, salmon and 'blue' fish (the oily fish with blueish skins like mackerel) should also be held back until the kids are older according to most recommendations.
Beware of raw salmon
To address one fish in particular: Fresh (raw) salmon sushi is very popular in the United States and many other places, but it's not so popular in Japan. Salmon often has parasites, which have to be dealt with before the fish is suitable for consumption. (Cooking kills these parasites.) In addition, traditionally raw salmon was believed to have an oily, unpleasant taste. Most salmon consumed in Japan is still salted; smoked salmon is popular too. Untreated salmon is usually cooked before eating.
Tuna (maguro) and bonito (katsuo, aka skipjack tuna) are considered to be the easiest to digest, and nominally safe for kids. However, tuna in particular is high in mercury these days, so should be eaten sparingly by everyone. Bonito/katsuo is often served seared on the surface (tataki) so it may be a bit safer than totally raw fish for little kids.
Cook the surface of sashimi slices for very small children
If you are serving raw-fish sushi or sashimi at home to small children and you still want them to start enjoying the texture and flavor, it's recommended to lightly cook the surface of sashimi slices by searing them quickly in a hot frying pan, or swishing them a few timesin boiling water, shabu-shabu-style. Their older siblings and parents can enjoy the raw fish as-is.
There are many cooked sushi items of course, such as tamagoyaki (omelette), boiled shrimp, kanpyo (dried and simmered gourd strips) and so on, as well as vegetables like cucumber and radish sprouts. Cooked sushi or sushi made with vegetables is ok for kids who are on solid food. There's a lot of cooked sushi to enjoy: most makimono (rolls) are made with cooked neta or vegetables, or just contain a little bit of tuna (tekkamaki).
Sushi is not really everyday food
One more thing to keep in mind though: Sushi rice is high in salt and sugar, and a lot of cooked neta (neta is the stuff that goes on or in the rice) is also highly seasoned. For instance, ikura or salmon caviar is salmon eggs marinated in a very salty soy sauce. In Japan both sushi and sashimi are regarded as occasional treats, mainly due to the expense of really good sashimi or sushi-grade fish. It's probaby best to follow that way of thinking. (I've been asked if sushi is 'health food' or 'good for a diet' periodically; I'd say no.)
Et tu, raw meat
The recommendations for small children to avoid raw fish applies to raw or very rare meat too. Following a spate of food poisonings in 2011, there was a big campaign to inform parents and kids about the dangers of eating raw meat. For instance, the Korean chopped raw beef dish yukhoe (called yukke in Japan) is very popular in Japan, but following a spate of food poisoning incidents, including some deaths, in 2011, it's been recommended that people in general should only have it from reputable sources, and that kids should avoid it.
...and even sprouts
While no government entity recommends avoiding raw vegetables, you may want to be a bit wary of feeding very small children raw sprouts. Many of the recent e.coli outbreaks have been caused by vegetable sprouts, such as the widespread outbreak in Germany in 2011. See: Sprouts: What You Should Know.
Incidentally, until the postwar period it was considered to be unhealthy and undesirable to serve any raw, untreated vegetables in Japan. Vegetables were almost always cooked, pickled, salted and so on befure eating. This has totally changed now of course - raw salads and the like are very popular.
In any case, I hope this has been helpful to you. If you have any questions about specific types of sushi and the like, let me know in the comments.
(This is an answer I originally wrote on the Q and A social media site Quora. I've edited and expanded on my original answer here, since I thought it we of interest to JustHungry readers.)
Submitted by
maki
on 2013-07-09 20:18.
Filed under:
sushi
kids
health and weight loss
sashimi
food safety