Easter brunch bunny bao (steamed buns)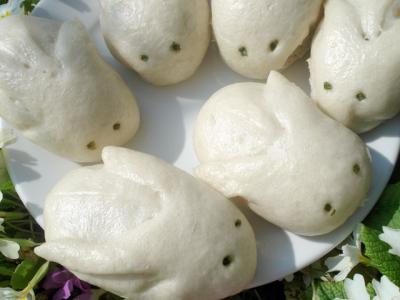 [From the archives: Easter bunny bao! One of the most successful recipes on JustHungry, these little light savory steamed buns are perfect for Easter. Originally published in April 2007.]
For a planned Easter lunch, I wanted to do something in the brunch realm, but with an Easter theme. Brunch purists may insist on eggs and pancakes and croissants and champagne for brunch, but for me 'brunch' means an early lunch feast after little or no breakfast, and so dim sum is my favorite kind of brunch.
Putting Easter and dim sum together, I devised these bunny shaped bao, or steamed buns. (The inspiration for the shape came from a pair of fluffy white bunny slippers I saw at a flea market last summer.) They are quite simple really: tender steamed bun dough is filled and formed into an oval, and the ears are cut with scissors. The faces are optional - for a minimalist bunny, you could just leave them blank and unadorned. Or, you could go all-out and add whiskers with slivered green onion, or whatever strikes your fancy.
The bunny bao could be stuffed with any kind of steamed bun filling (see my roast pork filled steamed buns), but keeping with the brunch theme, I've filled these with an egg, bacon and chive mixture. It all makes sense - eggs, and ham, and bunnies, plus spring chives. So very Easter.
You could of course omit the bunny-shaping part if you want to avoid the cuteness.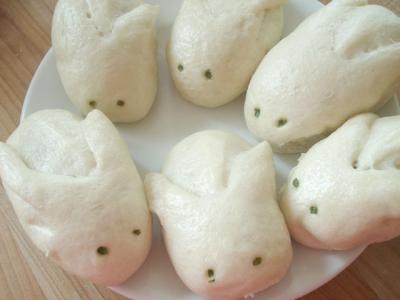 Recipe: Bunny shaped bao (steamed buns) with egg and bacon filling
Makes about 12 bunnies
For the dough:
400g / 14 oz. all-purpose white flour
1 packet (7g) dry yeast
2 Tbs. sugar
1/2 tsp. salt
approximately 220ml / a bit less than 1 U.S. cup warm water
2 Tbs. vegetable oil (such as canola, safflower)
extra flour for rolling out
For the filling:
150g / about 5 oz (a few slices) bacon, speck or pancetta, cut into small dice
3 large eggs
2 tsp. soy sauce
1 tsp. sugar
1 tsp. mirin
3 Tbs. chives, finely chopped
Equipment: a pair of sharp scissors, a multi-tiered bamboo steamer, kitchen parchment paper
Make the dough. In a large bowl mix the dry ingredients together well. Add the warm water a little at a time, mixing all the time, until it forms a shaggy ball. Important: You may need less water than the total amount, depending on how humid or dry it is and other factors, so add the water a little at a time and stop when the consistency looks right - rather shaggy, not too wet. (That's how doughs work.) Add the oil and knead in the bowl until the dough cleans the sides, sprinkling in a bit of flour of you made the dough too wet. Place on a board (lightly floured if necessary) and knead until smooth. Form into a ball, place back in the bowl and cover with plastic wrap. Leave until risen to about 2 1/2 times its original size, about 1 hour.
In the meantime, make the filling. In a dry non-stick frying pan, fry the the bacon bits until crispy but not too black. Drain well on a paper towel.
Mix together the egg, soy sauce, sugar and mirin. In the same non-stick frying pan, mix the egg around to make scrambled eggs that are firm but not hard (take of the heat while still soft, and they'll continue to cook to the ideal firmness). Add the chives and the bacon at the end and mix well. Let cool to room temperature.
Punch down the risen dough, roll into a snake and cut into 12 equal pieces. Make each piece into a small, smooth ball. Cover with a dampened kitchen towel and let rest for about 15 minutes.
Cut the parchment paper into 12 10cm / 4 inches or so sized squares.
Make ready the steaming equipment.
Flatten a dough ball to about 12 cm / 5 inches in diameter, making the edges thinner than the middle part.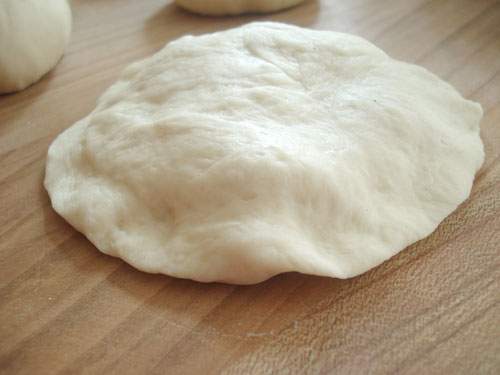 Place about 1 teaspoon of the filling in the middle of the dough circle. Don't try to overfill or you will have trouble closing up the dough.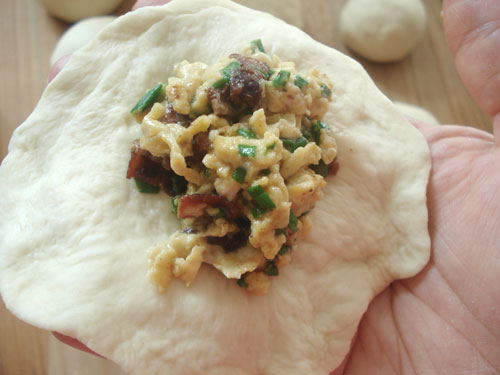 Gather up the dough around the filling, pinching to seal well. The dough should be moist enough to form a good seal, but if not brush the edges with the tiny bit of water and pinch closed again.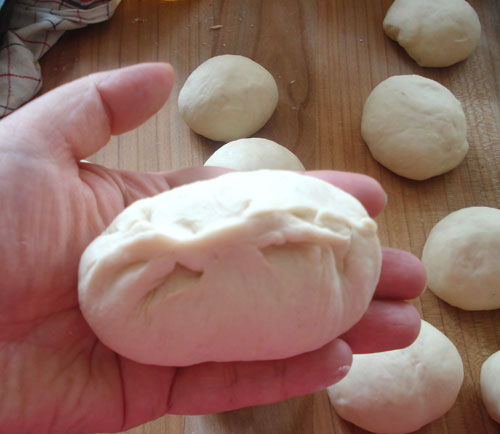 Flip the bun over, and form into a longish oval shape, rounding out any bumps if needed. Look at the bun and decide which end looks best as the 'face' of the bunny.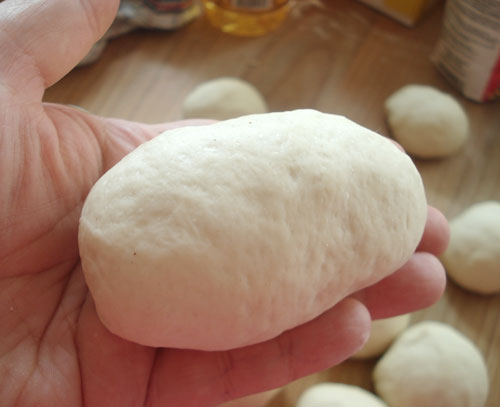 Lay a pair of clean, sharp scissors almost flat against the top of the bun lenghwise. The points should aim for about 1/3 from the 'face' end of the bun. Snip two 'ears', taking care not to cut through the dough so the filling is exposes.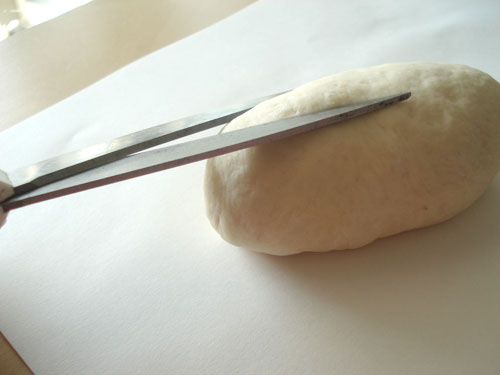 Here's how the bunny should look after the ears are snipped. If the ears are too round, flatten them carefully with your fingers.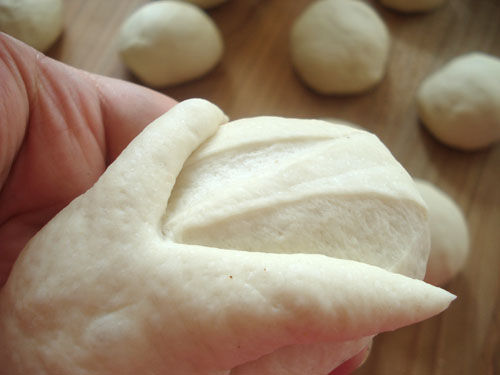 To make the eyes, poke small holes with a chopstick end and poke in a piece of chive in each hole. Don't go too deep! (If you are in a hurry, just poke the holes and skip the chives.)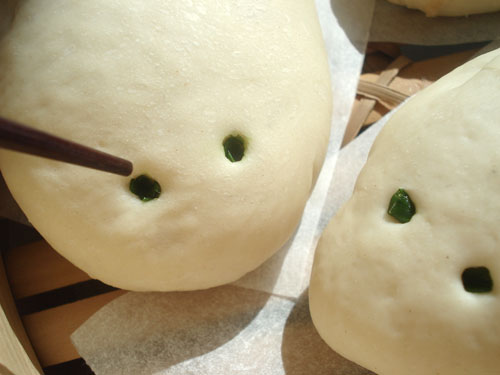 Place each bun on a piece of parchment paper, and place in a steamer well apart (they will puff up to about twice the size, and any touching parts will not be smooth). Steam for about 20 minutes. Eat while piping hot.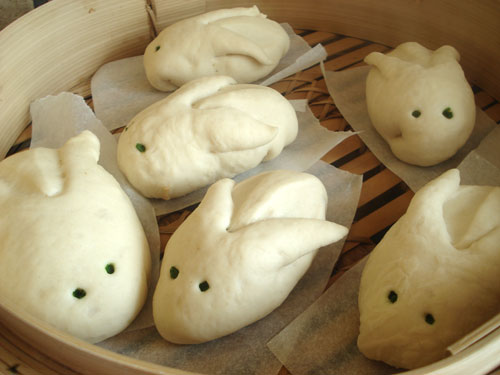 Notes
The dough here is a bit more delicate than the basic one I gave for steamed buns previously. The trick to making the bunnies smooth and cute is to not overhandle the dough, and to keep the surface moist when letting them rest. And, as noted above, do not add more water than you need - the right amount does depend on environmental factors which can't all be uniform!
All-purpose or 'medium strength' flour is recommended over bread flour, for a more tender texture.
To make these ahead: steam them, let them cool a bit and put into plastic bags and freeze. You can steam them from frozen for about 20-25 minutes until hot, or reheat them in a microwave covered in plastic for about 4 minutes per bun. You will need to adjust the times if you're microwaving multiple bao at once - start with 5 minutes, and keep checking them every minute.
You can also make plain unstuffed bunnies. Plain bao make a great accompaniment to Chinese meals, instead of the usual rice or noodles. You can tear the buns and dip them into sauces.
Update: If you have any problems, please check out the Keys to bunny baua success for some troubleshooting tips.
Submitted by
maki
on 2013-03-27 11:16.
Filed under:
bread
breakfast
party food
easter
chinese
holidays
bunny
steamed