Much too easy fruity low-sugar frozen yogurt
I often don't post something to my sites for the most mundane reasons, such as the fact that I don't really have a good photo (since I didn't plan a photo shoot for it), or the that the recipe is too easy to even call a recipe. Other times I forget about writing it up since it's such a part of my life that I take it for granted. This one fits all of the above.
It's really hard to take a good picture of frozen desserts like ice cream and frozen yogurt. Did you know that in professional food photo shoots, shortening mixed with food coloring is often used to fake ice cream? It's much more stable in the studio.
Anyway, this is what just-made, soft, real frozen yogurt looks like. A bit messy, but so good. I devised it one day as a way of incorporating more yogurt (see Hooray for Fermentation) and fruit into my diet, without having to use cereal, which is sweetened more often than not and not that diabetes (or low-carb) friendly
This version has a high proportion of berries to yogurt.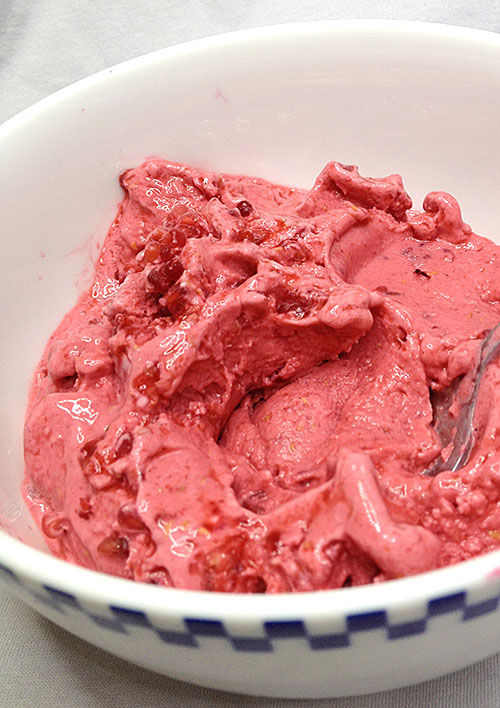 This one has a lower proportion of berries to yogurt, plus a dollop of heavy cream for a more unctuous texture. Both are equally good.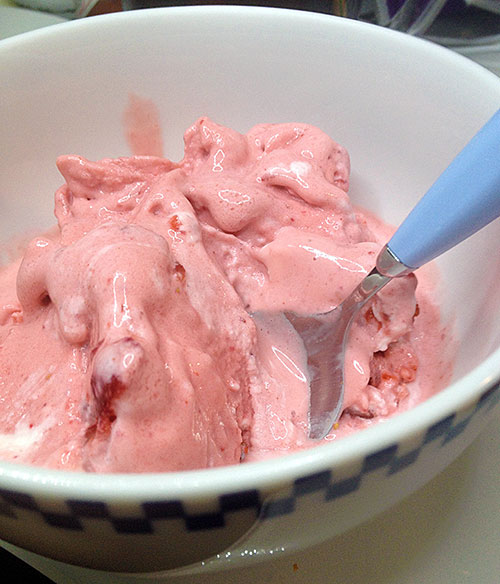 I have a variation of this for dessert and even for breakfast sometimes - in the latter case, with a hidden spoonful of oat bran mixed in for some fiber, which you barely notice. Greek yogurt is used for the creaminess and relatively low acidity.
The recipe is super-easy. All you need is a stick blender with a good motor. (We use a Bamix, which is super-durable, and because my husband is Swiss and its his patriotic duty or something to use Swiss products whenever possible.) You can keep the ingredients needed stocked in your refrigerator and freezer for an anytime treat.
As long as you're careful with the amount or choice of additional sweetener (don't add more than a couple of teaspoons at most), it's fairly low-carb and diabetic friendly, especially since berries are the most vitamin rich and low-sugar fruits you can choose. I do recommend adding sweetener to taste when eating, since you'll taste the added sweetener a lot more when it's on the surface rather than mixed in, plus eash person can add as much or as little as they like.
Recipe: Much too easy fruity frozen yogurt
Yield: 2 cups
1 cup plain Greek yogurt, cold from the refrigerator
1 cup frozen raspberries
sweetener to taste
Equipment needed: an immersion stick blender. You can also a use a food processor.
Put the yogurt and frozen berries in a narrow container suitable for using with the stick blender. Blend until smooth.
Add sweetener of your choice to taste if you find it too tart. Powdered sugar, or an artificial sweetener with a similar powdery texture, work well. Honey will add another dimension.
(I told you it was too easy!)
Variation recipe: Strawberries and cream frozen yogurt
Yield: a bit less than 2 cups
1 cup plain Greek yogurt, cold from the refrigerator
1/2 cup frozen strawberries
3 tablespoons heavy cream
sweetener to taste
Blend the yogurt, strawberries and heavy cream until smooth. You'll probably need less sweetener for this.
Submitted by
maki
on 2013-02-14 16:50.
Filed under:
breakfast
dessert
low-carb
diabetes