Sweet and spicy roasted kabocha squash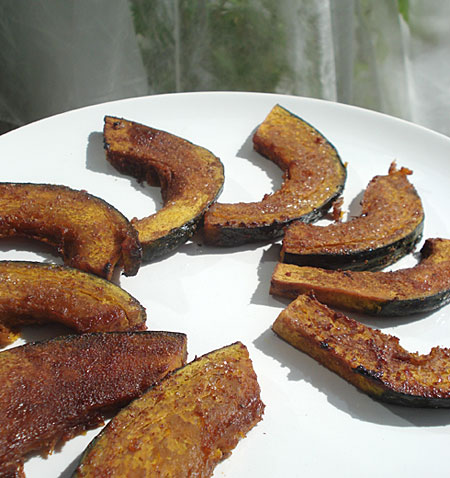 I hesitated to put this recipe up, because it's not the prettiest thing in the world. But it's so tasty, dead easy to make, and of this season - so, here it is. As a bonus it's full of fibre and is relatively low-calorie, low-sugar etc for people who want a bit of something sweet without going on a massive guilt trip.
Most recipes out there for using winter squash seem to involve pureeing them, but I rather like them when they are in chunks or slices. This roasted squash has a sweet, spicy and salty glaze of sorts on them, which brings out the dense sweetness of the fruit. Cut into fairly thin slices like this, it makes interesting finger food. You can vary the sugar and spice to your taste, though too much of either may overwhelm it.
You do need to use kabocha-type squash for this ideally, though butternut should work too. You will need a dense, starchy and sweet squash. Don't use regular pumpkin, which is too watery and lacks sweetness. (Rouge d'etampes pumpkin may work, but I've found their sweetness to vary quite a bit.)
Sweet and spicy roasted kabocha squash
1/2 small to medium sized kabocha squash
3 Tbs light brown, natural cane, or muscovado sugar, plus a bit more for sprinkling
1/2 tsp ground cayenne pepper or hot chili powder, more or less to taste
1/2 tsp ground cumin
1/4 tsp ground cinnamon
1/4 tsp ground nutmeg
1/4 tsp salt
1 Tbs soy sauce
Oil for drizzling - pumpkin seed oil is preferred, or use toasted sesame oil, argan oil, or walnut oil (see notes)
Preheat the oven to 200°C / 400°F. Line a baking sheet or two with silicon baking liner or parchment paper.
De-seed and cut the squash into slices about 1/2 cm or 1/4 inch thick. (Use a sturdy knife for cutting squash or pumpkin, on a stable surface, and be careful!)
Combine all the dry ingredients. Toss the squash slices in this until coated thoroughly. Add the soy sauce and toss well again.
Spread the slices in a singler layer on the baking sheet. Drizzle over them with the oil, and optionally sprinkle more sugar on them. Bake in the preheated oven for 15 minutes, then turn over, drizzle with more oil and sprinkle more sugar, and bake for an additional 10-15 minutes.
Serve hot or at room temperature.
Notes
Toasted pumpkin seed oil (Kürbiskernöl) is a mainly Austrian speciality, though they make it here in Switzerland too. It's very nutty and dark, and is terrific in dressings and marinades. Toasted sesame seed oil or walnut oil can be substituted, or even expensive argan oil.
Instead of cinnamon, nutmeg and cumin, you can use a 'pumpkin pie seasoning' mix (or if you are in the Germanic parts of the world, a Lebkuchen mix would do too.)
Submitted by
maki
on 2007-10-04 10:34.
Filed under:
japanese
fall
vegetarian
sweet
vegan