Zucchini and chickpea pancakes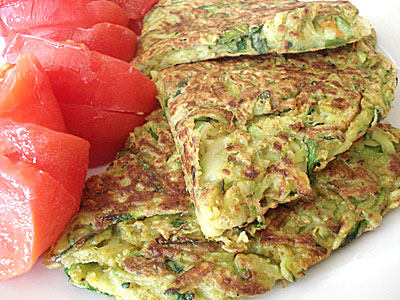 Continuing with my light and quick summer dishes:
This year we got a bit more serious than usual about our garden, and planted three zucchini plants. If you have a garden with zucchinis, you know that sometime around midsummer they start to produce babies like crazy. We've had a rather cold and rainy summer here up until now, but this week our three innocent looking zucchini plants have gone into high gear, and we're picking them as fast as we can before they turn into seedy, tasteless baseball bat sized monsters.
Zucchini pancakes are one way to use up a lot at once. This version uses chickpea flour instead of wheat flour or eggs, with a little bit of spice in it. It's great hot or cold, and is a perfect snack, side dish or complete vegan main dish, since the chickpea flour is such a terrific source of protein and carbs (nutritional info). Serve it with a salsa, curry, or just on its own. Here I just served them with some super-ripe tomato wedges. The shredded zucchini adds moisture and a rather creamy texture, which I love.
Chickpea flour is used in Mediterranean and Indian cooking. I get mine from a local Indian grocery store, where it's sold as gram flour; it's also known as besan, ceci flour, and so on.
Zucchini and chickpea pancakes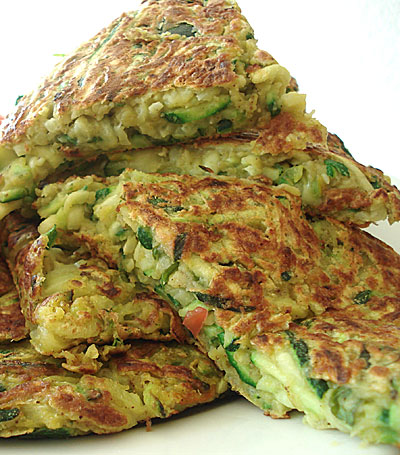 Makes 2 large pancakes, which make 2 main dish servings or 4 appetizer/side dish servings
3 medium zucchini, or about 4 cups shredded
2 zucchini flowers (optional; adds a bit of color)
Some coriander or basil leaves (optional: adds flavor)
1 cup chickpea flour
1 tsp. salt
1 tsp. garam masala
1/2 tsp. hot red chili powder
1/2 tsp. curry powder
Olive oil for cooking
Equipment needed: a non-stick frying pan
Finely shred the zucchini - I use a food processor for this. Julienne the zucchini flowers and the herbs. Put all into a large bowl; add the salt, spices and the chickpea flour. Mix well - the moisture that comes out of the zucchini may be enough to turn this into a batter, but if not add a tiny bit of water, just so that it turns moist but not runny.
Heat up a small (8 inch / 20cm) non-stick frying pan over medium-high heat. Add some olive oil and spread around. Put in about half of the batter and spread around to form a circle. Cook for about 5 minutes, then turn and cook for another 5 minutes or so, until it's cooked all the way through. (You can slice into the middle a bit to see if there's any batter oozing still; if so, cook a bit more.) Repeat for the other half of the batter.
Cut into wedges, and serve hot or at room temperature.
Note: If you want a crispy outside, use more oil in the pan; if you want it soft (and less caloric) add less. You can use ghee or butter instead of the olive oil.
Submitted by
maki
on 2007-07-27 15:56.
Filed under:
lighter
vegetables
vegetarian
summer
vegan
gluten-free