An Evening at The Pudding Club, Cotswolds, England
The word pudding usually means one of two things in Britain. First, it's a synonym for dessert, or the sweet course to end a meal. Second, and most importantly, it points to a group of starchy sweet dishes, most of which are served warm or even hot. Christmas pudding and bread pudding may be the only ones widely known in other countries, but there are more. Way more.
If you are a fan of slightly older English literature, of the Dickensian persuasion or even E. Nesbit and C.S. Lewis (or, for that matter, Nigella Lawson or Mrs. Beeton), you will encounter mentions of pudding quite a lot. They have delectable names like jam roly-poly and spotted dick. In Victorian times, they were boiled in or steamed in a large cloth bag, just above the pot of soup or stew that was to be served for dinner. Later on (and in more refined circles) it was steamed in a decorative pudding mould on its own.
Sometime in the '60s or '70s, Brits seemed to lose interest in the traditional steamed pudding (along with many other traditional British foods). Instead they turned to imported fare like tiramisu, cheesecake and black forest gateau, and started calling the sweet course dessert. In 1985, a group of people realized that "real" puddings simply weren't served anymore, and thought this was a shame. Why not have a gathering of traditional pudding enthusiasts? And so The Pudding Club was born, to "prevent the demise of the great British pudding".
I'd first heard about The Pudding Club some years ago when it was the subject of a BBC TV travel show segment. It looked like a lot of fun, but it got filed away somewhere in the back of my mind and forgotten. Then, when I was planning the most recent trip to England, I stumbled on their web site. This time, I knew that I had to go.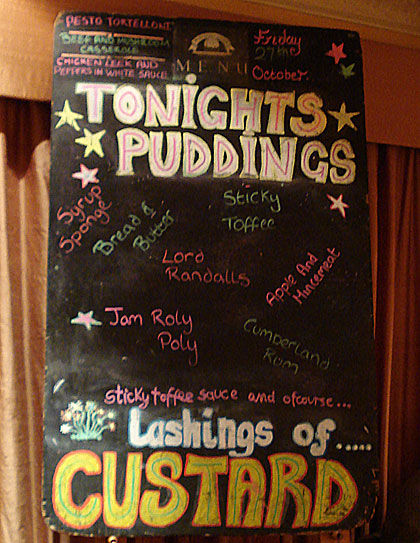 The Pudding Club gatherings take place two to four times a month, depending on the time of year. There are more meetings during the winter, which makes sense - there are cold puddings fit for summer consumption, but a steaming hot pudding is perfect for a chilly English evening. It is held at a lovely old-fashioned hotel in the heart of the Cotswolds called the Three Ways House Hotel. Membership in The Pudding Club costs £25 a year (£26 from Jan. 2007), but you don't have to be a member to participate in a Pudding Club meeting.
What takes place at a Pudding Club meeting? Well basically, you eat pudding. Seven kinds of pudding. There is a small savory 'main course', to prepare the palate so to speak, but other than that, it's all pudding. At the end of the evening, the guests vote on their favorite pudding, and the pudding with the most votes at the end of each year gets duly designated as Pudding of the Year.
Neither my dining partner nor myself are Brits. I did spend a few years growing up in England, but my mother was not at all into steamed puddings. So we were relative novices in the pudding tradition. We weren't quite sure what to expect, but one thing was for sure - our fellow diners were very excited to be there, and the atmosphere was very animated. (Incidentally, I think we were the only non-Brits there that evening out of about 70 fellow Pudding eaters, though later on the Pudding Master Peter Henderson, who is a partner in the hotel, told us that they do get guests from all over the world.)
There is a great account of a Pudding Club gathering on the web site so I won't repeat the whole thing here. Here are some highlights from our evening.
Just like The Fight Club, The Pudding Club has rules. Only one pudding allowed on the plate at one time. You must clean your plate before going up for more. You cannot go up to the Pudding Station out of turn - only when your table is called - at least until you've done seven rounds. The Pudding Master is not responsible if you get too giddy from the sugar high and go home with the wrong person. (I just made the last one up.) Pudding Master Peter Henderson, sporting a colorful tie decorated with puddings, was hilarious and really made the evening fun for everyone.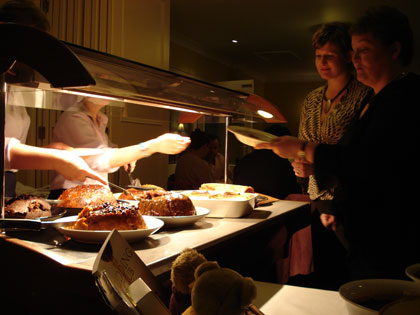 The pudding selection differs from meeting to meeting, we were told. On our evening they were: Apple and Mincemeat, a rich concoction with chopped apple and mincemeat in the sponge pudding base; Syrup Sponge, a traditional steamed pudding with lots of golden syrup; Jam Roly-Poly, a rolled pudding with, you guessed it, jam; Lord Randall's Pudding, a rather complex pudding with orange marmelade and dried apricots; Bread and Butter Pudding, a pleasantly custard-y bread pudding with raisins; Sticky Toffee Pudding, a pudding with dried dates inside and well, toffee sauce steamed into and served over it; and Cumberland Rum, which was a bit chocolatey and had...I think, rum and raisin in it. Except for bread pudding, all of the puddings were new experiences for me (and my bread pudding is quite different from their version). They were all sweet, sticky, substantial and old-fashioned. The warmth of them seemed to enhance the sweetness. I think I was just a bit disappointed by the Sticky Toffee, not that there was anything wrong with it, but I'd never had a Sticky Toffee pudding before, and had somehow envisioned something totally different. (I'm not sure what though.) The others I didn't have any preconceptions of so they were fine.
The custard, which was not too sweet, served as a neutralizer to the sweet puddings, and helped them slide down. During the evening, at least 3 huge bowlfuls, served out with a big ladle, were consumed.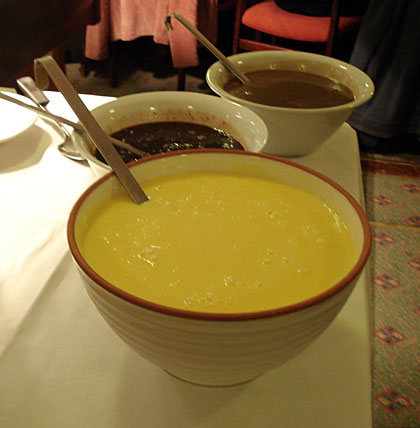 I did amazingly manage to have a small portion of all seven puddings (the last two rounds were very tough, and I left most of my last plate of Apple with Mincemeat), as did all the people at our table of 8 did except for one, the youngest male at our table. The older folk booed him mercilessly. (Well, just a bit.). He was on his honeymoon with his new bride, and they were staying in the Chocolate Room. Pudding Club for your honeymoon - now that's serious. I'm guessing he didn't want to be over full. Cough.
The winning pudding of our meeting was the Bread and Butter Pudding by a big margin. It was also the least sweet pudding, with a pleasant custardy texture. I voted for that but there were really none that I disliked (bar the irrational disappointment over the Sticky Toffee) though seven portions of pudding is about 5, or maybe 4, portions too many! Sticky Toffee and Syrup Sponge were distant runners up.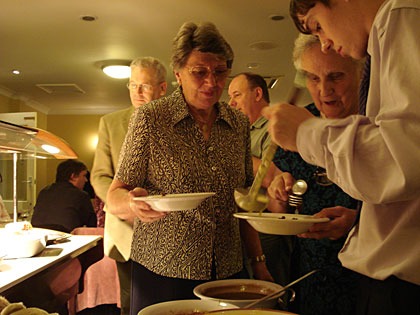 The best part of the evening was seeing how the other guests were reacting to everything. There were guests of all age ranges (though curiously no children at all, even though there were some children staying at the hotel) but the ones enjoying it the most were the over-60 or so group. I've never seen a group of people so happy. Maybe it was partly the sugar high, but I think it was just the sheer nostalgia value of it all too. One lady was heard muttering, as she lined up for her fourth round, "Oh I feel a bit ill but it's so much fun!" The others in line with her enthusiastically agreed. Later on upstairs, we encountered two other elderly ladies giggling while trying and failing to open the door to their room. They had trouble finding the keyhole. I'm fairly sure they weren't drunk from any alcohol, just a bit giddy.
So, if you are British, you'll probably love The Pudding Club. What if you're not British? If you have a sweet tooth, are curious about British puddings or food history, or have read any Dickens or Paddington Bear or similar food-oriented English literature, you'll love it too. The hotel itself is a lovely place anyway, and you can really immerse yourself in the Pudding Experience by staying in one of the themed Pudding rooms. We stayed in the Oriental Ginger Room, where even the dragon on the wall was eating pudding.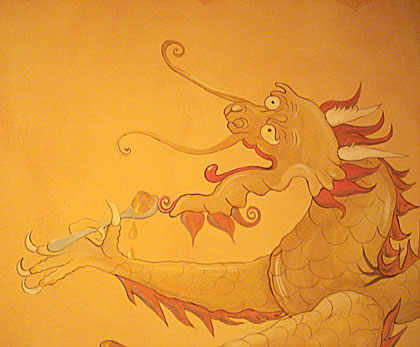 And, if you feel the several thousand calories of sugar, fat and starch consumed to be weighing on your conscience as well as your tummy, there are plenty of beautiful nature walks to embark on in the area the morning after.
The Pudding Club web site has loads of information about the hotel, the Club, books, and much more.
Submitted by
maki
on 2006-11-03 21:07.
Filed under:
dessert
restaurants
offbeat
uk