Buta no kakuni: Japanese Braised Pork Belly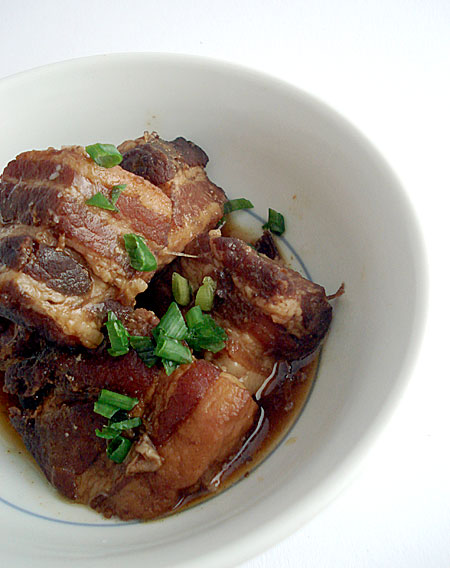 Today is my mother's birthday. In her honor, here is one of the few meat dishes that she still allows in her diet: braised pork belly, or _buta no kakuni_. It's amazing that she will still eat this, because basically pork belly is bacon without the smoke or salt cure. And in _buta no kakuni_ the bacon, I mean belly, comes in big chunks of layers of meat and unctuous pork fat.
Pork belly recipes exist in other cuisines, especially around northern Europe, but I can't really stand most of them, even if people in Germany and Britain rave about roasted pork belly with crackling. (The crackling part is ok, but the meat part...I don't know.) I like fat in moderation as much as anyone, but that amount of gelatinous pork fat is rather hard to bear. That is unless it's been slowly braised in a salty-sweet liquid for hours and hours, until both the fat and the meat melt in your mouth.
Very similar recipes exist in Chinese (from Peking-style especially) cuisine, and a great Okinawa speciality is rafute. This is a bit like rafute but has a bit more spice and things in it, so it's closer to the Peking style I think. Either way it's a great treat once in a great while. It's definitely a cold weather dish.
Japanese braised pork belly (Buta no kakuni, 豚の角豚の角煮)
A traditional Japanese way to cook pork belly.
Prep time: 10 min :: Cook time: 3 h 10 min :: Total time: 3 h 20 min
Yield: 6 to 10 servings
Serving size: 1 to 2 pieces
Ingredients:
450 - 500g / around 1 lb

pork belly

2 tablespoons

sugar

2

green onions, cut into rough pieces

, or use a piece of leek about 15cm/6 inches long

1 piece

ginger, peeled and sliced

, about 1 inch / 2.5cm long

1

star anise

3 tablespoons

dark soy sauce

2 tablespoons

sake

480ml or 2 U.S. cups

water
Directions:
Cut the pork into cubes about 1 inch / 2cm or so square. If the skin is still on, leave it on. Heat up a large pot with a heavy bottom. Sauté the pork belly cubes, without any added fat (you don't need it...) until browned.

When the meat is browned, scrape it to one side and put the sugar in the fat that's accumulated on the bottom, and stir around until it's a bit caramelized. Stir and toss so the meat gets coated by the sugar.

Add the rest of the ingredients, bring to a simmer and lower the heat. Put a lid on and let it simmer gently for about 3 hours, turning occasionally.

To serve, dredge the pieces carefully out of the very oily cooking liquid, and peel of the thick layer of fat that's on the skin side of the meat. Drizzle a little bit of the cooking liquid over the cubes.

We have this with very plain vegetables, like broccoli with wasabi sauce. Storebought pickles or homemade 'instant' pickles are good to have too. Hot, plain rice is essential. To eat, take a small piece and put it on top of your hot rice, and let the sauce and fat sort of melt in. A little goes a long way.
A bit about my mom, Michiko
(Note: I updated the next section a bit in April 2013.)
My mom is now in her 70s (as of April 2013), now, but still one of the youngest and spryest ladies in her 70s that I know - although she's had more problems in recent years with her health unfortunately (she's scheduled for spine surgery next month). She loves food, but since retiring a few years ago she developed a very severe case of IBD (we suspect it's due to the stress she went through when she was running a busy restaurant in midtown Manhattan), and really has to watch what she eats. Nevertheless she really enjoys life...often I'm not sure who's the mother, she or I! Here she is bouncing happily with some buskers at the Nurenberg (Germany) Christmas market in 2006.
One thing that is great about her is that she brings a fresh sense of enthusiasm to everything. Whenever she comes to visit me in Switzerland or now France, I get to see things through her eyes, so that even in the throes of grey, dull winter in Zürich, life seems to be fun again. It's great to have a mother like that.
(below is for search engine purposes)
By Makiko Itoh
Published: July 11, 2007
Type: Japanese, pork, meat, washoku
Submitted by
maki
on 2007-11-07 15:42.
Filed under:
japanese
winter
slowcook
pork
meat