My new energy efficient refrigerator and freezer
My new refrigerator finally got installed on Friday. After some long hours of procrastination and drooling over appliance porn, I eventually went with a smaller, less-feature-rich, yet much "greener" model. (Actually two models, since we got a separate small freezer to go with the fridge.) It's not as sexy as the glamorous models in those appliance centerfolds, but it has a lot of features that suit the way I cook and shop for food.
(Yep, for those of you who think the interweb is going down the drain fast, this is a post about someone's refrigerator.)
We got a refrigerator-only model and a separate small freezer. The maker of both is a German company called Liebherr (North American site is here). The energy rating of the fridge is A, and the freezer is A++.
Our old fridge was built into a cabinet in the kitchen, but we decided to put the new one and its little brother freezer in the pantry (aka the boiler room), where we had a big locker-type freezer before. The locker-type freezer went down to the basement/wash room, where we'll use it only for long-term bulk storage. (At the moment it only holds my stock of bonito flakes and kombu, plus a leg of lamb.)
Plain old white models since the pantry is no-frills (with a concrete floor that needs a serious scrub!) The temperature indicator and controls are right on the front of both.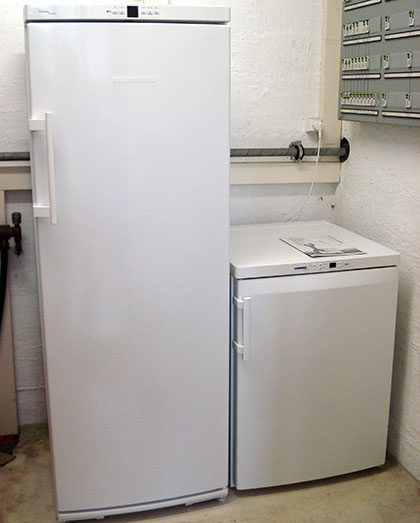 Half of the fridge is taken up with "Biofresh" vegetable or meat storage drawers.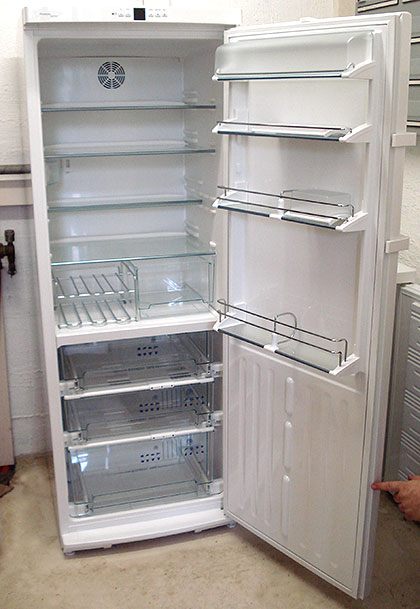 The freezer has four drawers. After having lived with the dive-in-from-the-waist locker type freezer for so long, I really wanted drawers - so much handier, plus they are sealed all the way around making them much more energy efficient. We got the table-height short model so we could access the electricity control panels on the wall above. (Liebherr seems to specialize in table-height models.)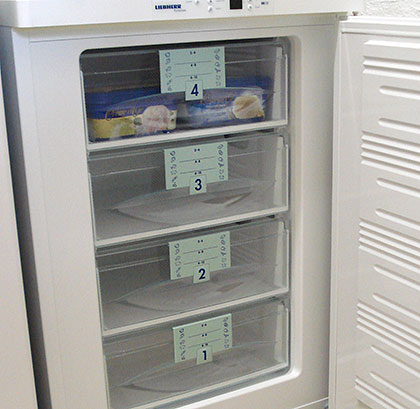 Dedicated bottle rack is great for chilling wine and other beverages.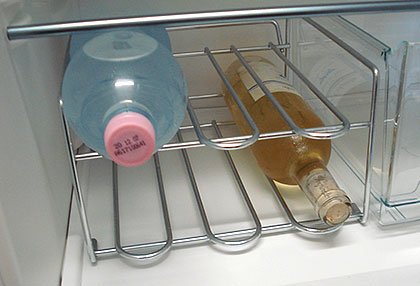 The Biofresh compartments have adjustable humidity settings: low for meat, seafood and cheese, higher for veg and fruit.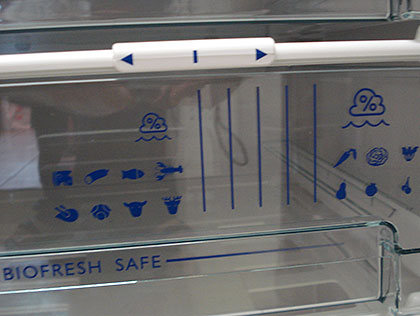 Handy reminder in the freezer for how long to keep stuff frozen. Hmm, pork is more vulnerable than beef or chicken.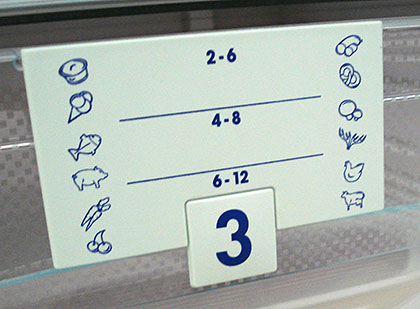 The things I decided to forego, in the interest of energy efficiency:
Ice maker and dispenser
Cold water dispenser
Sub-zero or partial freezing compartment for holding fresh fish and meat - this was the hardest one to give up on.
Glass front doors and stainless steel cladding - expensive!
I'm very happy with what we got. So much better than a leaky old fridge of course, but the Biofresh compartments are going to help cut down on food waste I hope.
Submitted by
maki
on 2006-09-18 16:51.
Filed under:
equipment