Japanese country style stewed eggplant or aubergine (nasu no inakani)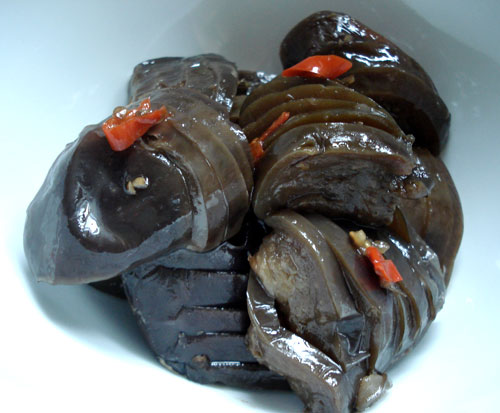 [Update:] I've added photos to show how to cut the eggplant.
It's hard to take an appetizing picture of this eggplant (aubergine) dish. But I promise you that it's absolutely delicious. Plus, it's so simple to make, requiring just 6 ingredients and water.
I found it in an old Japanese cooking magazine, which had an even worse photo of the dish than the one here. I was a bit sceptical but had bought a too-big batch of eggplant at the market, and wanted a way to use some of them up. I am so glad I tried the recipe, because it's now one of my favorite ways to have eggplant. And it's vegan too.
There's a saying in Japanese, akinasu yome ni kuwasuna (秋なす 嫁に食わすな). It means "Don't let your daughter in law eat fall eggplants". People debate what the intent of this saying is; does it mean that fall eggplant are too delicious to feed to the daughter in law, who was traditionally the lowliest member of the family? Or perhaps it's a thought of kindness, since eggplant is supposed to be a 'cooling' vegetable, which is not good for a pregnant or fertile young woman. Either way, there's no doubt that eggplant is particularily delicious in late summer to early fall, when they usually produce a second crop after a first one early on.
Country-style stewed eggplant (nasu no inaka ni 茄子の田舎煮)
I've adapted the recipe so that you can use large Western style eggplants as well as thin Asian-style ones. (Large Western style eggplants are known as American eggplants in Japan for some reason...maybe because anything oversized is associated with the U.S.!)
6 thin Chinese or Japanese style eggplants or 2 large Western-style eggplants - choose ones that are shiny, unblemished and hard
2 small hot red chili peppers
Salt
3 tablespoons soy sauce
1 1/2 tablespoons sugar (For the sugar-wary, a sugar substitute should work fine)
Sesame oil or regular vegetable oil
Cut the eggplants in half. Make thin slit cuts in the skin side of the eggplants about 3/4 down, so that they stay attached at the bottom. (This makes the cooking liquid penetrate the eggplant evenly, and also looks much nicer than plain chunks.) If you are using big Western style eggplants, cut in half again lengthwise; if using Asian style thin ones, you don't have to do this. Cut into chunks crosswise.
Here you see the slits are cut into a section of a large Western style eggplant. They are made from the skin side and go almost, but not quite, to the bottom. If you cut too far, not to worry - you are going to cut it up into chunks anyway.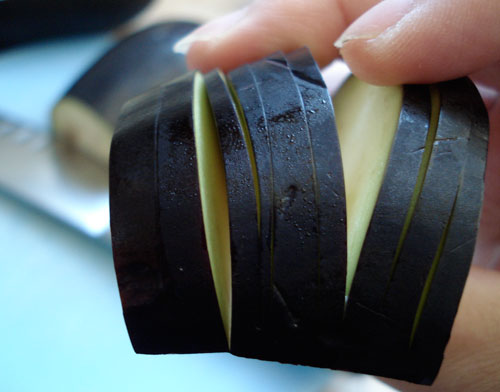 Once you've made your slit cuts all the way down the eggplant, cut into chunks (cutting down through one of the slit cuts you've made). Then, if you are using a fat eggplant, cut lengthwise so you end up with quarter-chunks like this. If you are using a slim Chinese or Japanese eggplant, you can leave them as half-chunks.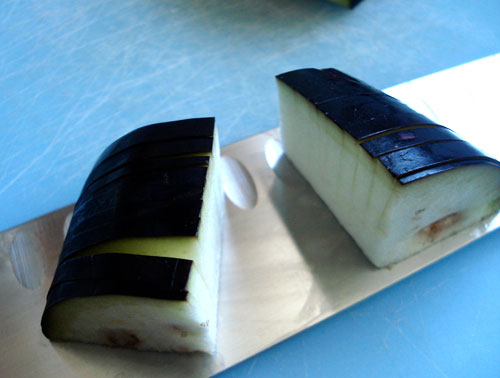 Put the cut eggplant in a bowl of salt water (about the saltiness of water you'd cook pasta in). Put a bowl or plate on top as a weight to completely immerse the eggplant pieces, and leave for about 20 minutes. This gets rid of any bitterness in the eggplant, as well as making it easier to cook.
In the meantime, de-seed and finely chop two small red Thai chili peppers.
Drain the eggplant, and squeeze out the water. Heat up a pan with oil - you can use all sesame oil, all vegetable or olive oil, or a mixture. (Sesame oil will add a nutty flavor.) Sauté the eggplant slices until they are a little limp and coated with oil. Add the chili pepper near the end.
Put into a heavy bottomed pan, and add enough water to cover. Add the soy sauce and sugar, and bring to a boil. Lower the heat to a simmer. Put an a pot lid that's smaller than the pot (that fits inside the pot) on top of the simmering eggplant, and let simmer for about 20-30 minutes until limp but not falling apart. Let cool in the cooking liquid - it absorbs more flavor as it rests.
This keeps well for a few days in the fridge, well covered, immersed in the cooking liquid. It can be eaten hot or cold, though I think it tastes best when it is warm, eaten with a fresh bowl of rice. If you want to use it for bento, try draining off the liquid before packing.
Otoshibuta, or that small lid-inside-the-pot thing
I've used a small lid that fits inside the pot right on top of the simmering food. This is called an otoshibuta. Traditional Japanese otoshibuta (落としぶた)are made of wood, and I've sometimes seen people on some forums insisting on the necessity of a wooden otoshibuta. To that I say, nuts. Otoshibuta literally means "dropped lid", and is put on top of cooking food so that the food cooks evenly. I usually just use a one-or-two-sizes smaller pot lid, but you can also use a heatproof plate completely wrapped in aluminum foil or kitchen paper, with a twisted 'handle' sticking up for easy of removal. For some delicate foods a simple layer of kitchen cooking paper or aluminum oil placed on top would be enough.
Submitted by
maki
on 2008-09-05 18:43.
Filed under:
japanese
vegetables
vegetarian
favorites
vegan