Setsuden article in The Japan Times, plus suzumi or 'keeping cool' the traditional way
In my Japan Times article this month, I talk about setsuden or cutting down on electricity use, a critical topic this summer in Japan due to so many power plants (both nuclear and otherwise) being offline temporarily or permanently. This is not just in the devastated Tohoku region, or the Tokyo-Kanto region that TEPCO covers, but nationwide. With daytime temperatures nearing 40 degrees celsius already, it may be a long and difficult summer in Japan. Hopefully the article will give some ideas for making setsuden a bit easier, and even a little fun. (Incidentally, I'm sort of hoping setsuden becomes a widespread word; it's so compact and descriptive, much better than 'cutting down on electricity use', isn't it?)
Since my Japan Times article is in the Food section, I do focus on things you can do in the kitchen, but there are other low- or no-electricity ways to keep cool too. As I mention in the article, many department stores in Japan have set up suzumi or "keep cool" product sections, where they sell a lot of traditional items that help you feel a bit cooler. These range from things like fans, absorbent towels, bedding and handkerchiefs, to more aesthetic things like fuurin or wind bells. I bought the one pictured here and in the Japan Times article in Asakusa, Tokyo. They're called Edo Fuurin, and they have been made in the Asakura area since the feudal Edo period. (Yep, even in modern Tokyo some traditional crafts are kept alive.) It's very thin handblown glass, handpainted with irises. They had other summery designs too, like morning glories, hydrangeas, and goldfish.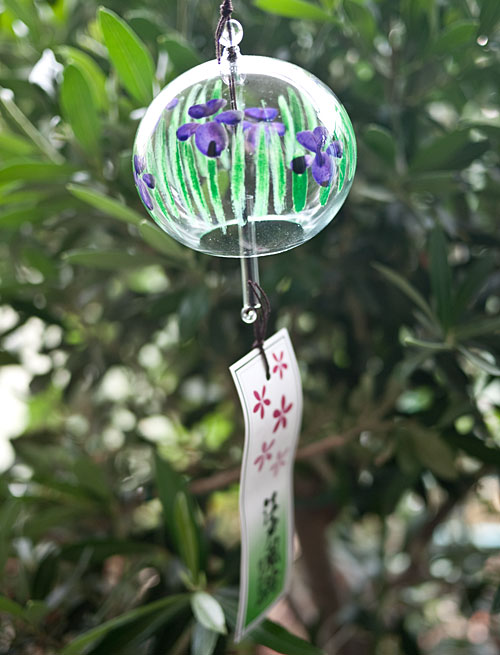 Goldfish are associated with summer because they are, or at least used to be, a ubiquitous part of any summer festival or omatsuri. I remember trying to catch those elusive goldfish with wire rings lined with the weakest ever paper. If I managed to catch one, I would carry it home proudly in a little plastic bag of water, and dump it into a bowl...where it would live for a week or so at most before dying (I had no idea about filtering the water, etc.) and I had to give it a fishie burial.
Here's another suzumi item - a little strap or netsuke to hang from a cellphone or, in this case my coin purse. It's shaped like a tiny glass eggplant-shaped fish bowl, and it has a miniscule goldfish and a gold coin inside. It doesn't physically cool you, but looking at such a cool, cute item does perhaps make you feel a tiny breath of imaginary cooling air. It's resting on another traditional item that helps to keep you cool, a woven cotton cloth called a tenugui, which is used in all kinds of ways, including just to wipe off sweat.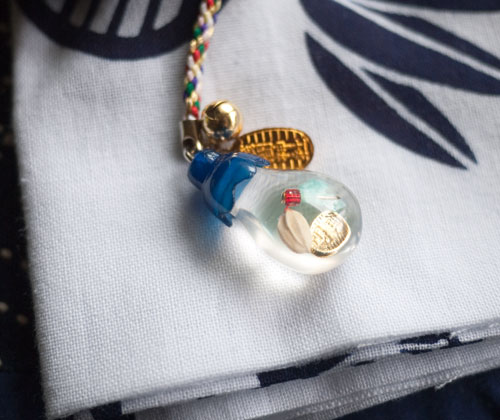 In any case, if you happen to be visiting Japan this summer, do be aware that trains and stores are not blasting the air conditioning as much as usual. You may want to carry a little fan with you to keep cool. Japan has terrific absorbent handkerchiefs, made of toweling and cotton gauze and things like that, which are great for mopping your brow with. And why not look for little, cool suzumi items too? You may learn a little about Japanese traditions as you combat the hot, sticky weather.
Submitted by
maki
on 2011-06-26 08:25.
Filed under:
summer
philosophy
japan
writing elsewhere
japan times
earthquake
japanese culture
energy saving