Reading: Alimentum, The Literature of Food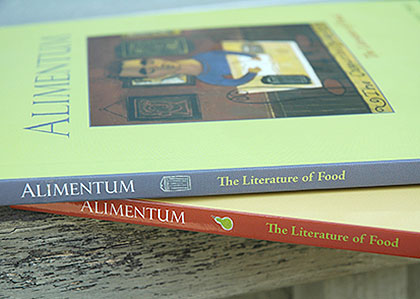 I love reading about food. I am not just talking about cookbooks, though I can read those in bed too. I am always searching out works that feature food in some way, no matter how subtly. I treasure snippets about food and cooking in novels, and nonfiction books about food in general or a particular ingredient. And as long time readers of this site may know, the inspiration for starting Just Hungry came from a quote from one of M.F.K. Fisher's books (more about that here), arguably the greatest food writer of the 20th Century.
Imagine my joy to discover that there's a new journal dedicated to "The Literature of Food". That is Alimentum, a bi-annual publication that premiered this winter. I may not have found out about it unless Paulette Licitra, the publisher, had not read my write up of the 92nd Street Y roundtable about Gourmet magazine's Food Writing supplement, and offered to send me a review copy. She kindly sent both issues, the inaugural Winter 2006 issue and the recently published Summer issue, both of which I devoured over the weekend.
Alimentum is not your run of the mill food magazine. It has the size and form factor of a trade paperback, with attractive cover and spine so that you can keep the issues on your bookshelf to read over and over again. The articles are like a feast of plenty for someone like me who loves great food writing. There are non-fiction pieces, short stories, and poems. Some of the pieces made me laugh out loud, some made me think, and some brought a lump to my throat. They reminded me, as re-reading M.F.K. Fisher does, that food is about nourishment and pain and sex and love and memories and adventures and a whole lot else. As Paulette says in the Publisher's Preface to the first issue:
Because I love literature and I love food, when I read about food I want more than a recipe list, more than a restaurant critique, more than a description of exotic cuisines sampled in faraway places. I know that food has a personal presence in our lives -- it's not just a matter of taste and culture. Food also simmers in our hearts--like music, nature, and dreams.
Alimentum is $10 ($14 outside of the U.S.) per issue, or $18 ($24) for a one-year (two-issue) subscription, available from their web site I'm eagerly looking forward to their next issue already.
Submitted by
maki
on 2006-07-31 14:14.
Filed under:
books and media