A visit to the Shin Yokohama Raumen (Ramen) Museum
Shin Yokohama (which means "New Yokohama") is a fairly new, rather bland section of the city of Yokohama. The train station is a stop on the Tokaido Shinkansen line from Tokyo to Osaka, and the area near the station mainly consists of nondescript office buildings, shops and suburban housing. In one of those plain office buildings, just a few minute's walk from the station, is the Shin Yokohama Raumen (Ramen) Museum (新横浜ラーメン博物館), which pays homage those addictive noodles in soup. (I am not sure why, but the museum spells out ラーメン as Raumen in their name on their English literature instead of the usual Ramen. I've used both Raumen and Ramen so you know what I'm talking about.)
The museum is spread over three floors. On the first or ground floor is the shop and the museum part, which has exhibits about ramen. The fun part though exists on the two basement floors. It's best to go down there by the elevator. You enter it from a boring office lobby in the 21st century, and exit to this.
A slightly seedy night time scene around a train station from sometime in the past has been recreated. It's a bit like the Forum at Caesar's Palace, or the Venetian's fantasy version of Venice, except that it's 1950's or '60s urban Japan rather than ancient Rome and so on.
A homage to the Showa era as well as ramen
It might help to have some cultural background here. The post-war Showa era (the Showa era was the reign of the Emperor Hirohito as he's known outside of Japan) is regarded through rose-colored glasses with lots of fond nostalgia in Japan. It's kind of like the nostalgia in the U.S. for the Mad Men period of the early '60s, not to mention "mid-century modern" stuff in general, except that it's lasted a lot longer and is arguably more emotional. Japan of the late '50s to '60s was booming economically, yet many people still lived in small, friendly neighborhoods, children took care of their parents in their old age and kids grew up with their grandparents, and all that kind of thing. At least that's the perception. Things from the Showa era (often called Showa Retro (昭和レトロ) have been 'in' for some time now.
The world created in the basement of the Shin Yokohama Raumen Museum attempts to bring back the look and feel of those good old days. The train station neighborhood setting makes sense, since small ramen restaurants used to, and still do, like to set up shop near a train station to catch commuters passing through.
There are 9 ramen shops dotted around Tsurukame-cho, Renge-cho and Naruto-cho, the three mythical towns of this neighborhood. The shops themselves are operated by actual famous ramen restaurants from around the country.
A short detour into ramen lore
Ramen is basically noodles in a rich broth. There are, or used to be, strong regional preferences for one type of broth or another. In the southern part of Japan, namely Kyushu, pork bone (tonkotsu) broth is favored. In the north, especially Hokkaido, clear chicken and vegetable based broth flavored with salt and often with some butter added is predominant. There are personal preferences too; some people prefer a soy sauce based soup, some like a miso base, some a salt-flavored base. Finally, in fairly recent times spicy flavors influenced by Korean and Thai noodle soups have come into vogue too. Then there are different things that can be added to the ramen, such as wonton dumplings, char siu (roast pork), menma (dried bamboo shoots) and so on. At the Raumen (Ramen) museum you can experience representative samples of all these types of ramen.
Onward to the ramen
Incidentally, this is how things work at the Raumen (Ramen) Museum ramen restaurants. In front of each store there are two lines. The one on the right leads to the shokken (食券) or "food ticket" vending machine. You insert money there and press the appropriate buttons to choose your ramen type, and retrieve the little ticket that the machine dispenses. Once you have your tickets in hand, you get into the line on the left, which leads into the store. You hand the tickets to the shop assistant at the entrance as she shows or points you to your seats.
On my most recent visit with my sister, we decided to try three different types of ramen. We went with the "mini" servings, which are about 2/3rds portions, so that we would have room for all three.
First up: tsukemen from Ganja in Kawagoe, Saitama prefecture.
Tsukemen is actually the most un-ramen like ramen they have at the Raumen (Ramen) Museum; instead of noodles that are already in soup, tsukemen noodles are dipped (or tsukeru (つける))into a separate bowl of rich broth. The noodles at Ganja are very thick, rather chewy, and white rather than the characteristic yellow of most ramen noodles. I wonder if they got the idea from local udon noodles. My mother's side of the family is from Saitama, and my aunt (who grew up in a village in the hilly Chichibu area) makes great thick, chewy udon noodles by hand.
We sat at the counter alongside several guys and a couple of girls who looked like they had just dropped in from the neighborhood. I had the spicy (gekikara) broth, while my sister had the non-spicy broth - mini-size of course. Both were rich and good.
You can pick up a 'ramen passport' at any of the shops, to collect stamps in if you wish.
Next up: some tonkotsu (pork bone) broth ramen from southern Japan - Taihou Ramen in Kurume, Fukuoka prefecture. We sat at the counter again, with a good view of the guys working behind it.
Their mini-ramen looked just as impressive as their regular sized ramen. I love eggs in ramen and always wonder how they manage to get it perfectly soft on the inside.
The broth was indeed rich and thick, but I can't say I liked it much - it had an odd fishy undertone, even though their literature says they only use pork bones to make their broth. I rather suspect they use some iwashi (dried sardines) too. The noodles were the bou (棒) or straight stick type, rather than the characteristic crinkly type.
Our final stop was at Eki or Sumire, hailing from Sapporo, which is located in Hokkaido - up north in other words. I loved the old style homey touches they had here, like the tin kettle for the ice water and the box of tissues on the table instead of paper napkins.
I have always been partial to Sapporo style ramen, and Eki's was my favorite ramen of the three I tried. I had the shio ramen, with a clear broth flavored with salt. It had BP-worthy oil slick (lard with a touch of sesame oil I think) on the broth, but otherwise was perfectly flavored - rich and assertive but not cloying. The noodles were the crinkly, slightly yellow, slippery type that I like. The char siu was not bad either.
My sister had the miso ramen, and agreed with me that Eki was her favorite too. Of course ramen preferences are a very individual thing, so you may disagree with us totally. You just have to try for yourself.
Our bellies full of broth and noodles, we waddled around the "night time" streets a bit. They are pretty well done actually, with lots of detail. Here's a fake storefront for a real estate agency, with ads for rooms renting out for three thousand yen and up.
This is a store sign for the Flower Garden Cabaret, which proclaims that you can "dance with women" here.
On the upper or B1 level, down a back alley, is a dagashi (駄菓子) shop. On the official web site this translated as a "dime shop", but what it really is a penny candy shop (or in British terms, a sweet shop). Here you can purchase real candies, old time toys and other things, such as "bromides" (pinup photos) of bygone era celebrities. You grab one of the plastic baskets piled up outside the shop and fill it up.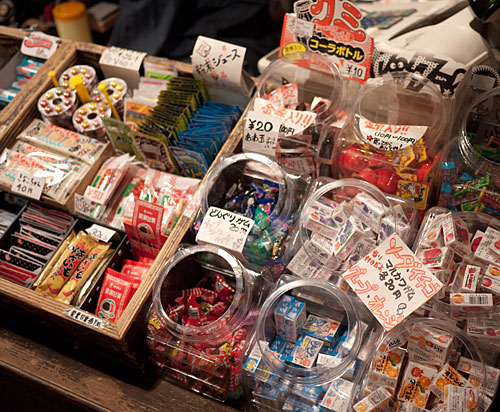 There's plenty more to see in the nighttime streets, though it helps if you have a Japanese person along with you, or can read Japanese. It also helps if you know something of the era they're depicting.
Upstairs, there is a small museum section with the history of ramen and such, plus the official museum shop. You can purchase ramen sets to go here (they are vacuum packed so you don't have to worry about spoilage until they are opened), snacks and other knicknacks. The highlight for me is that apparently, this is the only place that carries official Neko Ramen merchandise. It seems that Neko Ramen's Taisho (Boss) is the de facto mascot character for the museum - perhaps a slightly odd choice, since Taisho makes terrible ramen. But hey, how many ramen making cute/weird cats are there. (If you have never heard of Neko Ramen, check out the videos on YouTube and other places. They are hilarious.)
For more photos, see my flickr set.
Should you go?
The Shin Yokohama Raumen (Ramen) Museum just happens to be within walking distance of my base in Japan (my mom's apartment). Is it worth a detour from central Tokyo or elsewhere? Well, it is a lot of fun, but I suspect it's more fun for Japanese people or people who are thoroughly conversant with fairly recent Japanese history. As for street scenes they have recreated here, although the details are from the past, you can still find neighborhoods similar to it in real life around Japan, even in the Tokyo area (the train station nearest to my mom's is kind of like that actually, with the addition of several conbini and fast food joints). You can find plenty of little independent ramen shops to visit without having to go to the museum.
The museum is a great way to experience all kinds of ramen in one convenient place though, and to and learn a bit about its history and such. If you're coming to Yokohama for the day, I would suggest combining a trip to the museum with a trip to the very real and vibrant Chinatown and Motomachi area in Yokohama, which I'll post about eventually, or the beautiful Sankei-en. Or go over to Yokohama station (not to be confused with Shin Yokohama) for some serious shopping at Takashimaya, Sogo (which has a Loft and Muji inside), Lumine, Tokyuu Hands and more.
Practical details
The official web site for the museum has all the information you need, including great directions for getting there from Shin Yokohama station. There's also a 50 yen off admission coupon you can print out there.
Regular 1 day admission is 300 yen, a 3 month pass is 500 yen, and an annual pass is 800 yen. That doesn't include the cost of eating anything inside. Regular bowls of ramen are around 800-1200 yen, and mini ramens are 500-750 yen. You should probably allow at least 2 to 3 hours to eat ramen and explore the museum, more if you go on a busy weekend or during a holiday period (avoid school vacation time and Golden Week).
The JR Yokohama line is the only way to get to Shin Yokohama station directly from Tokyo. You can also get here via Shinkansen, if you happen to be in Osaka, Kyoto, Nagoya or other places on the Tokaido line. Otherwise, make your way to Yokohama station via several lines, then transfer to the Yokohama City Metro. Shin Yokohama is 5 stops from Yokohama on the Blue Line, direction Azamino. (I recommend transferring to the Metro line from Yokohama, since the no. 8 exit from the Metro part of the station is the closest to the museum.)
Should you still be hungry after the museum, Shin Yokohama station itself has tons of restaurants, a small branch of Takashimaya with a food hall, plus several independent takeout places, including a Kiyoken store right opposite the Shinkansen entrance. Kiyoken is a Yokohama institution, and I am very partial to their shuumai dumplings.
Submitted by
maki
on 2010-11-02 05:44.
Filed under:
food travel
japanese
offbeat
noodles
japan
ramen
yokohama