How to cook lotus root (renkon)
(From the archives - since all of a sudden, a lot of people are asking about lotus root! Originally published in April 2008.)
Lotus root (renkon in Japanese) is actually the rhizome of the lotus plant. It's a popular vegetable throughout southern and eastern Asia, but it's still not that well known in the west. Lotus root is full of fiber and various vitamins and other nutrients. In Asia it's believed to have various medicinal qualities, but in macro-nutrient terms it's best to think of it as a starchy vegetable, like potato. Visually of course, it's very appealing with all those little holes. Here I'll explain how it's prepared and eaten in Japan.
How to prepare lotus root
First off, this is how a raw lotus root looks like. You can buy them at an Asian (South or Eastern) grocery store. More often than not they will be vacuum packed. A nice fresh one is a light orangey-brown. The older the root the browner and darker it is.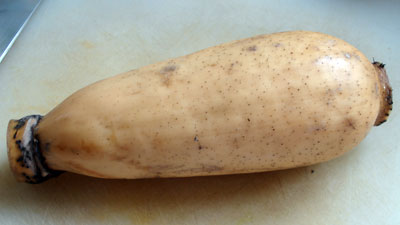 Mature lotus root has a sort of slightly bitter or tannic quality, so should not be eaten raw. (Apparently young lotus roots can be eaten raw, but I've never encountered them unfortunately.) The bitter/tannic substance is most concentrated in the skin, so you should peel it. Inside, it's a light flesh color.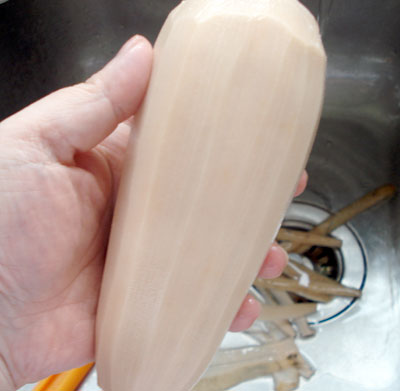 (Another way to deal with a raw lotus root is to steam it whole, but peeling and slicing is easier for beginners.)
Raw lotus root will start to darken almost right away, rather like raw potato. To prevent this, put the peeled lotus root in water with a little vinegar in it. If I slice it up, I put the slices in the vinegar water.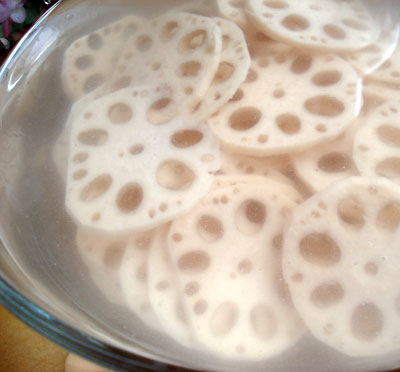 If using the slices for a salad, or for any dish that has no further or very little more cooking, they should be boiled for a couple of minutes in vinegared water. This retains the crunchy texture but gets rid of that tannic-ness.
You can also buy lotus root in cans, which can be used straight away. However, many canned lotus roots have been bleached to make then whiter, so I prefer to use raw lotus root if I can find it. (The natural color of lotus root is a very light flesh-orange.)
Changing textures
Depending on how long it's cooked, the texture of lotus root varies from crunchy to very starchy and a little sticky. I like it either way. Here are two ways of using lotus root in its crunchy stage.
Recipe: Lotus root, cucumber and Serrano ham salad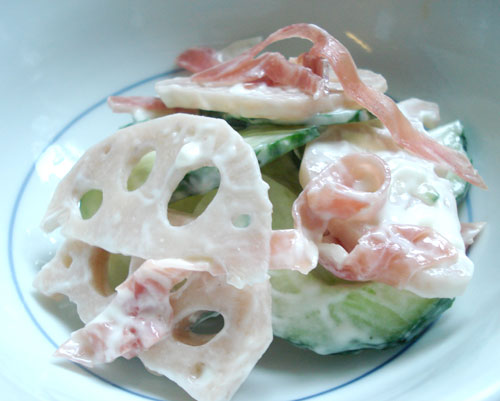 1/2 lotus root, sliced very thinly and the slices cut into halves
1/2 English or seedless cucumber, de-seeded and sliced thin
1-2 slices of Serrano or other dried ham, cut into thin slivers
1/2 Tbs. rice vinegar plus additional for cooking
Dash salt
1 tsp. sugar
1 Tbs. mayonnaise
Put the sliced lotus root into vinegar water as you slice it, as described above. Bring a pot of water to a boil, and add a little vinegar. Boil the lotus root for a couple of minutes. Drain and cool under running water; drain well.
Mix the vegetables and seasonings except the mayonnaise together well with your hands, scrunching them a bit to let the flavors penetrate. Add the mayonnaise and ham and mix well. Serve immediately, or cool in the refrigerator until dinner time.
Recipe: Stir-fried lotus root with sesame and green onions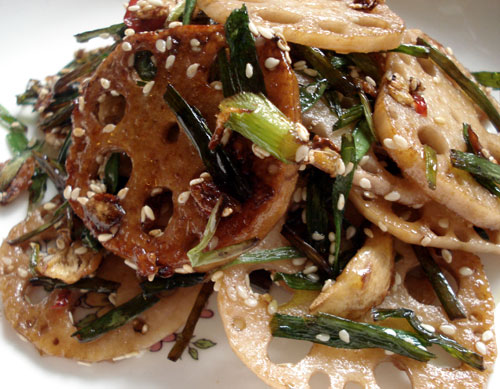 1/2 lotus root, sliced very thinly
1 piece of fresh ginger about 1 inch / 2 cm or so long, peeled and chopped
2 garlic cloved, peeled and chopped
1 1/2 cups of roughly chopped green onions
2 Tbs. hot red chili pepper, finely chopped
Oil
Vinegar for the lotus root water
1 Tbs. sesame seeds
Pepper
1 to 1 1/2 Tbs. soy sauce or to taste (more if you intend to eat this the Japanese way, with plain white rice)
1 tsp. sesame oil
Put the sliced lotus root into vinegar water as you slice it, as described above. Drain well just before cooking.
Heat up a large frying pan with the oil. Add ginger and garlic, and stir fry until the oil is very fragrant. Add the drained lotus root slices in a single layer. Cook until the lotus root slices start to change color - they turn a bit translucent looking. Turn over and cook a couple more minutes.
Add the chili pepper and green onions, and stir-fry. Add the sesame seeds, pepper, soy sauce and sesame oil. The lotus roots should get a bit caramelized from the soy sauce. Serve hot or cold. This is very nice for bento.
Other ways to eat lotus root
Submitted by
maki
on 2009-02-02 11:53.
Filed under:
basics
japanese
vegetables
vegan