Soupe au Pistou (a Provençal classic)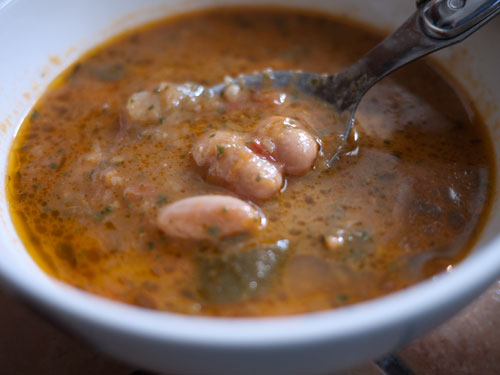 Recipes abound in print and online for Soupe au Pistou, a bean and vegetable soup that is a Provençal classic. Mine is not much different from the rest, but it's here because I love it so much. It reminds me of why I wanted to move here in the first place. When a pot of Soupe au Pistou is simmering away on our crappy hotplate (yes, it can be made on a hotplate) it makes my continuing kitchenless state somewhat tolerable. A big bowl warms me up when the temperature drops to the single digits celsius, and the chill seeps into this old stone house from all the gaping gaps in the doorways and windows and walls.
I make it around this time of year with fresh, undried beans - coco blanc and coco rouge - that we can buy at the markets here. They are so gorgeous, before and after shelling. However, it's probably a lot easier for most people to get a hold of dry beans so the recipe calls for them. If you can get fresh beans, just use twice as much - 4 cups total - and skip the soaking and pre-cooking part.
For the first time on Just Hungry, I've included a Japanese version of the recipe too. This is mainly for my mom and aunt to read, but take a look if you are studying Japanese - or point your Japanese friends to it. It is not a translation of the English, but a version specifically for making this soup in Japan.
Recipe: Soupe au Pistou - Provençal bean and vegetable soup
This makes a big potful, enough for 8-10 servings at least.
250g / 8 oz (about 1 heaping US cup) dry white navy or cannelloni beans
250g / 8 oz (about 1 heaping US cup) cranberry or borlotti beans (You can make it with just one variety of beans instead of two if you prefer)
good quality olive oil
4 garlic cloves, finely chopped
the white part of 2 fat leeks, finely chopped
1 large or 2 medium celery stalks, roughly chopped
1 medium carrot, roughly chopped
2 medium zucchini, roughly chopped
1 bay leaf
2 tsp. dry thyme leaves or a large sprig of thyme
1 400g / 15-oz can crushed tomatoes, or 2 cups of tomato sauce
6 cups soup stock of your choice (use vegetable stock if you are keeping this vegan) plus additional water if needed
a large handful of green beans, tops and tails removed and cut into pieces
salt and pepper to taste
To top the soup:
Optional toppings:
grated Gruyere cheese or Parmesan cheese
Croutons made from sliced baguette
Soak the dry beans for several hours or overnight, Drain and rinse the beans. Cover them in enough water or stock so that the liquid reaches 1 inch / 2 cm above the level of the beans. Bring up to a boil, lower the heat to a simmer and cook for 30 minutes. (You can do this part in a pressure cooker if you prefer. Just cook the beans under pressure for 5 minutes. They don't have to become tender at this point; this is just a pre-cooking to get them on their way.)
In a very large pot, heat up about 4 tablespoons of olive oil. Add the chopped up leek, celery and carrot, and sauté until the vegetables are limp. Add the garlic and thyme and sauté for a few more minutes. Add the bay leaf and zucchini.
Add the tomatoes and stock or water. Bring up to a boil, then reduce to a simmer, and cook for an hour or more until the beans are tender. About 30 minutes in, add the green beans. If the liquid evaporates too much, add a little water or stock.
Season with salt and pepper to taste. Serve with a spoonful of pistou drizzled on top, plus the optional toppings if you like.
Note: You could use canned beans, though I don't recommend it. If you do use them though, make the vegetable soup then add the drained canned beans around 30 minutes from the end of cooking time.
Many soupe au pistou recipes call for the addition of potatoes, but I prefer to leave them out here because they tend to melt into the soup and make it somewhat well, potato-ey. Fennel is an interesting addition.
Here's a variation I made a few days later, using cut up winter squash or pumpkin (I used a squash called muscadet, which is similar in texture to butternut squash) instead of zucchini. I used tomato sauce made from orange-yellow Ananas tomatoes here.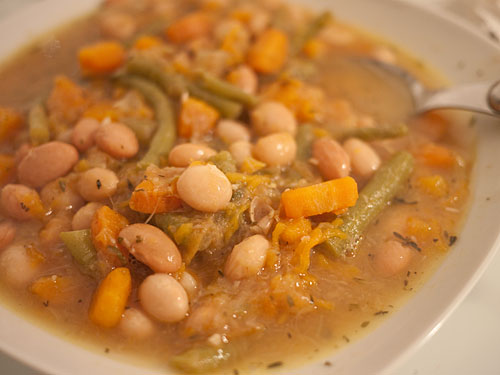 スープ・オ・ピストゥー (プロバンズのバジリコ風味の豆と野菜のスープ)
大量のスープが出来ますが、次の日に温め直して食べた方がむしろ美味しいので、多めに作って何回かに分けて召し上がって下さい。
日本ではフレッシュバジリコは高価かも知れませんが、乾燥バジリコは代用出来ません。ピストゥーを作る量のフレッシュバジリコを手に入れるのが困難な場合は、葉っぱを2、3枚千切りにしてスープの上に散らして下さい。
スープの材料:
白インゲン豆 250g
紅絞り豆 250g
(白インゲン豆500gだけでもOK)
オリーブオイル
ネギの白い部分2本分
にんにく 4かけ 
にんじん 中1本
セロリ 2本 (又は大1本)
ズッキーニ 中2本
タイム (乾燥) 小さじ2 (又はフレッシュタイムを1枝)
月桂樹 1枚
ホールトマト缶 400g (1缶)またはトマトソース 450ml
野菜コンソメスープまたは水 1.5 リットル
青インゲン 300g
塩、こしょう
ピストゥーの材料:
新鮮なバジリコの葉っぱ (これを作る時大抵バジリコの苗一つ分の葉っぱをいっぺんに使います)
オリーブオイル
塩少々
豆は洗って小石等を取り除き、水に数時間以上つけておく。水をきってすすぎ、鍋に入れて新しいみずを足し、30分くらい下ゆでしておく。
ネギ、ニンンクはみじん切りにする。他の野菜は粗みじん切りにする。大きな鍋にオリーブオイルを大さじ4熱し、ネギ、セロリ、にんじんを足し、ネギが透き通るまでいためる。にんにく、タイムを足して更にいためる。ズッキーニと月桂樹を足し、トマト缶をつぶして入れ、水又はコンソメを入れる。
沸騰させ、弱火にして煮る。30分くらいたったところで、ざく切りしたいんげんをいれ、更に30分から1時間以上、豆が柔らかくなるまで煮る。水分が足りなくなってきたら少し水を足す。塩、こしょうで味を整える。
スープを煮ている間にピストゥーを作る。バジリコの葉っぱだけを枝からむしり取り、フードプロセッサーに入れて、ガーとしながらオリーブオイルを少しずつ足し入れ、緑のペーストを作る。塩少々をいれておいく。余ったら冷凍保存する。(すり鉢で作っても良い)
スープをボウルに入れ、上にピストぅーを大さじ1たらし、供する。おろしたグリエールチーズ又はパルメザンチーズやクルトンを添えてもいい。
Coco rouge eye candy
Here are some coco rouge on sale at my favorite market:
And here they are shelled:
Soupe au pistou made with these fresh beans is so delicious - the beans have a lovely creamy texture.
Submitted by
maki
on 2010-09-29 15:09.
Filed under:
soup
legumes
fall
vegetarian
french
provence
favorites
vegan
gluten-free