Spaghetti Napolitan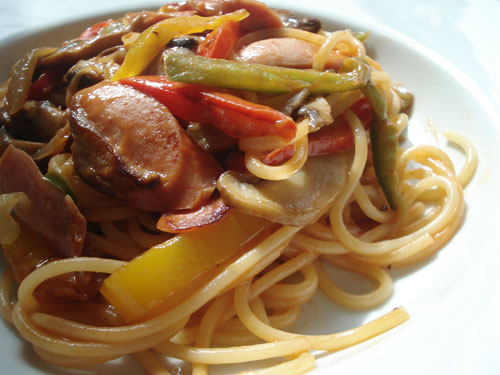 Continuing my _yohshoku_ mini-marathon, here's the infamous Japan-ized pasta dish called Napolitan or Naporitan. (Japanese doesn't have an L or R sound, which is why Japanese people often mix them up when speaking Western languages.) As far as I know, there's nothing remotely Neapolitan about Napolitan, except for the use of spaghetti. It is made with a creamy ketchup-based sauce, and has the salty-sweet flavors that Japanese people love.
According to Wikipedia Japan (Japanese link), Spaghetti Napolitan was invented shortly after World War II, by the head chef of the hotel in Yokohama that was used as the U.S. military headquarters by General Douglas MacArthur. He allegedly got the idea from the spaghetti and tomato sauce eaten by the U.S. troops. Over the years the recipe was tweaked, using ketchup instead of the tomato puree in the original recipe for example, since the latter was hard to come by for most Japanese people at the time. There are some Napolitan recipes calling for crushed tomatoes or tomato puree, but using ketchup is, as odd as it may sound, the more 'authentic' way.
To make Spaghetti Napolitan that is as 'authentic' as you might get in Japan, you'll want to cook the spaghetti a minute or two over the al dente stage. Up until pretty recently (say the last 20-30 years or so), Japanese people preferred their pasta to be soft, like other noodles they were used to like soba, udon or Chinese style noodles (and as Chinalily commented here, the 'soft pasta' preference is seen in other Asian countries too.) You can even cook the noodles in advance and then re-heat them in the pan, something that purist Italian cooks would gasp in horror at but is the standard way of dealing with Japanese style noodles. Do remember that this is an adaptation by one culture of the food of another to suit existing tastes.
I have to admit, I hadn't made Napolitan in years. I'm more used to the Italian style al dente pasta now. But I made this for Sunday lunch, and found it surprisingly tasty - it brought back all kinds of memories of my childhood.
Recipe: Spaghetti Napolitan
For two rather generous servings:
150g / about 5 oz. dry spaghetti (no. 8 thickness)
4 wiener sausages or frankfurters
1 large sweet pepper (here I used 1/3rd each of red, yellow and green pepper for color)
5-6 button mushrooms
2 Tbs. butter or light cooking oil
1 medium onion
Salt and pepper
1/2 cup ketchup (Heinz is what I used)
2 Tbs. Bulldog tonkatsu sauce
2 Tbs. heavy cream
Boil the spaghetti while you're cooking the other ingredients in plenty of salted water. Cook it a minute or two beyond the al dente stage for authenticity, or stop at the al dente stage if this bothers you.
Slice the onion, pepper and mushrooms thinly. Slice the sausages in thin, diagonal slices (you can cut them into octopus shapes and the like if you're entertaining the kids).
Heat up a wok or large frying pan with the butter or oil or a combination. (Using lard here would make it closer to the original version.) Sauté the onion until transclucent, then add the peppers and mushrooms and sauté until it's all limp. Add the sausage slices and sauté until lightly browned. Season lightly with salt and pepper.
In the meantime, combine the ketchup, Bulldog sauce and cream in a small bowl.
Drain the spaghetti once it's cooked. Add to the pan. Add the sauce mixture and toss well to combine.
Serve immediately, optionally topped with plenty of grated cheese, and/or a dash of Tabasco.
Kids love this - at least, Japanese kids do.
Notes
If you don't have Bulldog sauce, use steak sauce and add about a teaspoon or so of honey.
You can use ham or bacon instead of the wieners (or in addition to).
Canned mushrooms are often used in this, but that's where I draw the line.
Napolitan, the original Wafuu pasta
I've written here previously about _wafuu_ pasta, pasta with Japanese ingredients and flavors. I think it's safe to say Napolitan was the original wafuu pasta - even though it uses Western ingredients, the dish as a whole was adapted to Japanese tastes of the time. (The kind of wafuu pasta that are on this page were developed much later, probably in the 1970s, and use actual Japanese ingredients such as tarako (salted cod roe) and natto (fermented soy beans).
Submitted by
maki
on 2008-03-31 10:44.
Filed under:
japanese
yohshoku
pasta