Top Chef Episode 11: Cooking in Vegas
The challenges for the penultimate episode were to make dishes for particular types of customers that are typically Las Vegas: high rollers, poker players and circus performers. Unlike previous challenges, the contestants had a kitchen stuffed full of all kinds of luscious looking ingredients. It was rather funny when Harold complained that it was "a little too abundant".
One thing that bugged me was how the Bravo TV people got the names of two ingredients wrong in the captions. The first was kampachi, a kind of wild yellowtail (as opposed to hamachi yellowtail, which is usually farmgrown). Tiffani pronounced it correctly, but the TV caption said it was Campeche. As far as Google can tell me Campeche is a region in Mexico. The other ingredient was also used by Tiffani - kurobuta or "black pig", a kind of pig grown in Japan that is supposed to taste special. The BravoTV people (and, it must be said, Tom Collichio: Tiffani herself seemed to get it right) thought this was pronounced Karabuto. You would think they could take the time to get these details right with all of us nitpickers out here. (And please, no crap about Japanese names being hard.)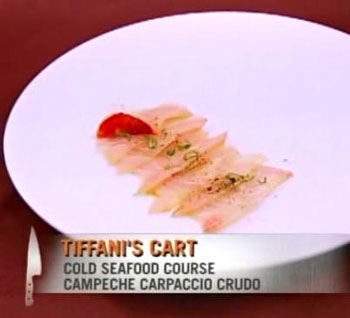 What's wrong with this picture?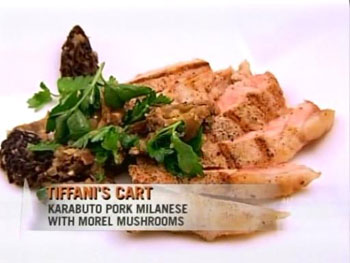 A new kind of pork...?
The first part of the challenge was to provide two seafood courses as room service for "high rollers". The high rollers turned out to be the three last eliminated contestants, Lee Anne, Stephen and Miguel. They were sort of expecting those extragant ingredients like caviar, but instead got some pretty restrained and, it must be said, rather boring seafood dishes. I did not understand Tiffani's sashimi dish, all piled up on one side of the plate - plain raw fish slices with a bit of orange? The only dish that looked even mildly interesting was Harold's mussel soup. I was rather pleasantly surprised at how on point Stephen's comments were, by the way. I wonder if he has a career as a critic...
The second part of the challenge was to make snacks for poker players. Being a closet poker fan, it was fun to see the "bad boy of poker" Phil Hellmouth make a cameo appearance. Harold surprised by showing an ability to cook "junk" food in the form of chicken wings and fried onion rings, which Ms. Tiffani turned up her nose at. Harold did still manage to get in a moan about not being able to show his abilities "with this type of food". But Dave came up with the best overall presentation of snicky-snacky foods including chocolate covered strawberries. Tiffani didn't too well with the snack foods - even the potato chips were too "sophisticated" for the poker players. Aged Gouda is very strong, and doesn't sound like a good match with what looked like over-fried chips.
The final challenge was to cook high-protein, high-carb, low-fat food for athletes, a.k.a. acrobats from Cirque du Soleil. For some odd reason the chefs used the expensive and fatty kobe beef in this round instead of in the dishes for the high rollers; Tiffani even pulled out caviar and paired it with crab meat and ...blueberries and blood orange. Did the spirit of Stephen somehow get into her? Tiffani blurbed something about looking for "good fats"...last time I checked there was nothing good about beef fat. But anyway, overall they seemed to do fairly well in this round...except that Dave forgot to prepare three dishes and only had two. I must say that the dishes prepared for this round looked the most appetizing to me, especially Dave's and Harold's.
In the end, Dave's mistake cost him dearly. Was it unfair of the judges to kick off Dave, despite the fact that it seemed that Tiffani got the lowest overall critiques for her food? It seems that the judges weighed Dave's mistake more than Tiffani's low food scores. Fair or not, the two finalists are quiet, workmanlike Harold and the controversial and often cantankerous Tiffani. The teasers of the last episode show that they are going to call back some eliminated contestants to be the assistants. I suppose at this point Harold is the overwhelming favorite to win it all.
A couple of ingredient and other notes:
It's always seemed ironic to me that Japan, a nation not known for being big meat eaters, has come up with two kinds of meat that are deemed among the best in the world: Kobe (or, as it's more often called in Japan, Matsuzaka) beef and kurobuta (black pig) pork. Matsuzaka beef is too expensive for most people to eat regularly, but kurobuta pork is very popular in Japan.
I guess it would be sort of prejudiced for me to say that all those expensive ingredients are wasted on Vegas poker players and high rollers... They do say a lot about what Las Vegas food is about though...ostentatiousness.
Submitted by
maki
on 2006-05-20 18:35.
Filed under:
top chef
tv