The start of my new adventures...in Provence, France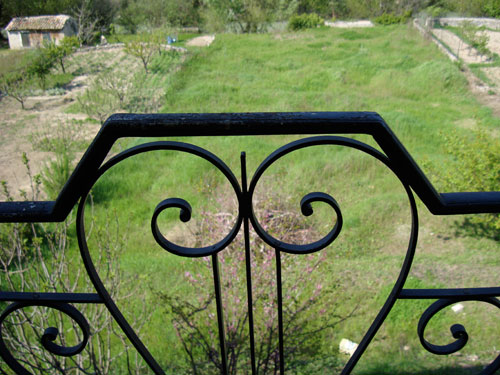 In February 2009, I left the house I'd been living in off and on for years, and embarked on a quest for a new place to live. Last week the quest finally ended, and we're now settling into a new house, which is actually a pretty old house, a new country and a new area for us - Provence, France.
I've written about my love for this area several times here, but we are moving here knowing that there are disadvantages to living in a fairly small village in a fairly rural area. We spent the last year roaming all around France and Switzerland, even briefly considering moving to the U.S., before deciding that this area was the one for us. The weather is beautiful about 90% of the time, the locally produced food is gorgeous, and the pace of life is still quite tranquil.
Another factor is that, compared to Switzerland, the cost of living in France overall (at least outside of Paris) is quite a bit lower. Switzerland is a fantastic place to live - but it helps if you are employed by a company that pays a lot of your required expenses - they pay part of your social security, part of your insurance (though health insurance is paid for by individuals) and so on. If you are self-employed or run a small company (that's us), you have to foot the bill for all of that yourself. Zürich is a great city, but rents are high and buying a house is simply way out of our budget. And food, including eating out, is quite expensive.
Here we can eat very well for a lot cheaper. Sure, the nearest Japanese grocery store is a 2 hour drive away in Lyon (we do have some 'Asian' stores that are a bit closer though), and for many ingredients I may even have to go to Paris or ship a lot of stuff back from Japan - but overall, I think it's going to work out. Of course we are able to make such a move since both of us do most of our work via the internet.
So, how is my move going to affect Just Hungry or Just Bento? In the long term I think it's going to make them even better. I do have an urge to chronicle my new life the Provence somewhere, including a lot of non-food things, and I'm not sure yet if I should do it here or set up a new blog for that purpose. But just in terms of food I know that the access to the abundance of produce here is going to re-inspire me to cook more. And, with the reduced living costs, I hope to be able to make a lot more trips back to Japan too. (As a sidenote, one of the reasons we decided to settle here is to have a place where my mother can come and relax for a few weeks every year, away from the daily big and small stresses she seems to experience in Japan, which may have caused her health to break down.) And I'll be going to the U.S. quite a bit too, for business and family reasons - including some promotional activities for my book (more about that in another post).
In the short term, it's going to be interesting. Right now the house is kind of habitable - there's electricity, and we got the ADSL working (which, in our household, is slightly more important than running water and a toilet that flushes). There's hot and cold running water and we managed to clean up one of the old toilets enough to use. On the other hand, it has no kitchen! We've been surviving on bread and cheese and eating out at local restaurants so far, but we're planning to get a small refrigerator and a hot plate or something to get by until we can start the renovations on the house. (We stupidly managed to forget that getting workers in is pretty much impossible in France in July-August.) So...until September at least, I'll be doing a lot of non-cooking-cooking I think. Should be um, fun? We'll see. It will certainly be a challenge!
So where am I?
Physically that is...mentally or metaphysically I'm not sure. But anyway, the town we selected as being just the right combination of factors is Vaison-la-Romaine, in the north-eastern area of Provence called the Haut Vaucluse - the upper or northern part of the department of Vaucluse, which in turn is in the north-western part of the PACA (Provence-Alpes-Côte d''Azur) region. It seemed right to us from all the other places we considered; the town is not too rural (it is the center of commercial activity in the area and has a big, weekly market and some great local shops) but not too urbanized. It is quite touristy, as is most of the Provence, but not as overrun as many other places (yet) - and it's occuped by more year-round residents than summer-home-residents. It's not too far from Lyon-Saint Exupéry, an international airport with not-too-bad connections to the rest of the world. And it's a fairly easy day's drive away Zürich, a critical factor since The Guy needs to be there for meetings and stuff on occasion.
I mean, of course it's beautiful Provence, and all of that, but we did try not to get too caught up in the tourist-brochure dreams of a place and focus on day-to-day realities. (I'll talk about some other areas we rejected during our year-long search in another post.)
As as for our new/old home itself - we got a rather quirky stone house (well, most of the older houses in this area are built of stone) on the fringes of the town. The house itself has a lot of, shall we say, issues - but we decided the house was for us mainly due to this:
That's the view from one of the windows. The haute-ville or "upper town" is to the left, on top of the hill, and is mostly Medieval with some buildings dating back to the 13th century. The Roman bridge, built in the 1st century A.D., spans the Ouvèze river, and to the right is the basse-ville or "lower town", which has most of the shops and restaurants, and has so many Roman ruins that local people barely glance at them. In front of the house, across the Ouvèze, is a rocky cliff with a statue of the "Black Madonna" on top, and to the right is a view of Mont Ventoux, the biggest peak in the area and a famous challenge on the Tour de France.
The house itself...well, from the outside it looks fine really. Let me dwell more on the wonderful surroundings, before I start talking about the issues the house has...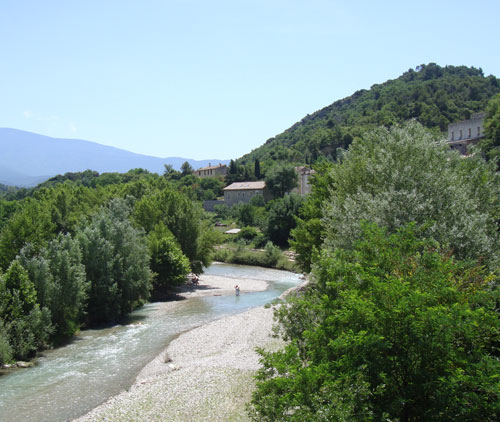 So, the house has a few issues. As I mentioned earlier, it has no kitchen at the moment. It has one sort-of working bathroom , which was absolutely filthy when we got here, and will need replacing since the toilet is cracked, the shower stall seems to be falling apart, and so on. The other bathroom has no water. There's a big, deep hole in the ground on one side of the house, which needs to be dealt with before a small car or child falls in there. We have a fair sized, completely overgrown garden, that leads right to the banks of the Ouveze...but at the moment it's only accessible from the house via a steep, rocky dirt path. The road in front of the house gets a busy during the day, and already we've had to shoo away some Belgian tourists who parked right in front of the front door so we that could barely get in. The basement/cellar, which is actually built into the rock, used to be a studio apartment, in which a slightly odd single guy lived apparently (I can't imagine any human being living there full time) - it's almost pitch black in there unless the door is held wide open, and perpetually chilly (good for wine...not so good for people) so let's say at the moment it's mighty spooky.
I'm not sure if we have enough money to do all the renovations that the house really needs. This keeps me up late at night more often than not.
But, at least the roof doesn't leak, the walls are beautifully thick, keeping the house cool without any air conditioning, and the views are imprenable (uninterrupted - vue imprenable is the phrase to look for if you want a house in France with a good view) and really to die for. It's a brand new adventure, and I'm going to try to take it as it comes! Or, run away screaming in a few months. Stay tuned...
And a question for you...
If you've made it this far, a question for you - would you prefer to read stuff about my new life in France (with lots of non-food things) right here on Just Hungry, or would you prefer that to be separate, perhaps in a new blog? Just curious - and no promises as to what I'll end up doing yet, since I have no idea myself at this point...in more ways than one.
Submitted by
maki
on 2010-06-07 20:50.
Filed under:
site news
provence
france
my old house