Recipe: Glühwein, mulled wine for Christmas and wintertime (and a bit about Christmas markets in Europe)
Originally published in December 2005, edited in November 2008, and edited again to add more Christmas market info this year.
I have rather mixed feelings about Christmas markets (called Weichnachtsmarkt or Christkindlmarkt in German (depending on where in Germany, Austria or Switzerland you are) and Marché de Noël in French), which abound in this part of the world at this time of year. On one hand, they are colorful and seasonal and very festive. But unlike flea markets, which I'm addicted to, and crafts/artisan's markets, the merchandise selection can be a bit mixed. There's an awful lot of touristy junk being sold. They can also be horribly crowded - try going to the Nürnberg (Nuremberg) market on a weekend after 7pm and coming out alive! (Note: I wrote that sentence back in 2005, but in recent years I've noticed that there was a whole lot less junk and more of the things Christmas market fans love, such as locally crafted items. Maybe people are paying attention to what people want!)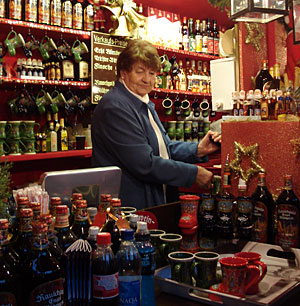 What makes Christmas markets tolerable is Glühwein, which is a mulled wine. Hot, a bit sweet, and spiced, it warms you up nicely as you brace yourself for another round of stall-gazing with more enthusiastic friends and family members pulling you along.
I like to make a potful of Glühwein sometimes at home too. It's a great drink to have after a bracing walk or yet another shopping trip. But the main reason I make it is that it makes the house smell so wonderfully festive.
The base for Glühwein varies - it can be white wine, cider (the alcoholic European kind of cider, not the apple juice of that name sold in North America), or even Jagermeister (which seems to be a controversial choice according to some comments, but what can I say...I've seen it mentioned more than a few times!) I think that a robust red wine works the best though. If you want to up the alcoholic content and fun quotient, add a shot of liqueur like kirsch or pflaumen to each mug. (Don't add the shots to the hot pot or you will get a faceful of knock-out fumes.) No need to stop making it after Christmas either - it's such a warming, fragrant drink that it's served at many ski resorts.
Glühwein, mulled wine
A 750ml bottle of inexpensive dry red wine (no need to splash out on something expensive, but it should be drinkable. I usually just use whatever red wine is on sale at the supermarket.)
2/3 cup of raw cane sugar or white sugar, or non-artificial sweetener of your choice
Juice and peel of one small lemon
2 cardamon pods
4 cloves
2 bay leaves
2 cinnamon sticks
Put everything in a heavy bottomed pan. Stir to melt the sugar. Heat the mixture over low heat, and leave for about an hour - it should never boil, just sort of seethe.
Serve in small mugs (straining out the peel and spices), with optional shot of brandy, kirsch or other liqueur.
Notes: Increase the amount proportionately to serve more people. Vary the sweetener to change the taste - honey is interesting, as is dark brown sugar or molasses.
My take on some Christmas markets in Europe
My favorite big, typically Germanic Christmas markets are the ones at Salzburg, Austria and Strasbourg, France. The decidedly non-Germanic Christmas markets in the Provence, such as the one in Aix-en-Provence, are wonderful too, and a lot less frantic.
A speciality of Provence is santons, small figurines that depict daily life. These ones are made of painted clay, which is the most usual form. Larger ones are dressed in fabric and so on.
If you love Christmas ornaments and things, Nürnberg (Nuremberg) in Germany, the biggest market of them all, is worth at least one visit, though you can buy the same Christmas items in the permanent stores in town without the awful crowds at any time of the year.
The market here in Zürich have improved a lot in recent years -- last year I found lots of the type of things I love, such as handcrafts. The town of Zürich itself becomes elegantly decked out for the season, and the major Christmas market in the great hall of the Hauptbahnhof (main train station) is quite spectacular. The Glühwein with raclette combo is a standard snack at Swiss markets, and is mighty tasty. Here's the Christmas tree at the Hauptbahnhof from last year, bedecked with hundreds of Svaroski Crystal ornaments.
There are many terrific Christmas markets all around Switzerland, especially in small towns. They are not as famous as the German ones, but well worth going to -- and less crowded. Consult the Swiss Tourism site for a schedule.
Last year, I went to a lot more Christmas markets around Switzerland. Here are some photos from them:
A Zigerkrapfen is a fried pastry filled with a cream cheese filling. Delicious! At the Rapperswil (on Lake Zurich) market.
Angels (actually school kids who wander around the market dressed as such) taking a McDo break at the Rapperswil market:
The vin chaud (mulled wine) stall at the market in Neuchâtel, in the French speaking part of Switzerland:
The indoor handcraft market at Neuchâtel:
Lebkuchen (spiced bread) for sale at the Bern market:
Submitted by
maki
on 2009-12-14 20:59.
Filed under:
drink
winter
christmas