Nikujaga: Japanese stewed meat and potatoes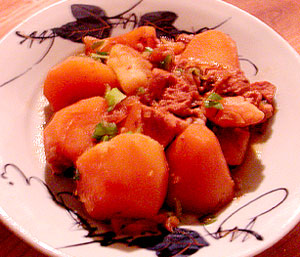 [Update:] Try this simplified version if you are in a hurry.
There is a category of cooking in almost every cuisine, "mother's cooking". It means something that's simple, homely, filling, and invokes strong feelings of nostaliga. In Japanese this is called ofukuro no aji (mother's flavor). Nikujaga, or stewed potatoes with meat, is one of the mainstays of Japanese-style mother's cooking.
Japanese stewed dishes are called nimono. Usually the liquid part is reduced slowly to almost nothing, contrary to western style stews where the liquid or soupy part is abundant. In order to maintain the shape of the vegetables being stewed, a pan lid that is smaller than the diameter of the pan is placed directly on top of the stew. Some Japanese pans actually come with a second lid for this purpose. Usually this is made of wood, but you can use a regular metal pot lid just as well.
This meat and potato dish only contains a small amount of meat, which is basically there for flavor rather than substance. This is quite typical of Japanese cooking. Traditionally, this is eaten with plain rice, but if the idea of potatoes and rice is sort of overwhelming to you, reduce the amount of soy sauce in the stewing liquid to make it less salty.
Nikujaga, Japanese stewed meat and potatoes
900 g / 2 lbs of potatoes. Use boiling potatoes for a firmer texture, and baking potatoes if you want it rather crumbly and mushy. (Either way it's good, though the former makes for a prettier dish.)
200g / 6 oz thinly sliced beef or pork. "Minute steak" is fine, or just cut up a thin cutlet.
1 medium onion
A small piece of fresh ginger
about 4-5 cups of dashi soup stock (You can use the granulated instant dashi, but be careful not to add too much or it will be salty)
6 Tbs sugar
3 Tbs sake, or sweet sherry
3 Tbs soy sauce
1 Tbs mirin (or just add another Tbs. of sake and a bit more sugar)
vegetable oil
1 tsp dark sesame oil
Some chopped green onions for garnish
Peel and cut up the potatoes. Roughly chop up the meat. Slice the onion. Chop the ginger finely.
Sauté the onion and ginger in some oil. Add the meat and sauté till browned.
Add the potatoes and sauté briefly. Add enough dashi stock to cover. Add the sugar, sake, mirin and soy sauce. Add the sesame oil. Bring to a boil, then put a pot lid that's smaller than the pot you're using directly on top of the potatoes, Simmer over medium-low heat, until the liquid is much reduced and the potatoes are tender, and infused with a sort of golden color.
Sprinkle with the green onions and toss around in the pan. Serve immedately.
Submitted by
maki
on 2004-02-18 23:25.
Filed under:
japanese
potatoes
favorites
beef