Masterchef challenge, day 15: Fish quenelles in vegetable soup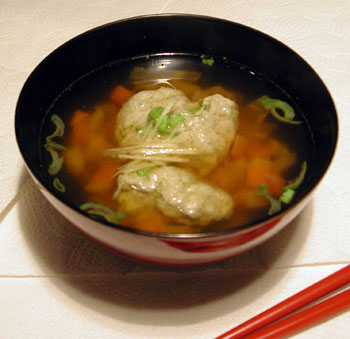 Day 15 of Masterchef! Here are today's ingredients:
Onion
Fennel
Basil
Horseradish
Tomato
Mozzarella cheese
Celeriac
Mackerel (they showed filets, not whole mackerel)
All the contestants who used the mackerel pan-fried it. It's delicious like that of course, but I wanted go in an entirely different direction. Fish balls was it. Or, to put it more elegantly, 'quenelles'. (Isn't it strange how putting a French name on sometime makes it sound more elegant? I could call them Fischknödeln but that doesn't sound as good.)
Ingredient notes: celeriac or root celery was unfamiliar to me until I got to Switzerland, though nowadays it's become quite trendy. Here, it's celeriac that is called simply Sellerie, while the stalk celery that is more common in the U.S. and elsewhere is called Stangensellerie. Either one can be used for this soup.
A classic way of cooking fish is to poach it in a court bouillon, an acidulated vegetable stock. I took the idea for the base soup from this, though I did not add much acid to it. The mixture of onion, carrot, fennel, and celery makes a wonderful vegetable stock base. If the vegetables are cut into small cubes they cook quite quickly.
The fish quenelles are similar to a traditional Japanese fish ball soup, but they are made lighter and more delicate by the addition of stiffly whipped egg whites. The addition of ginger to the pureed fish is quite important: it gets rid of any 'fishiness', and makes for a much cleaner taste. Ginger, onion and alcohol such as sake are used for the purpose of getting rid of kusami - fishiness or meatiness or gaminess in fish and meat - in Japanese and Chinese cooking.
My verdict on this recipe: it is one of the best of all my Masterchef attempts! Don't be scared by 'fish balls' - they are light and really yummy, and the soup is great too.
Another inspiration for the fish quenelles was gefilte fish, a traditional Jewish dish - poached white fish dumplings that are served cold in their gellified stock. I love homemade gefilte fish, but I'll save that for another day.
Unusued ingredients: horseradish, mozzarella, tomato, basil.
The recipe that follows makes enough for 4 to 6 servings.
Vegetable soup with lime and ginger
1/2 c. finely cubed fennel
1/2 c. finely diced onion
1/2 c. finely cubed celeriac
1/2 c. finely cubed carrot
1 piece of ginger, grated
Juice of 1/2 lime
1 Tbs. Japanese essence, or 1/2 Tbs. soy sauce and 1/2 Tbs. sake
1 vegetable soup stock cube
Green onion, finely chopped
Ginger, finely julienned
Heat up about 6 cups of water. Throw in all the vegetables (not including the ginger or lime) and the stock cube, bring to a boil them simmer for about 30 minutes, until the vegetables are tender. Add the lime juice and grated ginger and Japanese essence (or soy sauce and sake). Taste and adjust the seasoning with salt and pepper.
At this point it can be served as a vegetable soup. For this recipe, add the fish quenelles and simmer for an additional 10 minutes.
Garnish with the chopped green onion and ginger.
Mackerel quenelles
4 fresh mackerel filets
1 egg, separated
1 piece of ginger, grated
1 Tbs. Japanese essence, or 1/2 Tbs. soy sauce and 1/2 Tbs. sake
1 stalk of green onion
a pinch of salt
Carefully go over the mackerel filets and take out any bones (a pair of tweezers is the best tool for this).
Chop up the green onion. (Reserve some of it for the soup garnish.) Put the onion and mackerel filets in a food processor and puree. Alternatively, you can chop it up very very finely with a knife. Add the egg yolk, the juice from the grated ginger and the Japanese essence (or soy sauce and sake) and salt and mix in.
Whip the egg white until fairly stiff. Take the fish puree out of the food processor, and mix half of the whipped egg white into it. Fold the rest of the egg white in carefully.
Using two spoons, scoop up the fish puree and drop it carefully into the simmering soup. Cover and simmer over low heat for 10 minutes.
Note: if you don't have sake, substitute white wine or sherry.
Submitted by
maki
on 2006-02-17 13:53.
Filed under:
masterchef
soup
fish