Masterchef challenge, day 9: Pork Medallions and Bubble and Squeak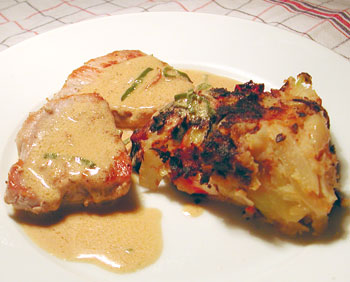 The ingredients for the 9th day (1st day of the 3rd preliminary round) of MasterChef were:
Pork filet
Gammon - a kind of bacon
Fresh sage
Cider (I am assuming it was alcoholic cider)
Green beans
Potatoes
Pears
Blackberries
As I've written before, it's rather obvious that they taped this show during the summer or perhaps early autumn, because some of the ingredients are only in season at certain times. It's practically impossible to get ripe pears or fresh blackberries right now here in cold and dreary Switzerland, and fresh green beans are very expensive. We can get hard, unripe pears, frozen blackberries and frozen green beans, but it's not really inspiring to cook with such things.
I ended up making something pretty basic. Bubble and squeak, surely the dish with the cutest name in the world, is a traditional English or Irish dish consisting of mashed potatoes, onion, cabbage, and the drippings and gravy left over from a Sunday roast. I didn't have any drippings or gravy, but I wanted this bubble and squeak to just have the vegetable flavors so that was fine. I added a red pepper to the cabbage and onion for a little added sweetness, and one chili pepper for just a little bite.
The pork filet medallions are simplicity itself: just very quickly pan-fry the pork on both sides, and serve with a sauce that is made in the same frying pan. I used Calvados (an apple brandy) instead of cider since that's what I had in the liquor cabinet. We're lucky to have humongous sage bush in the garden that stays green all winter, so I was able to pluck a couple of leaves off for this, but if you will have to buy a bunch just for the two leaves and don't see a need for using the rest, just use a small pinch of dried sage.
This will serve 2 fairly hungry people. Have a green salad with this, followed by juicy oranges for dessert.
Unused ingredients: blackberries, green beans, pears, gammon (bacon).
Slightly spicy bubble and squeak
Note: the version in the picture is actually a bit burnt - you want it to be nice and golden brown, not brown-black. It was still very tasty though.
1/2 small cabbage, core removed (you want to have about 2 cups of shredded cabbage)
1 medium onion
1 medium sweet red pepper
2 medium potatoes
1 small red chili pepper
1 Tbs butter
1/4 milk
1/2 tsp. cumin seeds
Butter or oil for cooking
Salt and pepper
Peel and cut up the potatoes, and boil in salted water until tender. Mash it up roughly and add the butter and milk to make a slightly stiff mashed potatoes.
While the potatoes are cooking, finely shred the cabbage and sweet red pepper. Finely dice the chili pepper (whether you deseed it or not is up to your discretion - the more seeds, the hotter it will be.) Put the vegetables in a pot with about a cup of water, and the cumin seeds. Bring to a boil then lower the heat and cover the pot. Let it steam-cook until tender; add water if it shows signs of sticking to the bottom.
Thinly slice the onion and cook in a little butter or oil until tender. Add the steamed cabbage mixture and sautée a bit. Add the mashed potatoes, and mix thoroughly. Season with salt and pepper.
In a small, non-stick pan, heat up butter or a mixture of butter and oil until it's sizzling, then add the potatoe-vegetable mixture. Press it firmly into the pan. Lower the heat and let the bottom cook until brown and crispy, then carefully turn it over to brown the other side. (Alternatively you can cook this in a hot oven for about 20 minutes.) Flip it onto a plate, then cut into wedges.
Pork filet medallions with calvados-sage sauce
200g / 7 ounces of pork filet, cut into slices about 1 cm / 1/3rd inch thick. You want 2 or 3 little pieces per person.
1/4 cup of Calvados, or hard cider
1/2 cup or so of water
2 sage leaves, finely julienned, or a pinch of dried sage
1/4 cup creme fraiche or sour cream
2 tsp. butter
Salt and pepper
Heat up a frying pan with a little oil until it's red hot. Add the pork filet pieces, and cook for about 1-2 minutes on each side. You just want it to get browned, but be sure not to overcook it. Take the pieces out of the pan.
Pour the Calvados into the pan and rapidly stir with a spatula, scraping off all the bits stuck on the bottom. Add the water, and continue stirring and scraping. If the filets exuded more juice in the meantime, pour that back into the frying pan. Add the sage leaves and simmer briefly.
Add the butter and stir with the spatula or whisk very very rapidly so that it turns glossy and a bit creamy. Add the creme fraiche and again, stir rapidly. Season if needed with salt and pepper.
To serve, put a wedge of the bubble and squeak on the plate, and the pork filets. Carefully spoon the sauce over all.
Submitted by
maki
on 2006-02-09 15:08.
Filed under:
masterchef
potatoes
winter
pork