MasterChef challenge, day 7: Cabbage Rolls and Potato Pancakes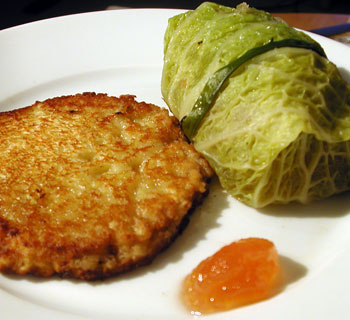 The ingredients for day 7 overall, and day 3 of the 2nd round of preliminaries were:
Ground beef
Savoy cabbage
Potatoes
Portobello mushrooms
Blue cheese
Frozen peas
Bacon
I think I have got what the objective of this ingredient round is in the MasterChef competition. The contestants aren't supposed to try and use all the ingredients presented: they are supposed to come up with the best dish they can from those ingredients, plus a few staples. Invariably. the contestants who try to use too many ingredients end up getting eliminated. In this round for instance, one girl made some kind of "sandwich" by putting some chopped up cabbage, peas, ground beef and something else between two huge grilled Portobello caps. It looked rather unappetizing, and apparently was rather unappetizing.
Anyway, when I saw ground beef and cabbage I immediately thought of stuffed cabbage rolls. Believe it or not cabbage rolls are a staple of Japanese home cooking, but in this case I went Germanic and did a classic combination of cabbage rolls with potato pancakes.
To add a bit of a twist to the filling, I added some chopped bacon and a bit of chopped mushroom. (I did get Portobellos, but since you are going to chop it up anyway, you can just use regular button mushrooms or any other mushroom.) This was ok, but I think the filling would have been just as good without the bacon.
In order to minimize the well, cabbagey-ness of boiled cabbage, add a bit of something acidic to the cooking stock, such as a squeeze of lemon, some white wine, or a can of tomatoes. In this case I added lemon juice.
I did serve the potato pancakes with a little quince jelly. You can also use apple sauce, which seems to be the usual accompaniment in German restaurants in the U.S., or just serve them plain.
Unused ingredients were the peas and the blue cheese.
The order to make this meal is:
Separate and wash the cabbage leaves, and blanch them.
Chop up the filling ingredients and mix.
Take out the cabbage leaves and let cool a bit, and throw in the flavoring ingredients.
Fill and roll the cabbage.
Beat the egg whites.
Grate the potatoes.
Make the pancake batter
Cook the pancakes.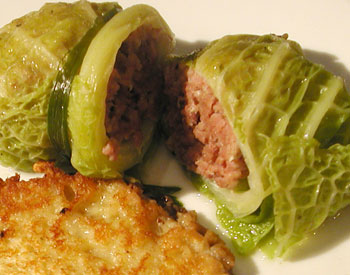 Cabbage rolls
Makes eight compact rolls
8 savoy cabbage leaves, washed
1 large onion
1 lemon
1 green onion
1 celery stalk
1 vegetable stock cube
250g / 8 oz ground beef
3-4 slices of bacon
1 Portobello mushroom, or 4-5 regular button mushrooms
2 slices of toast bread
Salt and pepper
Dried thyme
If the stem part of the cabbage leaves is too thick, shave off a little of it to make the overall thickness more even.
Bring some water to a boil. Put in the cabbage leaves and cook for 3-4 minutes until limp. Take out and keep the cooking liquid warm.
Cut the green part of the green onion lengthwise into thin strips.
Take about 1/3rd of the onion and the celery stalk, slice roughly and throw into the pot with the stock cube and about 1 tsp. of dried thyme.
Chop the remaining onion, bacon and mushrooms very finely. Turn the bread slices into crumbs. (Needless to say, this part goes much faster with a food processor.) Mix all together with the ground beef, season lightly with salt and pepper and about 1/2 tsp. of dried thyme.
Divide the mixture into 8. Squish each portion into a rough oval ball and place on a cabbage leaf, near the stem end. Roll up, fold in the sides, and roll closed. (The key is to not overfill the cabbage leaves, so if you have small leaves, just blanch more of them and make smaller rolls.) Secure the roll by tying around a green onion strap.
Add the juice of 1/2 a lemon. Carefully put the cabbage rolls into the liquid. Heat until the liquid is bubbling, then lower to a simmer and cook for at least 20 minutes, preferably longer.
Potato pancakes
3-4 medium potatoes (you want to end up with about 2 cups of grated potato)
1/3 cup flour
2 eggs, separated
1/4 cup milk
Salt
Butter or oil for cooking
Optional: quince jelly
Beat the egg whites until soft peaks form when you pick up the beaters.
Peel and finely grate the potatoes.
Add the flour, egg yolks, milk and salt to the grated potato and mix well. Mix in about 1/2 of the egg white, then carefully fold in the rest so that you end up with a light and foamy looking batter.
Heat up some butter or oil in a large pan, or on a griddle. Put about 1/4 cup portions (I just use a ladle which has an approximately 1/4 cup capacity) onto the hot pan or griddle. Cook until golden brown, and flip; cook on the other side.
To serve, place a pancake or two on a plate, with a teaspoon of quince jelly or other not-too-sweet, slightly bitter jelly. (Marmalade may work even.) Take out a cabbage roll with a slotted spoon.
Note: another less fiddly way of securing the cabbage rolls closed is to use 1 or 2 pieces of spaghetti to skewer them. People often use toothpicks for this but I always forget to take 1-2 out, and it's not nice to end up with a mouthful of splinters. The spaghetti just gets cooked - no splinters!
Submitted by
maki
on 2006-02-05 07:34.
Filed under:
masterchef
potatoes
winter
beef