Book review: The Enlightened Kitchen, shōjin ryōri (shoujin ryouri) for the home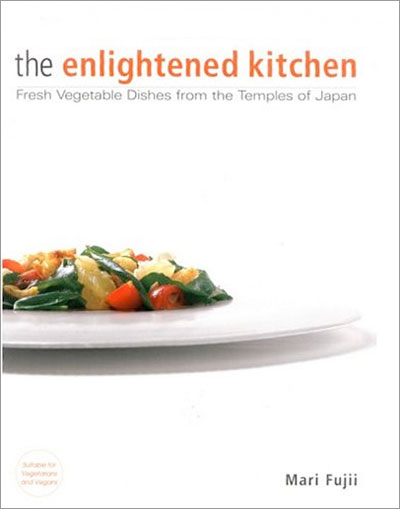 The Enlightened Kitchen: Fresh Vegetable Dishes from the Temples of Japan by Mari Fujii is a beautifully presented, easy introduction to the world of shojin ryori (or shoujin ryouri 精進料理), the highly refined vegan cuisine developed by Buddhist monks in Japan. I've often been asked by readers of this site and other people to recommend a good shojin ryori book: While there are many such books in Japanese, I haven't really been comfortable recommending a book in English so far. Shojin ryori tends to use a lot of ingredients that are only available in Japan - even more so than 'regular' Japanese cooking - and it is a haute cuisine that requires a lot of skill.
The Enlightened Kitchen, on the other hand, is filled with nonintimidating recipes, that any amateur cook with decent access to Japanese ingredients could tackle. Some of the vegetables and dried ingredients may trip you up, but it's easy to think up suitable substitions. The author, Mari Fujii, is married to a Buddhist monk, and has been teaching, speaking and writing about shojin ryori and other types of Buddhist vegetarian cuisines for 2 decades in Japan.
The book is divided into six sections: Soup; Salads; Tofu and Beans; Vegetables; Potato, Rice and Grains; and Desserts. There's a small but essential Basic Techniques section, and a useful glossary. Most of the recipes are vegan, following shojin ryori teachings, but a few do use dairy products, which are used in Chinese Buddhist temple food for example. It's a really beautiful book, with gorgeous photos and layout. It's a pleasure to hold and just flip through.
You may have read my rave reviews of the Japanese vegan cookbooks by Yumiko Kano here before. The recipes in The Enlightened Kitchen are more straightforwardly traditional than those of Yumiko Kano, but are still very accessible and modern. And of course, this one is in well-translated English! I've tried a few of the recipes already, and they've all turned out very well with minimum fuss, even in my current tiny holiday home kitchen. Some of our favorites so far are the eggplant dishes, since eggplants (aubergines) are abundant here in southern France: Sesame-Flavored Eggplant (miso) Soup is rich and toasty, and Eggplant Salad with Lemon-Flavored Plum Dressing is a great side dish or starter. Even the resident dedicted omnivore approves heartily. (Check out the bento-friendly lentil salad inspired by a recipe in this book over on Just Bento.)
The Enlightened Kitchen: Fresh Vegetable Dishes from the Temples of Japan

Author: Mari Fujii
Translated by: Richard Jeffery
Photography: Tae Hamamura
Published by: Kodansha International
And now the part you've been waiting for (or skipped forward to): The Giveaway!
I have one copy of The Enlightened Kitchen to give away, courtesy of the publisher, Kodansha International. Just leave a comment to this article, making sure that you put a valid email in the email box (don't worry, no one but I will see it). To make it a bit more fun, tell us what your favorite vegan dish is, linking to the recipe if possible. Your comment must be posted before 23:59:59 CET (Central European Time) on Sunday, June 7th. One winner will be selected at random, and announced sometime next week. Good luck!
The giveaway is now closed. The winner will be announced later this week!
Submitted by
maki
on 2009-06-01 18:20.
Filed under:
books and media
japanese
vegetarian
vegan