Apple crumble cake (an everyday favorite)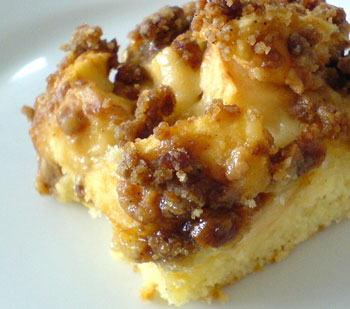 [From the archives. This very easy cake is especially nice at this time of year, when apples are in season. We don't actually eat this every day, but it's one of my go-to simple sweets to make. Originally published January 11, 2006.]
Sometimes, you just don't want to fuss, but you still want something a little sweet and homemade. At times like that, I sometimes make this simple cake. It combines two of my favorite foods, apple and crumble topping; the cake part is a simple mix-and pour affair; and it can be served warm, or at room temperature. And, the sweetness of it doesn't hit you in the face. The only mildly fiddly part is peeling and cutting up the apples. It's a perfect accompaniment to tea or coffee.
To me, it's a very American kind of cake - the crumble part of course, and the ease of making it, and the apples. The only thing you need to be careful of is to make sure that the cake part is cooked properly. The part underneath the apples cooks a bit slower than the rest of the cake, so once your toothpick comes out clean, bake it a few more minutes to ensure you don't get any doughiness. For my oven that's about 40 minutes total.
This gave me a chance to use a new discovery - organic raw cane sugar from Italy, called Panela Granulata. Here in Switzerland it's always been impossible to find the kind of soft brown sugar with added molasses that you get in the U.S., but the regular Rohzucker (raw sugar) is is a very light brown. This Italian brown sugar is already quite dark without any added molasses, and tastes delicious just out of the bag (not that I'm eating sugar out of a bag, mind you...of course not...)
You can use any kind of apple, but a slightly softer eating apple like Golden Delicious really fits best. Don't use a sour cooking apple for this.
Incidentally, how do you peel your apples? After struggling for years to peel apples with a paring knife and such, trying not to cut off too much of the flesh with the skin, it finally dawned on me recently - just use a vegetable peeler. It was one of those 'doh' moments for sure. No one sticks around to admire those one-long-piece apple peels anyway.
Apple Crumble Cake
A note about the measurements: If you aren't in North America, 1 U.S. cup is 220ml. Remember that all the ingredients here are proportional, and can be scaled proportionately up or down.
4 to 5 medium or small apples - about 4 cups worth of cut up apple, but you can do it with a bit more or less
1 1/2 cups all-purpose flour
1/2 cup granulated sugar
2 tsp. baking powder
1/2 tsp. salt
1/2 cup whole milk
1 'large' egg, beaten
1/3 cup melted butter, or a combination of melted butter and neutral-tasting oil such as safflour or canola
For the crumble mixture:
3/4 cup of raw cane sugar, muscovado sugar, or regular light brown sugar
1/4 cup all-purpose flour
2 Tbs. butter
1 tsp. cinnamon (optional)
Preheat the oven to 180° C / 350° F.
Grease a standard square cake pan (20cm x 20cm x 5cm, or 8" x 8" x 2") with butter.
Sift the flour and baking powder together, and mix in the granulated sugar. Add the milk, beaten egg and melted butter or butter/oil combo; mix together just until there are no huge lumps. Pour into the pan.
Make the crumble mixture: melt the butter in a pan, add the flour, sugar and cinnamon, and mix well until it become crumble.
Peel, core and cut up the apples, and put on to of the cake batter. Sprinkle the top with the crumble mixture.
Bake for about 40 minutes. Cut into squares. Serve warm plain or with whipped cream. You can nuke this to warm it up quite successfully. Also nice at room temperature, such as in a lunch box.
Submitted by
maki
on 2008-10-29 14:29.
Filed under:
dessert
fall
baking
quickbread
cake
favorites