It's The Season For Shepherd's Pie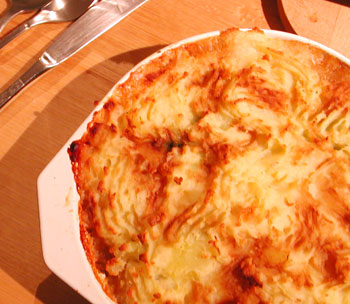 Having spent some of my growing-up years in England, I have a special place in my heart for shepherd's pie, otherwise known as cottage pie. It's definitely winter food though, because nothing is as warming as piping hot shepherd's pie straight out of the oven.
It combines two of my favorite ingredients, well-seasoned ground beef and mashed potatoes. Actually I believe that originally the ground meat was lamb, but in our house lamb was a no-no since my father had a morbid dislike of it. (One famous family story is when he was invited to dinner when we were living in England. He took a mouthful of the roast he was served, and asked his hostess what it was. She said it was lamb, and he promptly and spectacularly threw up.) I don't mind lamb myself but some family traditions are sacred: beef it is for shepherd's pie.
I've made the ground beef part with a lot of variations over the years, but I've settled on this formula as being the most tasty. The key to its tastiness is the slowly sautéed mushroom mixture, which is (when made with butter rather than oil, though it's good even if you use healthier olive oil) a standard in classical French cooking called duxelles. Classic duxelles does not use celery but I like to add a small piece of celery nevertheless.
You can make the beef part in advance, and even freeze it, which makes it a nice easy-assembly dinner; but whatever you do please use freshly made mashed potatoes. Below I reveal how I make my mash.
Shepherd's Pie
500g, or about 1 lb, not-too-lean ground beef
250g, or about 1/2 pound or 1 packet, mushrooms
1 medium onion
1 piece celery stalk
1-2 garlic cloves
4-6 (depending on size) creamy potatoes. Here I prefer Bintje potatoes, in the U.S. I would use Yukon Gold
Whole Milk
Worcestershire Sauce
About 1 cup vegetable or beef stock (water + stock cube is fine)
Salt, pepper and dried thyme
Preheat the oven to about 200°C / 400°F.
Chop the onion, celery, garlic and mushrooms finely. Saute the onion, celery and garlic until tender. Add the mushrooms and saute until the water that comes out of the mushrooms has more or less evaporated. Add about 1/2 tsp. of dried thyme. Add the ground beef and cook through. Add a few dashes of Worcestershire sauce. Season a bit on the strong side with salt and pepper. Finally, add about 1 cup of water or stock to make it a bit sauce-like; cook down a bit to concentrate the flavors.
In the meantime, boil the potatoes in salted water in their skins, until tender and you can stick a skewer through one easily. If you have a potato ricer you can rice the potatoes with their skins on; otherwise, peel them (holding them with a kitchen towel) then mash with a potato masher. Stir the mashed potatoes around in a dry pan over fairly low heat until it's dried out. Turn up the heat to about medium, and make a well in the middle of the potato mash. Pour in some milk (about 3/4 - 1 cup or so for this amount) into the well, and drop as big a piece of butter as you dare into it. Now, leave it be (don't stir) until the milk is bubbling and the butter has almost completely melted. Then, whip the potatoes vigorously with a wooden spoon. Season with salt and pepper to taste - keep it on the slightly bland side.
Spread the beef mixture on the bottom of oven dishes that are attractive enough to take straight to the table. (I use round enameled cast-iron ones.) Spread the mashed potatoes on top of this - the potato should completely cover the beef, to a depth of at least 1.5cm / 1/2 inch or so. Score the top of the potato with a fork, and then sprinkle a bit of Worcestershire sauce on top. Dot with as many bits of butter as you dare.
Bake in the oven for about 25-30 minutes until the top is browned. Eat straight out of the oven (have a glass of cold water handy for when a very hot piece burns a bit too much).
Serves 4 normal people or 2 very hungry people.
Submitted by
maki
on 2005-12-21 18:40.
Filed under:
dinner
potatoes
winter
pie
favorites
beef
ground meat