Daigaku Imo - Japanese University Sweet Potatoes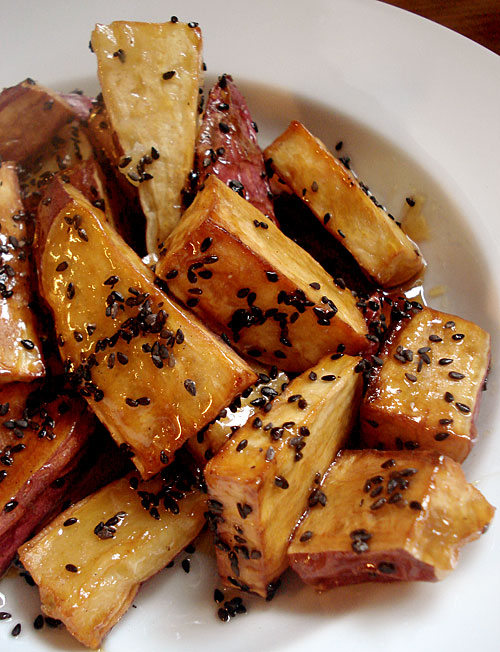 In the fall, many universities throughout Japan have big festivals called 大学祭 daigaku-sai, meaning university festival, or 文化祭 bunnkasai, Culture Festival. They are basically street fairs held on campus, with lots of food and fun stalls, concerts, even ghost houses and amusement rides. Many of the big ones also hold concerts in which top Japanese singers and bands appear. Daigaku Imo, which means University Potato, are candies sweet potatoes, a sweet and slightly savory snack that is often served at university festivals in Tokyo.
The snack itself probably originated as a cheap, calorie-rich, affordable snack sold to cash-poor students around universities in Tokyo around the turn of the 20th century. The idea for deep frying and then sugar coating potatoes most likely came from similar snacks in Chinese cuisine.
Daigaku imo is simple to make, yet a bit tricky. You ideally want to coat the sweet potato slices completely with a hard caramel sugar coating, but too often the sugar gets crystallized. It doesn't taste bad when it does, but it looks far better with a shiny, smooth coating. I've found the best way to accomplish this is to make a fresh batch of the sugar coating for each batch of potatoes cooked. This is not diet food by any means, but regardless, to me they are one of the main treats of fall.
Recipe: Daigaku Imo
Ideally you want to use Japanese-type sweet potatoes, which have a pink-purple skin and white flesh (see how they look like). You can use the orange-fleshed kind if that's all you can get a hold of.
1 sweet potato makes enough for 2 to 4 people, depending on appetites, though I've seen the whole lot disappear into one mouth quite quickly too.
1 medium sweet potato
Oil for frying
2 Tbs. white sugar
1 Tbs. sugar syrup (see notes)
1/2 tsp. soy sauce
Gomashio (sesame salt) - homemade recipe
Scrub the sweet potato very well. Cut the sweet potato into wedges, leaving the skin on for color (you can peel it if you want). Put the cut pieces into cold water.
Heat up about an inch or so (3 cm) of oil in a large pan, or use a deep fat fryer. Drain and pat dry the sweet potato pieces, and put into the hot oil. Fry on medium heat until cooked through and lightly browned.
In the meantime, mix up the sugar, syrup, and soy sauce in a small pan over medium heat, until the mixture is completely melted and very syrupy. Take off the heat.
Take the potato pieces out of the oil, drain and immediately put the piping hot pieces into the sugar syrup mixture. Be careful - both the potatoes and sugar are very hot! Mix and toss to cat the potato slices. Sprinkle with some gomashio. Separate the potato pieces so they don't get stuck to each other.
They are best served warm, though are still tasty when cold.
To make more, just repeat the whole process, making the sugar syrup mixture fresh each time as the potatoes cook.
I know you are going to ask...
...if you can you oven-bake the potato piees instead of deep frying them. Well you could, but the potatoes won't have the piping hot surface to which the sugar syrup mixture adheres to, forming the caramel coating, and the potato pieces will probably turn limp. However, the flavor will still be good, so if you're deep-frying phobic by all means bake your potato pieces, coated in a little oil or butter.
Notes about sugar syrup
Using part sugar syrup and part sugar helps to make a that fine, brittle caramel coating that is desirable. In Japan you would use 水飴 (mizuame), but different parts of the world seem to have different forms of sugar syrup. In the U.S. use corn syrup. In England, golden syrup will do. Molasses is a possiblity, though it will affect the flavor a lot. You can also try it with just sugar (use 3 Tbs.), though this may result in crystallization. It will still taste good though.
Submitted by
maki
on 2008-10-22 15:29.
Filed under:
dessert
japanese
fall
vegan
gluten-free
party snack