What to do with Okara (Milking the Soy Bean, Part 3)
This is the concluding article of my 3-part series on Milking The Soy Bean. In Part 1, I described how to make soy milk with no special equipment, and in Part 2 I showed how to make tofu.
The by-product of turning soy beans into soy milk or tofu is the ground up fibrous part of the bean. This is called okara or, more quaintly u no hana (卯の花) in Japanese. (I don't know what the u part is, but hana means flower, so it's the u-flower.) Okara is a nutritional powerhouse, containing soluble and non-soluble fiber, protein, calcium and other minerals. It's even more nutritious (because of the high fiber content) than soy milk or tofu. However, I have to confess I end up throwing much of the okara that's produced when I make tofu away. Most tofu makers actually either throw it away or give it away as feed to farms - most commonly to pig farms in Japan. (We asked a small local tofu manufacturer what he does with his okara, and he said he gives it to a local dairy farmer. Swiss cows eating okara...now that's Fusion for you.)
The problem with okara is that it's utterly bland. When it's fresh, having been squeezed of all its milk, it has a rather interesting texture, but unlike creamy tofu, it's not something that you can just eat as-is. In addition, okara has almost as short a shelf life as tofu or soy milk, so you have to hurry up and process it before it goes bad. I'm always looking for tasty ways of using okara though because throwing away all that goodness seems like such a waste.
This is what fresh okara looks like.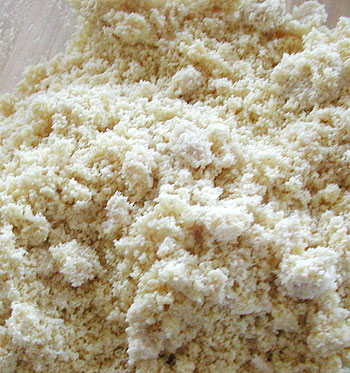 Dried okara is also available in Japanese/Asian food stores. Here's a pack, that proclaims its nutritional benefits.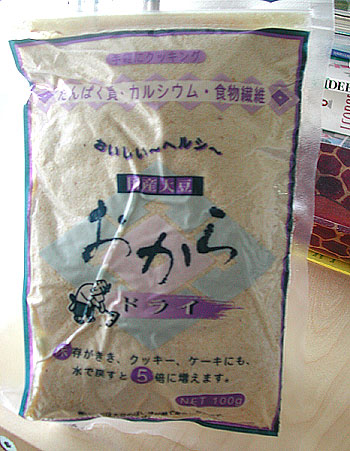 The easiest way to preserve okara is to freeze it, but I prefer to dry it and keep it as a powder. Spread fresh okara out on baking sheets, and dry in a low oven, turning every 15-20 minutes or so. Once it's totally dry, it may be a bit lumpy so whirl it a bit in a food processor to make it finer in texture, then pack into airtight plastic bags.
Using reconstituted or fresh okara
To reconstitute dried okara for use in various foods, simmer until it's soft and smooth in water or milk, then drain in a fine mesh sieve to get rid of excess moisture.
I have found that fresh or reconstituted soft okara lightens the texture of any food it's added to. I've posted a recipe for Asian sweet and sour meatballs with okara and tofu mixed in with the ground meat. Okara can also be added to Italian style meatballs that are simmered in a tomato sauce, at the ratio of about 4 parts meat to 1 part fresh or soft/reconstituted okara. However, adding okara straight to meat sauce doesn't work - it makes it oddly grainy in texture.
Another way of using okara is to add it to polenta. Just add about 1/2 cup of dry okara to 1 1/2 cups of dry fine-ground cornmeal, and then cook in 4 cups of milk with 2 chopped garlic cloves until soft and smooth. Add salt and pepper and lots of grated Parmesan. Somehow the okara makes the polenta creamier.
The traditional Japanese way of eating okara is to flavor it up by stir-frying it with dark sesame oil and soy sauce, then to mix it together with vegetables or put it into a soup.
Fresh/soft okara is used in this tuna salad recipe. Again, the okara lightens up the texture. Be sure the okara is totally soft and smooth before you use it.
Open-faced okara and tuna salad sandwich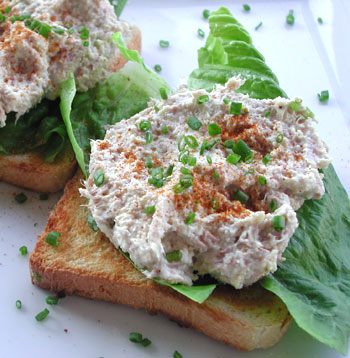 1/2 cup of soft okara
1 can (200g / 7 oz) can of tuna packed in water
4-5 Tbs mayonnaise
1 Tbs Dijon style mustard
1 Tbs lemon juice
1/2 tsp salt
A few grinds of black pepper
2 Tbs. finely chopped green onion
Dash of sweet paprika
Lettuce leaves
6 slices of toast
Mix together the soft okara, drained and mashed up tuna, mayonnaise, mustard, lemon juice, salt, pepper and 1 Tbs. of the green onion until smooth. Place the lettuce leaves on the toast, a heaping tablespoon of the tuna-okara mixture on top, and sprinkle each with a little paprika and the remaining green onion.
Using dried okara
Dried okara powder adds an intriguing lightness and texture to baked items. Be sure to use dried okara, not soft/fresh, in baking - the texture comes out a lot better. I think that there are lots of possibilities for using okara powder in gluten-free recipes; I haven't explored this area myself in depth yet.
Here is a banana-okara quickbread (that is one that's raised with baking powder and eggs instead of yeast) that I adapted from a banana-coconut bread recipe in Bernard Clayton's New Complete Book Of Breads, using toasted okara and brown sugar instead of coconut and white sugar. It's light, a little sweet, nutty, and very delicious. It's not gluten free since it does use regular white flour.
Banana-Okara Bread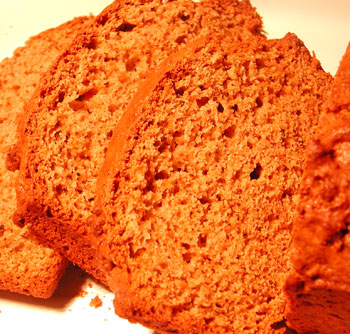 1 cup dried okara
1/4 cup (50g, or 1/2 stick) unsalted butter, softened
3/4 cup light brown or raw sugar
2 eggs
1/4 cup milk or soymilk
1 tsp almond extract
1 tsp lemon juice
2 cups all-purpose flour
1 tsp baking powder
1/2 tsp baking soda
1/2 tsp salt
2 medium ripe bananas, mashed
Pre-heat the oven to 175°C/250°F. Grease and flour a loaf pan.
Heat up a non-stick frying or sauté pan. Toast the okara, stirring frequently, until it's a golden brown in color. Let cool.
Mix together the butter and sugar. Add the eggs and milk or soymilk, almond extract and lemon juice. Add the mashed bananas.
In another bowl, stir together the flour, baking powder, baking soda and salt.
Add the wet mixture to the dry mixture, mixing just until it's combined. Fold in the okara.
Put the batter into the loaf pan. Bash the loaf pan hard on your work surface - this settles the batter and gets rid of any large air pockets. Bake for about an hour, until it's toasty brown in color and a skewer stuck in the middle comes out clean.
Take out of the loaf pan and let cool before slicing.
Note: you can also bake this as muffins, in which case the baking time will be much shorter (about 20-25 minutes).
Okara, the next In Food (maybe)
I have only started to scratch the surface of the possibilities of okara myself. It's so good for you that it has all the star power, I think, to become a Trendy Nutritious Food with claims that it can cure all human illnesses. (It can't, of course, but you know how these things go.) In any case, I am first and foremost about taste. If I find or develop more okara recipes that I really like, I will post them here in the future. At the moment I'm working on a müesli with toasted okara in it...
Submitted by
maki
on 2006-04-08 14:36.
Filed under:
japanese
legumes
baking
quickbread
okara