Zucchini basil muffins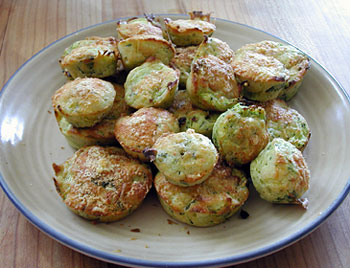 With only one arm in action, regular bread making that involves kneading and such is still out of the question. But I wanted to make some sort of fresh baked stuff today, and that lead to these delicious and very pretty green-and-yellow muffins. The only sort of hard part is grating the zucchini and the cheese, but the food processor takes care of that. They contain grated zucchini, which give the muffins a very nice moist texture, and the basil and cheese plus the olive oil give it a sort of sunny Italian flavor. They're perfect as an afternoon snack, though they'd make a nice not-sweet breakfast too.
The original recipe is from Bernard Clayton's New Complete Book of Breads, one of the recommended books in my sidebar. The only change I made was to use extra virgin olive oil instead of the generic "cooking oil" used.
Zucchini basil muffins
2 large eggs
3/4 cup whole milk
2/3 cup extra virgin olive oil
2 1/2 cups white flour
1/4 cup sugar
2 tsp. salt
1 Tbs. baking powder
2 cups grated zucchini (about 2 medium zucchini)
2 Tbs finely julienned fresh basil leaves
1/2 cup freshly grated Parmesan or Grana Padano (or similar hard grating) cheese
Preheat the oven to 200°C/425°F. Make ready the muffin tins, by buttering them if they are not non-stick (here I used one regular-size 12-muffin tin, and 2 mini-muffin tins. The recipe makes about 24 regular size muffins, or 48 mini muffins.)
Combine the eggs, milk and oil in a large bowl. Combine the flour, sugar, salt and baking powder in another bowl and add to the liquid mixture in batches, stirring to blend. Don't overblend!
Add the zucchini and basil and stir to blend.
Fill each muffin cup about 1/2 full. Sprinkle the top with the cheese. Bake for about 20-25 minutes for regular size muffins, 15-20 minutes for the mini muffins, until the tops are golden brown and puffy.
Serve while still warm.
You can freeze these and pop them in a toaster oven for a few minutes for a great snack..though to be honest, they rarely survive to make it to the freezer.
Try the Low-carb, gluten-free zucchini basil muffin recipe too!
Submitted by
maki
on 2004-07-04 20:13.
Filed under:
bread
baking
quickbread
muffins