What Swiss cows produce
I've updated and expanded upon the fondue recipe that was originally on this page - see A Proper Swiss Cheese Fondue.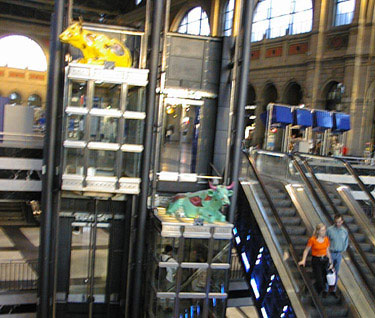 Cows riding up and down an elevator in the Zürich main train station in 1999.
The Swiss are obsessed with cows.
The cow is a popular motif everywhere. People actually wear cow-print vests, children play with stuffed cows or wooden cows. Ordinary people - not just tourists - collect cow bells.
A few years ago, the whole city of Zürich was taken over by cows. Artificial ones, that is. Cows in various designs were placed everywhere. (Later on, the cow idea was copied by the city of Chicago, with the cooperation of the people who had done the original cow thing in Zürich. The city of New York also did a cow thing, but had a falling out with the Zürich people.)
It's not surprising though. The Swiss Cow gives so much goodness, in the form of dairy products, to the people. Cheese, of course is well known, and I hope to describe some of the best Swiss cheeses I've encountered while living here in the future. But it's not just about cheese.
Butter. When you live in the States, butter is just..butter. You barely think about it. If anything, you try to avoid it, since it is saturated fat, and if you can substitute something healthier that is tasty, like a good olive oil, why not?
Swiss butter is something else though. The first time I melted some butter in a pan in a Swiss kitchen, I couldn't believe it. It smelled so good, unlike any butter I'd ever encountered before. Perhaps it's the quality of the food the cows eat (most cows are still allowed to graze freely outside in small family farms). Perhaps it's the freshness of the butter - since most butter sold here is unsalted, it is very perishable and has to be sold quite quickly compared to the salted butter that's common in the U.S.
There are fancy butters here, which come with promises of the essence of the Alpine herbs and flowers on which the cows fed. These are expensive though, so we stick to the plain old Die Butter. Die Butter is still a wonderful thing. It contains more water than U.S. butter, so it spits and sputters in the pan, giving off those marvelous smells. In the spring, it has a very faint taste of the wild garlic that the cows eat.
Milk also is somehow different. Although we no longer go to the local dairy farm with a pail to buy milk, the milk here is somehow much richer tasting. It's so rich in fact that when my sister Mayumi visited here she couldn't drink it straight up - to her, it tasted too creamy. We usually have Milchdrink (low-fat milk, about 2%) rather than Vollmilch (whole fat milk) around, but it still tastes much more like Milk than what I was used to drinking in New York.
And then there's cheese. There are many varieties of Swiss cheese, which is sort of amazing considering how tiny this country is. Cheese is an integral part of life. It's both an everyday food item, and something for a feast. Some time ago, we invited some friends who were visiting from the States, and we served them a cheese fest - 6-7 different kinds of cheese, a plentiful amount of good bread, a bit of dried meat, lots of fruits, and of course some good red wine. They were rather surprised - they'd never even thought of just serving cheese for a meal, and afterwards they were very, very happy.
Finally, there are the two great warm-cheese dishes, usually served right about now during the cold winter months. Fondue is cheese melted in a wine-kirsch mixture, into which you dip chunks of bread. (I've never encountered other dipping stuff here like apples and so on.) And there is raclette, a big chunk of cheese held close to the fire until it starts to melt, and then the melting cheese is scooped off with a knife onto a plate, and eaten with bread, boiled potatoes, cornichon pickles, and sometimes some dried beef.
I've updated and expanded upon the fondue recipe below. See A Proper Swiss Cheese Fondue.
Fondue
A good amount of cheese, half sharp aged Gruyère, half Vacherin-Fribourgeois. For 4 people it's about 400g (8 oz. or so) of each, shredded. (Here they sell a pre-shredded vacuum sealed fondue packs, called "Moitié-Moitié" or Half and Half. However Max's mother always shreds her own.)
About 1 1/2 cups of a young white wine. It should not be sweet, but rather a bit sour. Lemon juice can be used to accentuate the sourness (but just a squeeze)
A healthy amount of kirschwasser (kirsch). About 1/4 cup will do, or more.
A lot of coarse peasant-type bread, cut into chunks
Additional kirsch, for dipping (very optional)
In an earthenware fondue pan, or regular saucepan, heat up the wine. Put in the cheese and mix mix mix until it's all melted and bubbly. Add the kirsch and cook some more.
Put the pan on a burner or tabletop cooking range thing, to keep warm while eating. Skewer the bread on long fondue forks and dip. Optionally, dip the bread in kirsch before dipping into the fondue.
For dessert, serve grapefruit and blood orange wedges.
Submitted by
maki
on 2003-12-02 02:16.
Filed under:
cheese
swiss
dairy