Weight loss bootcamps on TV, the U.S. vs. Japan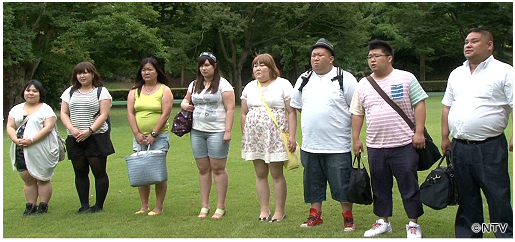 I'm always fascinated by local TV programs, especially non-fiction ones - the ones labeled "variety" or "entertainment" or "reality". I think they show quite a lot about the attitudes held in that particular culture, the expectations held, and so on.
I recently caught a re-airing of a show that aired on NTV (Nichitele or Nippon TV), one of the major networks in Japan, called Diet Village: Lose 100kg Together!" 「ダイエット・ヴィレッジ~全員で100kg痩せろ~」 It originally aired in the summer of 2014. The premise is similar to The Biggest Loser, the extreme-weight loss competition program that originated in the U.S. in 2004, and has since aired in several countries around the world: A group of obese people are brought together for an extreme weight-loss bootcamp, with trainers making them train for what seems like hours every day, restrictive diets and so forth. Here's a photo of the 8 participants on Diet Village, 3 men and 5 women. All of them were actually in the "obese" category, not just "overweight" or "plump" - they all had body fat percentages around 50% or more. (I note this because the standards for what makes someone "plump" or "fat" etc. are quite lower than they are in say, the U.S., especially when it comes to women.)
The show had the usual kind of drama that these types of reality shows do - conflicts between the participants, some working harder than others and being pissed at the slackers, a little romance. And there was a money prize at the end too I think it was 100,000 yen per participant (Japanese reality and quiz shows don't have huge cash prizes like U.S. shows do).
But while in The Biggest Loser, one "Biggest Loser" who loses the most weight (or the biggest percentage of weight) is crowned the winner and walks away with the prize, in Diet Village the group could only win the prize as a group. If they could lose 100kg in total as a group, they would all win the cash. If they didn't achieve that, even if one person managed to lose a lot, they would have failed as a group and been punished. (It wasn't a big punishment - they would have been dropped into a swimming pool - but still. And they wouldn't have gotten the cash, of course.) The big emphasis was on how important it was to work together and help each other, even though losing weight is a very personal thing.
This group approach to solving problems seems like such a Japanese thing to me, while the "there can only be one winner" (or loser) approach in The Biggest Loser is rather...American? There are of course other Japanese quiz shows and such where one person emerges as the winner. But with something like weight loss there are real consequences afterwards, so maybe a group approach works better? I'm really not sure - what do you think?
The Diet Village group did succeed by the way, by collectively losing more than 108 kilos (almost 240 pounds) in 28 days. The ladies lost about 10-11kg each, and the men lost about 15kg per person. (Men usually lose weight faster than women since they have more muscle mass to begin with and other factors.)
(Incidentally, I've been back from Japan for a bit more than a month now. While I was there I was able to set up a way for me to watch more Japanese TV channels than before. Since I also got a nasty cold or something when I got back, which has kind of dragged on, ironically I've been watching a whole lot more Japanese TV since coming back to France than I watched when I was actually in Japan! And yeah, I have to apologize for my lack of posts. It's a combination of the nasty cold etc. and some technical issues with the sites (this one as well as JustBento). I hope the latter gets resolved soon, before all my hair is pulled out in frustration....)
Submitted by
maki
on 2015-02-14 17:34.
Filed under:
essays
tv
usa
health and weight loss
japanese culture