Wacky diets everywhere
I have gotten a couple of emails, not to mention a ton of spammers, that mention something called the "Japan Lingzhi Diet". The people sending the emails were asking sincerely if the diet is effective, since they assumed this was indeed some kind of Japanese concoction. The spammers were, of course, selling some dodgy 'diet pills'. (And my mere mention of the pills is probably going to attract more stupid spammers who can't read, I'm sure.)
I had no idea what lingzhi was, so I had to Google it. It turns out that it's the name of a mushroom that has been used in Chinese medicine for a long time. The kicker though is that the Japanese name for this mushroom is not lingzhi; it's reishi (霊芝). (Confusingly, reishi is also an alternative name for litchi or litchee fruit in Japan, especially in Okinawa.) Incidentally, a good clue that a word is not Japanese in origin is, when spelled out phonetically with the alphabet, it contains the combination of z and h, since that sound doesn't exist in Japanese. Anyway, whoever decided to try to hawk this dubious 'diet' pill decided to take the Chinese name for a mushroom and slap "Japan" on it, presumably because...well I don't know really, because it makes it sound more hip? Relates to anime? You tell me.
Now as I said earlier, the reishi or lingzhi mushroom has been used in Chinese medicine (which is caled kanpo (漢方)in Japan) for ages. Serious scientific research has been done on the properties of the reishi/lingzhi mushroom, and while they may have some mild beneficial qualities (I've seen claims ranging from it helping to prevent allergies to even anti-cancer properties), none of these studies even remotely talk about any kind of weight loss benefit.
And here's another thing: while Japan, like anywhere else, abounds with diet books and weight-loss aids and the like, none of them mention the reishi/lingzhi mushroom at all, as a diet pill or supplement or anything of the sort.
I've looked at the packaging of these pills on the sites that sell them - I'm not going to link to them since I don't want to give them the traffic. The packaging does not look Japanese in any way, and have no Japanese on them. My guess is that they originated in, and are made in, China somewhere. Now you decide whether you want to trust your health to unregulated 'diet pills' with dodgy naming and mystery contents, imported from a country with a very iffy track record recently concerning food safety.
It's amazing to me how, in this internet age where anyone with do a little research online, that claims about how such-and-such is so popular in another country or continent can still be made, when they are patently false. Like all of those European-women-love-swear-by-this skin treatments and such that are sold in the States when they are unheard of in Europe.
If you want a 'real' wacky Japanese diet plan
If these mushroom-containing pills really did work in any remote way to help people lose weight, you can be sure it would be promoted as such in Japan. You may have heard of the banana diet craze, or the natto diet and its sorry aftermath. The trendy weight loss theory at the moment is that you can correct your posture and your bone structure through exercise and other means, so that you create a 'body that slims down naturally'. While you're at it, you can also cure stiff shoulders, aching backs, constipation and bandy legs too. The field of body-structure correction is called seitai (整体) - it's sort of like chiropractics meets yoga meets Pilates, often with a dash of other stuff thrown in like acupuncture, massage, herbal medicine, and so on. (Keep in mind that in Japan, the phrase 'diet (daietto, ダイエット)' encompasses anything related to weight loss, including exercise, diet pills and supplements, and so on.) Based on this general theory, there are books like the ones below.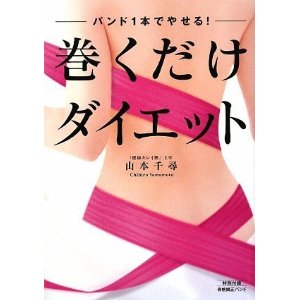 This is a book called the Lose Weight With One Band! The Just Wrap Diet. It comes with a flat exercise band. The band is meant to be wrapped around your body, which presumably helps to correct your posture, your body structure, re-position your organs and so on, and help you drop the kilos. There are variations on this theme such as the "stick tape on yourself diet" and so on. This book apparently got mentioned on some TV show, and has been selling out at bookstores in Japan.
This one is called the 1 Minute Groin Joint Diet. The sub-header is great: "Lose 13 kilo, 13 cm off the waist, raise butt by 10 cm." Hey I'll take that for exercising my groin for a minute a day.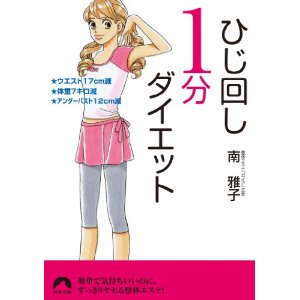 And this one is even more out there. It's the 1 Minute Elbow Rotation Diet, with the sub-header: "Lose 17 cm off the waist, 7 kg of weight, 12cm off the underbust area". So, if my calculations are right, if I buy both books, exercise my groin for 1 minute and rotate my elbows for another minute, I can lose 20 kilo, 30 cm off my waist, 12 cm off my underbust, and raise my saggy butt sky high. Wow.
People are desperate to lose weight everywhere. Sure, the obesity rate in Japan is a lot lower than it is in most Western countries, but people, especially women, are still anxious about losing weight - especially since the ideal body presented on TV and such is quite, quite small. It's funny and sad at the same time.
However, I guess you could say that rotating your elbow, doing something with your groin, and wrapping elastic bands around your body are likely to do less harm than popping mystery pills. So if you want to (allegedly) follow what your favorite J-dorama actress does for her figure, why not.
Submitted by
maki
on 2010-08-12 09:59.
Filed under:
offbeat
japan
health and weight loss