Two "Asian cuisine" cookbooks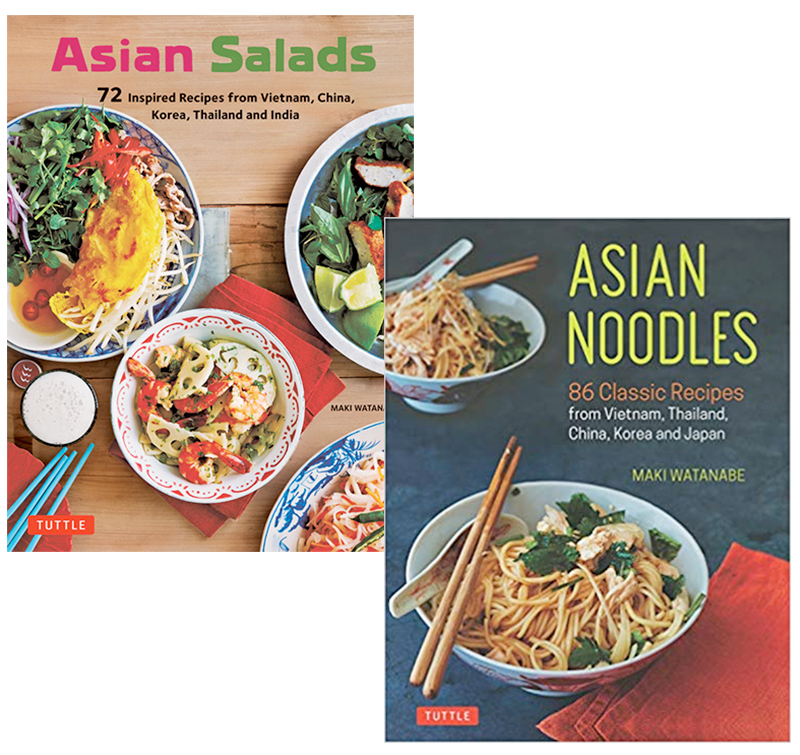 I wanted to mention a couple of books that I was involved in. The recipes are not Japanese (although one of them does have some Japanese flavored recipes) but they are by a well known Japanese cooking teacher and personality called Maki Watanabe, and are translated from Japanese. Both are from Tuttle Publishing.
The first one, called Asian Salads, is already out in print and Kindle. I did the technical editing on this (plus). It has some very nice quick vegetable based (not necessarily vegetarian) dishes. The recipes are not all salads in the strictest sense of the word; for instance, there is a section on stir fries, which she calls "cooked salads". But they are generally quick to make and packed with vegetables. They may be a nice change of pace if you don't normally cook Asian style dishes. The flavors are from China, India, Vietnam, Thai, and South Korea. You don't need a whole lot of specialized ingredients, but access to a general Asian market would be handy.
Buy Asian Salads on Amazon.com
The other one, Asian Noodles, is out on October 15th. I was the translator for this. As the title says it has Asian noodle recipes. However, the original is aimed at a Japanese audience so I am not sure if they are totally "authentic", but they are very quick and easy to make, and the ones I have tried were very good! For this one access to an Asian market is probably needed, just to get the different types of noodles, unless your local supermarkets have good Asian sections. The flavors/types are again from China, Vietnam, Thai and South Korea, plus a few Japanese-flavored recipes - twists on the classics rather than classic noodle recipes.
Buy Asian Noodles on Amazon.com
Submitted by
maki
on 2019-09-28 20:40.
Filed under:
cookbooks
asian
translations