Top Chef Season 2 Episode 11...should we care?
The recap of this episode is brief, because I want to discuss something else about the show itself. But the recap and review first.
Cliff was probably going to get booted anyway. Lentils and beef sounds good as combo, but he didn't execute it right. He was playing it too safe.
I did feel really bad for Marcel, and Cliff and the others were incredibly stupid in what they did - especially Cliff, obviously, and he deserved to get kicked off the show. Still...seeing him with a shaved head would have been funny...
Why was it up to Padma to yell "you idiots" to the contestant? She has that much authority? If it came from Tom Colicchio fine...but from..Mrs. Rushdie? (I have admitted already that I dislike her more and more, which is why I probably noticed it.)
Elia looks great with a shaved head! So does Ilan. They should both keep the look - there's a precedent for sexy bald top chefs.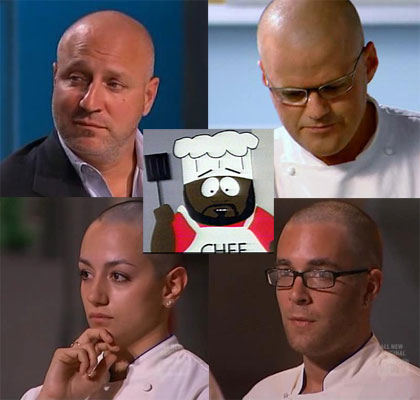 I think Chef was bald...
Ilan's chocolate truffle with a chicken liver center is a close second to last week's watermelon and 'gnocchi' with gorgonzola sauce by Sam for the "what were you thinking" wacky food award. I do dimly see his logic though, because of the texture of the liver when cooked...but still. Liver. Chocolate.

Geez, how did they get Eric Ripert (of a Super Serious New York Restaurant (Le Bernadin) on this

mess

show? 15 minutes of fame blabla...
I always wonder in these situations - did the Romantic Dinner couples have to pay for their dinners? I wonder if I'd pay for a Top Chef dinner myself...there's always the risk of Chocolate Covered Livers...
.
Apparently (though it was sort of lost in the confusion) Ilan's dish was the winner...demonstrated here by Lee Anne. Looks nice!
So anyway, after the totally unnecessary and condescending tease about which chefs would be eliminated (which was obviously going to be 'none' since Cliff was disqualified for manhandling Marcel), all four remaining chefs jet off to Hawaii for the final rounds.
But there's a bigger question to be asked...
Does Top Chef work as a show?
I don't talk about it here since this is a food blog, but I love Project Runway, on which Top Chef is modelled. Even when I disagree with the choice of winner, as I did this past season, it's still a great show. There are many elements that make Project Runway successful, but the question we discussed while wotching the latest episode of Top Chef. 'We' who watch Top Chef and Project Runway together are die hard food lovers, who have varying degrees of interest in fashion (one of us has zero interest), but we unanimously love Project Runway and have very mixed feelings about Top Chef.
Some of the elements that make Project Runway successful include:
Fashion is a visual art, so we the viewing audience can see the results of each challenge. While there are things like wearability and comfort to consider real life garment construction, for high fashion which is what the show is mostly about it's all visual.
The final reward, a runway show at New York Fashion Week, is a real, valuable goal for most designers in the U.S.
The setting, New York City, is the unquestioned center of the garment industry, and Parsons is one of the top design schools.
Some of us have problems with Heidi Klum as host (like her rather whiny delivery...incidentally, she's much less whiny in German), but there's no question that she has real fashion creds as a top model. Besides she doesn't really have that much to do except announce the challenges and participate in the final judging - and, since she is a top model you sort of take what she has to say seriously.
Of course - Tim Gunn! A real teacher and mentor, he makes the show come alive.
Comparing these points to Top Chef:
Food is only partly visual, and the visual part is definitely secondary to the taste and smell. So the audience can't really judge along - we can only take what the judges say to be true.
The value of final reward, besides the money and the Sponsored Appliances, is nebulous. Is participating in a food festival at some resort, which we never get to see anything of anyway, really that valuable to a chef's career? Most of the chefs seem to be on that show because of the publicity they might get just for being on TV. This makes for some unsatisfactory contestants (this season's Betty comes to mind here, as does last season's Andrea).
The setting...well it 's neutral I guess (in my opinion they should have kept it in San Francisco, since no other U.S. city is as totally obsessed about food.)
The host, this season and last, has been less than satisfactory. I guess we are supposed to buy Padma Lakshmi as a food expert, as we were supposed to buy Katie Lee Joel as such. I don't, for either of them. PLUS they are boring.
Tom Colicchio is a great chef and insightful judge but he's not Tim Gunn - and I know he's said on his blog that's not his role, and so on.
So, the show lacks these things. Add to that the extremely noticeable Product Placement for every single episode, and it adds up to a much less enjoyable show than its big brother, for us anyway. Sure it has something to do with the contestants, but I find that I have to almost force myself to continue watching...mainly because I commmited to these recaps. I'm really not sure if I'll care enough to do the same for next season.
It will be interesting to see how the upcoming interior design show Top Design fares in comparison.
So, what do you think...is Top Chef good enough to keep watching? It is worth taking at all seriously? Is it just reality show fluff?
Submitted by
maki
on 2007-01-18 19:52.
Filed under:
top chef
tv