Svenska LantChips (Ikea chips) - the universal Good Chip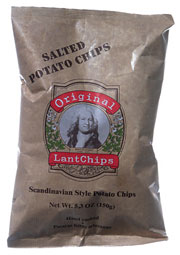 Following up to the potato chip post: the availability of any kind of packaged food around the world is iffy, with the exception of a handful of really global brands, and even they (e.g. Coke) change their formulas from place to place sometimes. But as Roanne's comment reminded me, there is one kind of good potato chip that is available all around the world - Svenska Lantchips, aka Ikea chips. If you have an Ikea near you, next time you're there pick up a bag of these - a trifle on the greasy side, but these are tasty, sturdy chips, the type I really like. When I was at Ikea Spreitenbach a few days ago they had plain salted and unsalted; previously I've seen sour cream flavored ones too. Don't you just love Ikea?
Submitted by
maki
on 2007-07-05 09:02.
Filed under:
shopping
snacks