Steamed eggplants (aubergines) with spicy peanut sauce
[From the archives: This eggplant/aubergine dish is really nice served cold, though it can be served warm too. It doesn't heat up the kitchen since it's made in the microwave (yes, the microwave, and it works great!) so it's great to make on a steamy hot summer evening, with in-season eggplant. Originally published July 2007.]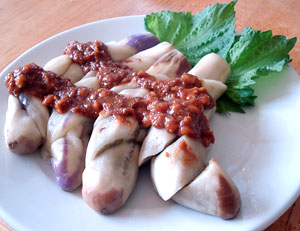 Here is another summer dish. I love eggplants (aubergines), but cooking them without using a lot of oil can be a bit tricky. I read about this method of steam-cooking eggplants in the microwave in a Japanese magazine some time ago, and ever since it's one of my favorite ways of preparing these rather spongy vegetables - they're done in just 5 minutes without heating up the kitchen, which is hard to beat on a hot summer's day. The whole dish takes less than 10 minutes to prepare.
Here they are served cold with a spicy peanut sauce, which makes it a very nice vegetarian/vegan main dish. Serve with rice or cold noodles.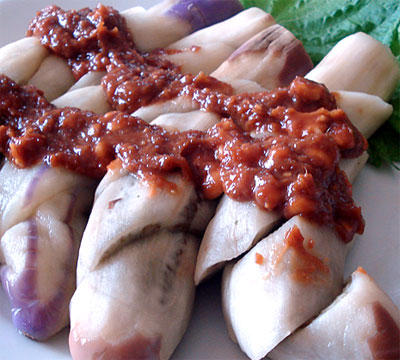 Microwave-steamed eggplants (aubergines) with spicy peanut sauce
This makes two servings as a side dish, or one main vegan dish.
4 slim Asian style eggplants (aubergines)
2 Tbs. chunky style peanut butter (or more if you want it very peanutty)
1 1/2 Tbs. soy sauce
1 Tbs. mirin
1 tsp. sugar
1/2 tsp. red chili paste (Korean chili paste, or Harisa. If you don't have chili paste you can add some dry chili powder)
Peel the eggplants with a vegetable peeler. Take off the tops. Wrap each one loosely in microwave-safe plastic wrap and place in a circular pattern around the edges of a round plate. Place the plate in the microwave on the rotating plate and microwave on high for about 5 minutes. (If you don't have a rotating plate in your microwave, nuke on high for 2 1/2 minutes, then turn the plate about halfway and nuke for an additional 2 1/2 minutes.)
In the meantime, mix together the rest of the ingredients in a small pan; bring to a simmer to dissolve the sugar and amalgamate everything, then let cool. Make ready a large bowl of cold water.
Once the eggplants are soft, carefully drop them, plastic and all, into the bowl of cold water so they rapidly cool. Take them out of the water and take off the plastic; drain the eggplants if necessary.
Cut them on the diagonal into bitesize pieces and arrange them on a plate with some green garnish (here I've used shiso leaves). If you've made them in advance, chill in the refrigerator until it's time to eat.
To serve, spoon the peanut sauce over the eggplant. Mix well with the sauce to eat.
Notes
The microwave steaming method works best with slim Asian style eggplants, but you can use the big Western style ones too - just cut them up into large cubes, and adjust the microwaving time.
The eggplants are peeled because the skins turn rather dark and grey-looking when steamed like this. The peel can be used in another dish if you want to be frugal.
Submitted by
maki
on 2008-07-28 16:44.
Filed under:
japanese
lighter
vegetarian
summer
vegan